Undergraduate
Anthropology: Kaitlin Flamm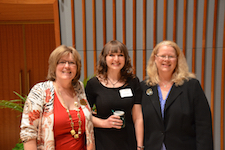 Kaitlin Flamm will be departing Wright State with her bachelor's degree in Anthropology and high hopes for attending medical school. That seems likely, since she scored a 31 on the MCAT, ranking in the 84th percentile nationally. Additionally, she has job-shadowed physicians, volunteered at a hospital, and works as a medical scribe in a full-time position in the emergency room.
Kaitlin was selected as a teaching and research assistant to help Dr. Amelia Hubbard collect dental metric data from the full dental casts of 294 Kenyan individuals, and then Kaitlin and another research assistant were invited to accompany Dr. Hubbard to Kenya in order to present the results to the peoples she was studying. That trip was life-changing. Students also put together a project that led to a presentation at the Midwest Bio-archaeology and Forensic Anthropology Association Conference.
At the end of the semester, Kaitlin will be traveling to Nicaragua to volunteer, while interviewing for medical schools. Congratulations, Kaitlin.
Art and Art History: Charmaine Griffith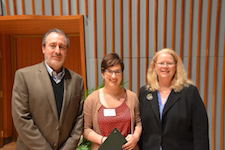 Charmaine Renee is graduating with a BFA in Studio Art with an emphasis in Sculpture, and a minor in Women's Studies.  She currently works as the public relations officer for Rainbow Alliance, Wright State's student-led LGBTQA organization. This position allows her to focus on one of her passions: creating safe and empowering spaces for queer-identified students.
Charmaine is also the Wright State Women's Center's inaugural Student Artist in Residence. Through that opportunity, she has crafted a campus-wide project called In Solidarity, We Resist, an art/activist project focusing on reclaiming space on campus for survivors of sexual violence through telling their stories. Charmaine hopes to continue her education and combine her love of activism and art through graduate school and beyond.  Congratulations, Charmaine.
Classics: Brittany Blankenship
Brittany Blankenship graduates with a major in Classical Humanities.  She has distinguished herself as a diligent student and thoughtful researcher, notably tackling challenges head-on and working through tough material. She has also taken a leadership role in the Classics Club and the Classics honor society, Eta Sigma Phi. The faculty is especially impressed by how far her enthusiasm for the Classical world has carried her in her academic development, from a promising but tentative first-year student to a polished and confident young scholar. As evidence for the latter, Brittany reports she is currently intrigued by the connections she has made between Classical antiquity and early Christianity in her advanced studies with Professor Heidi Wendt. That sort of synthesis will serve her – and her students –in her planned career in teaching. Having already completed the first phase of the education practicum, Brittany returns to Wright State in the fall to continue with a Master's of Education and licensure in Latin.  Congratulations, Brittany.
Communication: Catherine Hoover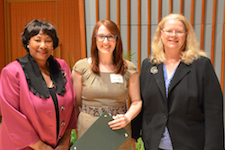 Kate Hoover is the senior who has exemplified the best and brightest in the Communication Department.  She's passionate about everything. She has an insatiable desire to learn. Her inner fire to succeed pushes others to be better. She imparts her own high standards to those around her by leading by example and firmly taking change while keeping the feelings and needs of her colleagues in mind. 
This talented senior was a key developer of the Communication Department's innovative Dailyflipz media platform, and presented an original digital music platform to Eric Sherman.  You may have heard of him: he created VH1 Classics after redeveloping the entire model for a small TV brand known as MTV.  We are sure that Kate will, one day, run her own company and be very, very successful.  Congratulations, Kate.
Crime and Justice Studies: Aerial Nies
Aerial Nies grew up in Dayton at the same home where her mother and grandmother resided.  Her work experience at a local horse farm increased her interest in law enforcement after she interacted with the Five Rivers Mounted Patrol unit.  She chose the Crime and Justice Studies major because she wanted to be a mounted officer in a large city.  Along the way an internship with the Secret Service was extremely beneficial because it provided her with a realistic inside look at how a federal law enforcement agency operates, specifically with valuable information pertaining to identifying counterfeit material. Her future plans are to begin working on her graduate degree in Wright State's Applied Behavioral Science program and then to pursue a career with a federal law enforcement entity.  Congratulations, Aerial
English: Brittany Gene Wozniak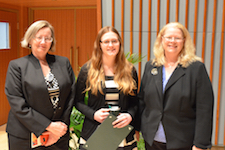 Brittany Wozniak is a recipient of the English Department's prestigious Dion Scholarship, and for more than two years as editor of the student publication Fogdog, has been one of the best and most consistently reliable editors in that publication's history. Although Brittany is a quiet student in the classroom, she is always very engaged and well-prepared, and when she does speak her contributions are dynamic and raise the quality of discourse. She is also especially diligent and effective in providing written feedback to other students in workshops. She often talks with great enthusiasm about books she is reading or has read, prompting some of us to read a book she has highly recommended. Brittany is an active minor in Women's Studies and receives consistent praise from her professors in those courses as well.  Congratulations, Brittany.
Geography: Lauren Loney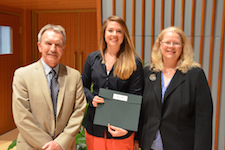 Lauren Loney has been a fully engaged student, leading student organizations and presenting at the national meeting of the American Association of Geographers.  She produced a poster depicting the redevelopment of the Montgomery County Fairgrounds that was amazing:  professional, creative and technically sound.  Lauren has also focused on the lack of access to healthy food, and presented her research at the American Association of Geographers meeting just a few weeks ago.  She volunteers for the United Way program Youth Changing the World.  She mentors seventh graders on a community garden project and helps organize community dinners, recreation and environmental awareness. 
On a more personal side, Lauren does hair and weddings.  Her hair and wedding designs were recently featured in the Huffington Post and The Knot Magazine.  After graduation, Lauren will prepare for graduate school, compete in a couple of triathlons, play a lot of volleyball, and change the world.  Congratulations, Lauren
History: Kenneth Price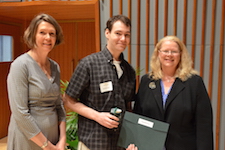 If you ask Kenneth Price's teachers about him, they will tell you he is a bright, hardworking student with a good sense of humor.  He began his studies at Rhodes State College and Bowling Green State University before working as an accountant from 2007-13.  He then chose to enter Wright State as a history major because he wanted to know "the other side of the coin" and he saw similarities in how the disciplines of history and accounting process information.  Thus it is not surprising that he is primarily interested in the intersection of history and economics.  Less predictable is his interest in costume design, which he is currently pursuing as an extracurricular activity.  He will likely return to accounting as a career, but with his background in history he will be able to see the people and the stories that the numbers represent.  Congratulations, Kenneth.
International Studies: Andrew-John Hickman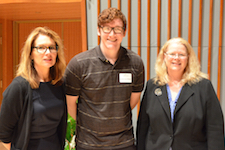 AJ Hickman is the outstanding graduating senior from International Studies. To sum up why he is the recipient of this year's recognition: he can, and will, sing "Jingle Bells" in Japanese!  AJ acquired this skill over the years; it started with a Judo class at Wright State, then he studied abroad in Nagasaki.  He served as a representative at the Nagasaki Peace and International Exchange Conference and helped to organize a global meeting for nuclear weapons abolishment.
Here at Wright State, he has worked as a supplemental instruction leader and volunteered as a teaching assistant in our advanced Japanese courses. At our University Center for International Education, AJ has been a driver, chaperon, translator and friend to Japanese student ambassadors studying here. Best of all, he was recently offered a position to teach English as an assistant language teacher for the prestigious, highly competitive Japanese Exchange and Teaching program. AJ will relocate to Japan in July.
All International Studies majors live in wonder of the world, but AJ is an exceptionally eager student of it. Congratulations, AJ.
Liberal Studies: Christina Roark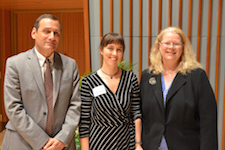 Christina Roark is a non-traditional student and Air Force veteran who returned to Wright State to complete her undergraduate studies after a 12 year hiatus as a stay-at-home mom who homeschools her two children, ages 12 and 14.  Christina's studies at Wright State have focused on combining her interests in human biological health sciences with studies in anthropology, psychology, and sociology. After graduation she plans to combine her passion for working with people one-on-one with her interests in health and social sciences through a career in occupational therapy. She has been accepted into the Fall 2015 cohort of the occupational therapy assistant program at Sinclair Community College. After that she plans to work part time in the field, while continuing to raise her children, with an eventual goal to attend the University of Cincinnati to complete a Master's in Occupational Therapy. Christina is also finishing up training as a Registered Yoga Teacher. She loves Dayton and plans to remain here to establish her career, and we're glad about that.  Congratulations, Christina.     
Modern Languages: Jasmine Higgins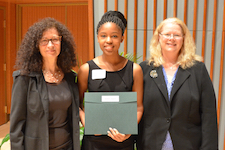 Jasmine Higgins is a senior dual-major in French and Mass Communication, who has been studying French language and culture since her freshman year of high school. Currently serving as the Vice-President of Wright State's French Club, she organizes and participates in club events, including our first French karaoke night. Jasmine studied abroad through Wright State's Ambassador Program in the summer of 2013, where she took part in an internship in Bordeaux, France, working in an at-risk high school.
Jasmine is a proud member of the Theta Epsilon chapter of the National French Honor Society, inducted in 2014. She has worked closely with faculty as a supplemental instructor, elementary language course assistant, and participant in the annual French immersion day for high school students.  Jasmine will graduate in summer 2015, after returning to France with the Ambassador Program, during which she plans to experience French media firsthand through an internship in Paris.
Jasmine lives in Dayton and works at a local radio station. She plans to use her skills in French and Communication to begin a career in international broadcasting. Congratulations, Jasmine.                                                                                                                                                                                                                                                                                                                                                                                                                                                                                                                                 
Music: David Swiggett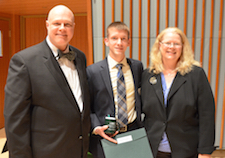 David Swigget came to Wright State from Adena High School with a passion for music education.  His primary instrument is trumpet and during his time as an undergraduate student he has distinguished himself as a leader and team player.  When asked why he chose music education as a major his response was: "My goals as a professional musician and teacher in music are to impact children in a positive way, and hopefully provide them with the pleasant experience I had while being in the band program at my high school. Music has had a great influence on my life and I want to teach children music so they can feel the same positive influence."
David was chosen for this award by an overwhelming vote of music faculty for his positive attitude, congenial manner, excellence as a performer and educator, and role as an academic leader. He is an excellent role model and his professional demeanor uplifts every situation and interaction. Congratulations, David.
Philosophy: Frederick Hockney
Fred Hockney is the Philosophy Department's most talented student in years. His philosophical seriousness, devotion to his studies, and artful yet rigorous writing skills reflect his unique background. Frederick served in the army in Iraq in 2007, where he was assigned to a tank company, a humvee unit, and later trained members of the Iraqi military in their native Arabic. Upon his return, his interests turned first to journalism, then art, sculpture, and metalwork. After taking a course in peace studies, Frederick discovered that the subject of philosophy best combined his many talents and interests. Arriving at Wright State in 2013, he thrived in his new field, even learning Greek in order to read ancient texts in their original language. An exceptional thinker and superb writer, Fred has impressed all of his professors with his astonishing dedication, passion, and talent for the subject. He has applied to graduate programs in philosophy with the goal of becoming a university professor. Congratulations, Fred.
Political Science: Angelica Loyd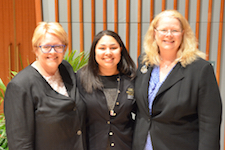 Angelica Loyd will graduate magna cum laude with a major in Political Science and minors in both International Studies and Arabic.  She will also earn Departmental Honors, based on her research and service as Head Delegate in the Model UN program for the 2014-2015 team.  The department nominated her for a Ralph Bunche Fellowship, which took her to Duke University for a summer program followed by an opportunity to present her research at the American Political Science Association conference in 2014. 
Angelica has participated in three study abroad programs (Europe, Japan and South Africa), and also led a delegation to the South Korea Model UN competition. She plans to continue her studies abroad in Jordan this summer, before starting graduate work in International and Comparative Politics.  Angie has been deeply involved in student life during her undergraduate work, serving as a President's Ambassador, co-president of the Omicron Delta Kappa Leadership Honor Society, and as the Penny Drive Coordinator for the Golden Key International Honor Society. 
Angie Loyd has brought seriousness of purpose to her studies, and remarkable energy and generosity to the service of her fellow students.  She is a graduate of Beavercreek High School, and a citizen of the world.  Congratulations, Angie.
Religion: Jeremy Gambrell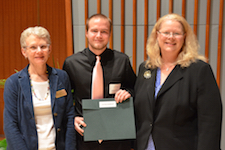 Jeremy Gambrell graduates with a perfect record from Wright State, having earned both Departmental Honors and University Honors. His Honors thesis, entitled "Paul: Renegade Apostle or Judean Religious Expert?" received universal praise from the Religion department faculty, who wish to acknowledge the critical engagement, originality, and intellectual curiosity that he has exhibited not only in his thesis but also throughout his coursework in the department. Jeremy has distinguished himself in a diverse range of Religion courses, especially those in early Christianity. More than one of his professors has noted the incisiveness of his analysis and the natural scholarly voice with which he writes and speaks in class. He defended his thesis articulately in a dynamic discussion with the Religion faculty. Jeremy's work achieves a level of sophistication that one would expect of graduate students, which will serve him well as he returns to Wright State in the fall to obtain a second B.A. in Classics as preparation for a Master's of Education and licensure in Latin.  Congratulations, Jeremy.
Theatre, Dance, and Motion Pictures: Paige Dopkins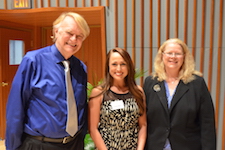 Paige Dobkins is a senior Musical Theatre major from Cincinnati, Ohio. She has been pursuing a career in theatre since the age of three when she had her first dance class.  She then went on to being a part of various choirs, dance teams, became captain of her high school show choir, began working professionally in entertainment at the age of fifteen, and then decided to follow her passion by coming to Wright State to study acting with an emphasis in musical theatre.  She has been seen in various Wright State productions including WILD PARTY, PETER PAN, LES MISERABLES, SPRING AWAKENING, HOT MIKADO, and many more. She has also been seen in professional, Dayton- area theatres including The Human Race and Victoria Theatre.
Following graduation, she has many possible moves including moving to New York City, performing on a cruise ship, or working for an equity regional theatre. She says the lessons she has learned at Wright State are ones she will carry with her throughout the rest of her life.  Congratulations, Paige.
Women's Studies: Ebony Davenport
Ebony Davenport graduated from Wright State in December of 2014 with a B.A. in Women's Studies. Before attending WSU she earned her Associates Degree from Sinclair.  When she transferred to Wright State she was unsure about what to major in: her goal was to attend to law school but she was not sure which major would translate into a meaningful legal career. After taking an intro to women's studies course she found the avenue she was looking for.
With the help of the Women's Studies Program Ebony was able to intern at the YWCA of Dayton and at Planned Parenthood of Southwest Ohio. Working with those two organizations fueled her desire to work closely in the community.  Ebony will be attending the University of Dayton School of Law this fall. She is very passionate about education and plans to advocate for access to quality education for children from all walks of life. She hopes use her legal education to reduce the school-to-prison-pipeline and secure funding for Pell Grants in order to make college a reality for all who desire to attend. Congratulations, Ebony.
Graduate
Applied Behavioral Science: Erin Flathers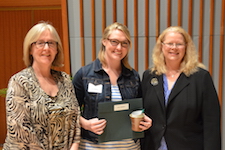 Erin Flathers is a central Virginia native who graduated from Taylor University in Upland, Indiana with a B.A. in Psychology in May 2013. Upon moving to Dayton to continue her education through the Applied Behavioral Science program at Wright State, she took a job as a behavioral therapist with a company in Fairborn and received valuable mentoring there from her supervisors and directors. While maintaining academic excellence, she also served as a teaching assistant during the 2014-15 academic year for several introductory Sociology classes.
Erin utilized her background in psychology during her time in the ABS program. With a concentration on social psychology, Erin examined the prevalence of the bystander effect within social media communities as her research project. Upon graduation from Wright State, Erin hopes to continue work in the criminal justice and research fields and plans on seeking a career back on the East Coast. Congratulations, Erin.

English: Sarah Bay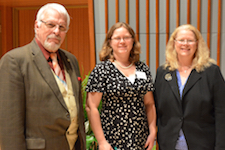 Sarah Bay has distinguished herself both as a student in the concentration in Teaching English to Speakers of Other Languages (fondly known as TESOL), and as a teaching assistant in the Writing Program, teaching in both the regular composition classes and the English as a Second Language composition classes.
Sarah is considering a different direction as a future professional. She has shown an interest in working with volunteer services committed to the language needs of refugees and immigrants. Together with another TESOL graduate student, she developed a tutoring manual for local agencies and organizations. The manual not only addresses issues in language teaching but also provides advice for program directors who must recruit, train, and manage volunteer tutors. In these and many other ways, Sarah has contributed invaluably to the overall quality of the English department.  Congratulations, Sarah.
History: Daniel Wright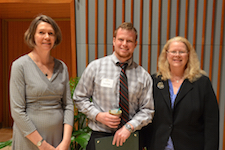 Daniel Wright's interest in History dates to his fascination with his family's history.  His great-grandfather served in the Navy during the First World War and his grandfather, whose stories of the war he still remembers today, served in Great Britain in the Second World War.  Daniel received his B.A. cum laude from the University of Cincinnati, where he majored in History and minored in Political Science.  During this time, he began studying the history of the U.S. nuclear program, a study that has culminated in his M.A. thesis, "Duck and Cover: How the Print Media, the U.S. Government and Entertainment Culture formed America's Understanding of the Atom Bomb".  At Wright State, Daniel has maintained a high gpa and served as a Graduate Assistant.  He has recently been inducted into Phi Alpha Theta, the international history honor society.  He plans to pursue a career in higher education in both teaching and advising. Congratulations, Daniel.
International and Comparative Politics: William McIntire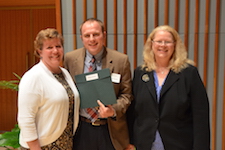 Bill McIntire has been a fantastic graduate student, having completed two separate master's degrees in the College of Liberal Arts at Wright State. His thesis research in Political Science builds on an interest he developed as a teenager growing up in Medway, Ohio.  He remembers going to the mall as a 13-year old and being surprised at the presence of diplomatic delegations and international news organizations.  The year was 1995, and diplomats from the around the world were gathering in Dayton to negotiate an end to the war in the Balkans.  Bill's thesis examines the role that communication methods have played in changing politics and society in Bosnia-Herzegovina.  Bosnia began its political transition at nearly the same time the World Wide Web was emerging on a large scale, and Bill concluded that, despite some significant drawbacks, new information technologies provided alternatives for citizens to grow and deepen inter-ethnic relations throughout the Balkans.
Bill has served at the National Museum of the United States Air Force, and currently works as an archivist and reference librarian at Dayton Metro Library.  He also is an elected Council Member for the City of New Carlisle.  Congratulations, Bill.
Master of Humanities: Katie Luckenbill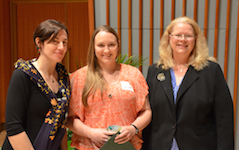 Katie Luckenbill grew up in the Dayton area and earned her BA in Classical Humanities at Wright State. She then pursued a Master of Humanities, again with a focus on Classics. Katie's thesis examined the role of the cavalry in the texts of the 4th Century BC Greek writer, Xenophon. While working on her master's degree, Katie began teaching Latin part-time at a local middle school.
Following graduation, Katie will be teaching Latin and English As a Second Language at Carroll High School in Dayton. She credits her teaching opportunities to the support and recommendations of her professors. She says that her experience at Wright State was wonderful and that she has truly enjoyed working with all of the professors in the master's program.  Congratulations, Katie.
Master of Public Administration: Elizabeth Kelly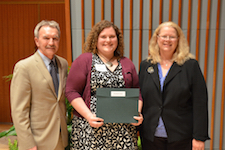 Lizz Kelly had a record of success before enrolling in Wright State's MPA program and has never slowed down.  She graduated from Sinclair Community College with an Associate's degree in Communication three months before completing high school.  At Ferris State University she graduated Cum Laude and was awarded Ferris State's Torchbearer award in 2009 for student engagement. Lizz served two years in AmeriCorps and then returned to Dayton to manage volunteers for The Foodbank.  In her first year, she doubled the number of volunteers.  She volunteers for other organizations too, such as the Red Cross, the Air Force Museum, and Community Emergency Response.  In 2014, she was selected as the Miami Valley Volunteer Administrator of the Year. 
In spite of work and many other commitments, including becoming a Certified Volunteer Administrator, Lizz is an outstanding student as demonstrated by her induction into the Phi Kappa Phi Honorary Society last year.  After graduation she will take a little time off from her studies and get married, work on the house, volunteer…well you get the picture!  Congratulations, Lizz.
Music: Tyler Shepard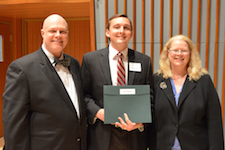 Tyler Shepherd has been busy while at Wright State. He has team taught the strings pedagogy class. He has served as the assistant to the Coordinator of Music Education.  In this role Tyler has attended and participated in music education committee meetings, team taught performance assessment sessions, designed and taught a two hour session on Ohio assessment exams for our juniors, helped with music education lectures, and co-presented with Bill Jobert at the 2014 Ohio Music Education Association conference.  Tyler was also the graduate assistant to the Chamber Orchestra, serving as music librarian and managing the set-up crew.  All of this is in addition to being a husband and father, teaching guitar at Cedarville University, conducting a vocal ensemble at Clarke State, and organizing and leading a Christian fellowship group on the Wright State campus.  Tyler is a tremendous resource to our School of Music and represents us well in the community.  Congratulations, Tyler.