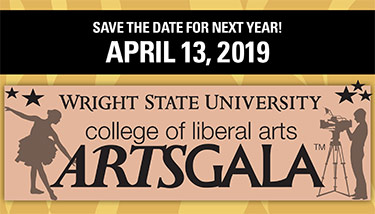 Save the date for ARTSGALA:
April 13, 2019
Hosted by the College of Liberal Arts, ARTSGALA is one of THE premier arts events in the Dayton area and the highlight of Wright State's arts season. Annually more than 700 patrons attend this event to enjoy top-notch entertainment and activities by our talented students in art, music, theatre, dance, and motion pictures, along with fine dining and a magnificent silent auction. Visit our website to learn more.

The College of Liberal Arts offers a wide variety of events throughout the year, hosted by our many departments, interdisciplinary programs, and centers.  We hope you will visit this page often to stay up-to-date on these activities.