Undergraduate
African and African American Studies: Andrianna Milton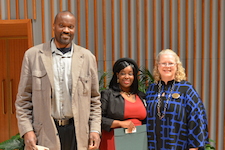 As a child, Andrianna Milton's favorite subject was Social Studies, but something was missing: like most students, Andrianna was given little knowledge of African-American history except for Dr. Martin Luther King, Jr. and Rosa Parks. An unconventional high school History teacher changed that by stressing the importance of African-American history and inspired Andrianna to want more information on the subject.
  
At Wright State, Andrianna decided to follow her passion by majoring in African and African American Studies.  She has deepened her understanding and knowledge of the field and met students and professors who have helped her to a greater appreciation for her culture and history.  She has also been active in various student organizations, attending the Faith and Politics Pilgrimage in 2013 and traveling to cities in Alabama and Mississippi, meeting African-American women who played a vital role in the Civil Rights Movement. In 2014, Andrianna and other Wright State students organized their own Civil Rights Pilgrimage.

Andrianna plans on attending graduate school and earning an M.A. and eventually a PhD in African-American history. 
Anthropology: Hannah Magee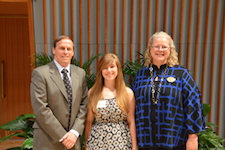 Hannah Magee was home-schooled throughout high school, taking classes at Wright State during her junior and senior years. She graduated in the class of 2011 as salutatorian at the age of 15, and continued her education at Wright State University, pursuing a major in Anthropology. 
To fulfill her foreign language requirement Hannah decided to take French, and fell in love with the language. She had originally planned on pursuing a minor in French, but after completing two study abroad programs, a two week ambassador program in Paris and a semester in Angers, France, she added a French major to her list of accomplishments.
Hannah wants to be a professional archaeologist, specializing in lithic analysis, the analysis of stone tools and other stone artifacts.  She wants to work in the lab and field, and publish data for professional and public audiences. To accomplish these goals, she will be attending Ball State University in the fall, working toward a Master's degree in Anthropology. 
Art and Art History: Sarah Rodriguez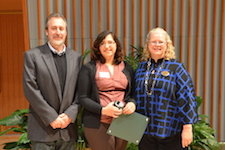 Sarah Rodriguez is originally from Marion, Ohio and began her studies at Wright State in 2010. She is graduating with a BFA with a concentration in painting. She has received several competitive scholarships, including the ELM scholarship, awarded to a student who shows great promise.  Sarah served as the student speaker at the recent groundbreaking for the Creative Arts Center renovation and expansion project, and also works as a student assistant at the WSU foundation.
She is excited to graduate this spring but knows she will miss her program, her friends and peers, and the faculty that have shown her so much support.   Sarah believes she received a wonderful and high-quality education at Wright State and is confident she will carry those lessons throughout her life.  This summer she is hoping to attend a summer art program in New York and plans to pursue a MFA degree in the near future.
Classics: Tim Corcoran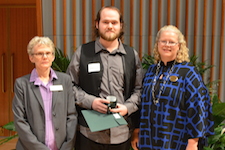 Tim Corcoran's commitment to his studies and his natural leadership qualities demonstrate his exceptional merit. In fact, not only did the department select Tim as the outstanding senior, he was also honored by Dean Sobolik as the Top Scholar in the College of Liberal Arts. In recognition of this honor, a book has been added to the permanent collection of Dunbar Library in Tim's name.
Tim has proven his proficiency and range in both Latin and Greek courses, and is always willing to help other students when asked. He has gone above and beyond the requirements for research papers and other exercises which require intellectual stamina and critical thinking. Tim has served as President for the Wright State Chapter of Eta Sigma Phi, a national honor fraternity for students who have excelled in Latin and Greek. He has also served as President of the Wright State Classics Club.  After taking a year off, Tim plans to apply to graduate programs in Classics.
Communication: Ryan Ballman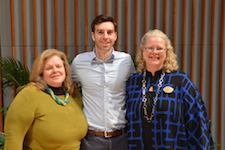 Ryan Ballman is described by the mass communication faculty as a scholar and a gentleman who is a role model for his fellow students. Scholars are judged not just by the answers they give but by the questions they ask and Ryan asks challenging questions.  Although Ryan's name is consistently found on the honor's list because of his high GPA, it is his creativity and innovative approaches that make him stand out from the crowd. For example, Ryan is tackling a difficult milestone project with digitized media and analysis of audience responses to this content. In his Public Relations course, which has the Better Business Bureau as a client, Ryan has also contributed ideas that will be included in the final media campaign implemented by the BBB. This 2014 Outstanding Communication Department senior is professional, amicable and a bright star indicative of the best the department has to offer during this dynamic time period in the media field.  
Crime and Justice Studies: Matt Burian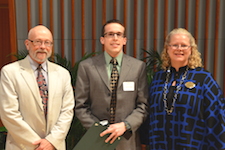 Matthew Burian, a Dayton native, is graduating from Wright State with his B.A. in Crime and Justice Studies, and plans to pursue a career with a local or state law enforcement agency. He has maintained a high GPA while maintaining his own IT consulting firm and working in the technology department of a local high school.
Through his Crime and Justice Studies internship under the guidance of Dr. Jim Adamitis, Matt not only completed an outstanding law enforcement internship with a local police department, but also helped the agency solve IT problems. He served as the student spokesperson during the College's recent internship breakfast. 
English: Laura Gray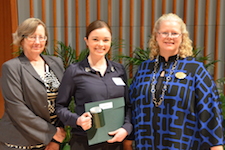 Laura Gray is about to receive two Bachelor's Degrees: one in English with a concentration in Integrated Language Arts and one in French. Over the course of her time at Wright State, Laura has grown to love literature. This love has manifested itself in several ways, including taking an active role in classroom discussions, writing insightful literary analyses, and working as a staff editor for The Fogdog Review. She will return to Wright State this summer in order to pursue her Master's degree in Education, with the hope that she will spread her love for literature to her future students. Laura plans to eventually pursue a PhD in education and become a professor who inspires, just as her professors from Wright State inspired her. 
Geography: Skyler Wood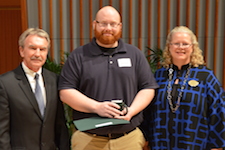 Since entering the Geography program in 2010, Skyler Wood has set the academic bar high in every course.  He received his first degree in Geology from East Tennessee State University, where he learned about the analytical and communication power of geospatial software.  He decided to attend Wright State to continue his geospatial education and become certified in GIS. 
As a Geography student, Skyler prepared and presented a project at the East Lakes Association of American Geographers conference in 2012. He also independently completed a 50-page research report focusing on the potential impacts on the environment from cemeteries, using a model developed by the EPA.  During the past year, Skyler has interned with the Miami Valley Regional Planning Commission.  For eight months he digitized every building in Miami County, Ohio.  He then applied remote sensing technology to determine the height of each building and develop a 3-D model.  After graduation, Skyler will look for full-time employment in the GIS field and he hopes to eventually pursue a Master's degree in geospatial science. 
History: Joseph Bradley-Hutchison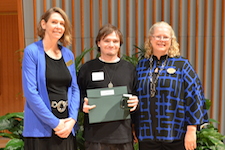 Joseph Bradley-Hutchison was born in Xenia and grew up in Dayton.  As a student at Northmont High School, he thought about becoming a musician, but by the time he enrolled at Sinclair Community College he had changed his major to history.  He transferred to Wright State in the fall of 2012, where his professors quickly recognized his intellectual ability and work ethic.   In the 2013-14 academic year, Joseph was awarded the Carl Becker Scholarship and the Richard F. Swann Scholarship, and he has recently completed a senior honors thesis called "James 'Big Jim' Larkin: Giving Strength and Recognition to the Dublin Poor," about an important labor leader in the early 20th century.  Joseph's academic achievements are even more impressive considering that he has accomplished all this while working 20-30 hours per week at Miami Valley Hospital.  
International Studies: Austin Schneider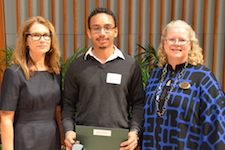 When Austin Schneider's professors were polled, they recognized him not only as an extremely bright student, but a reliable one.  He was always available to foster class discussion whenever the material was complex.  His professors note that he is a sparkling conversationalist. Austin, who studied in China and is also in the Honors program, maintained a high GPA while often working 30 hours a week at Honda. Somehow, he even managed to find time to volunteer on weekends at the Red Cross. 
In terms of life after graduation, Austin was invited to join the prestigious Erasmus Mundus Master's in Public Policy program to study in England and the Netherlands for two years, but he has decided instead to take a break from academia for now and visit Brazil this summer.  In the fall, Austin plans to work for AmeriCorps VISTA. Those who know him agree that in whatever direction he goes, Austin's intelligence and initiative---not to mention those conversational skills---will take him far.
Liberal Studies: Alicia Grodecki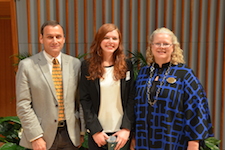 Alicia Grodecki transferred to Wright State from The Ohio State University.  She is a Liberal Studies Major with a focus in English. She is also receiving a minor in Women's Studies upon graduation this spring.
Aside from her studies, Alicia enjoys playing music and learning Spanish, in which she hopes to someday achieve fluency. Alicia intends to continue her education after returning home from her trip through Europe this summer. 
Modern Languages: Kaitlyn Williams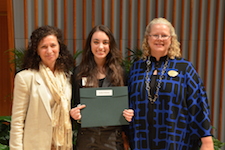 Kaitlyn Williams is a senior Spanish major whose fascination with the language was sparked by her high school Spanish teacher and a trip to Honduras in 2007. She is a student in the University Honors Program, was recognized by Wright State's Writing Across the Curriculum program as an outstanding student writer in 2013, and was recently inducted into Wright State's chapter of the National Collegiate Hispanic Honor Society, Sigma Delta Pi. 
Katie is honored to receive this award and wishes to thank Wright State's talented Spanish professors for all of their instruction, inspiration and encouragement. She has thoroughly enjoyed her undergraduate education at Wright State and plans to enroll in the university's graduate program in English with a concentration in TESOL this fall. Katie desires to become a teacher in a Spanish, English, or bilingual classroom and would like to teach English in a Spanish-speaking country. 
Music: Doug Lane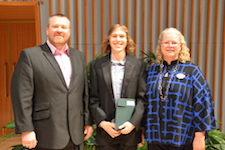 Doug Lane is a senior Music Education major at Wright State.  He has been the principal trumpet of the Wright State Wind Symphony for two consecutive years, and recently completed his Carnegie Hall debut with the group.  He is also a member of the WSU Chamber Orchestra as well as a member of the WSU Jazz Ensemble.   In 2013, Doug traveled to Kalavrita, Greece with the WSU trumpet studio where he was chosen to perform solo works in master classes with professors from across the United States and Europe.  In addition to his WSU ensemble experiences, he has performed as a substitute with the Dayton Philharmonic Orchestra.
Doug was named a winner of the 2012-2013 Wright State University Concerto Competition, and also received the 2012 Trumpet Studio Award for the most outstanding player in the studio.  He will graduate magna cum laude, and is hoping to find a teaching position at the high school or middle school level.
Philosophy: Alexander Thomas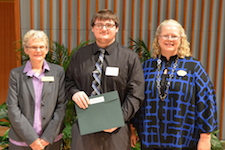 Alexander Thomas grew up in Washington Court House and graduated from Miami Trace High School. Reflecting his ability to excel in diverse fields, he is graduating from Wright State with a major in Philosophy and a minor in Classics. The faculty in both departments praise him for his quick intellect, his talent for analytical writing, and his dedication to learning. In recognition of his accomplishments, Alex is a member of the Phi Kappa Phi and Eta Sigma Phi honors societies.  After graduation, Alex plans to take some time off to work and pursue his passions for reading, art, and music. He then plans to head back to school, although he is unsure whether he will apply to graduate programs in philosophy or to law school.  
Political Science: Kenneth Burr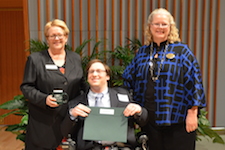 Kenneth Burr recently completed his coursework in London, England. He will graduate magna cum laude with a perfect 4.0 grade point average in every political science class he took, and a minor in International Studies.  He participated widely in student activities, including the Model UN team, as a director in student government responsible for issues concerning students with disabilities, and a Congressional internship.   In his home state of New York he volunteered for the West Chester Young Democrats, and plans to volunteer in the 2016 presidential campaign. 
Kenny never turns away from a challenge: despite his confinement to a wheelchair, he mastered swimming, in both intermediate and advanced classes.  He faced down the challenge of public speaking in Model UN and advanced communication courses, and he explored his love of theater in London.  Kenny's post-graduation plans include the study of law, and advocacy in the public and private sector to enhance the independence and living skills of persons with disabilities. 
Religion: Jacquelyn Weaver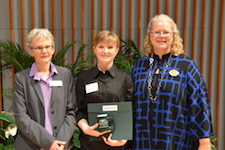 Jacquelyn Weaver graduates from Wright State with a dual major in Religion and Political Science. The Religion faculty wishes to acknowledge the quality and depth of engagement that she has exhibited consistently throughout her coursework in the department. Jacquelyn has proven to be a top student in a diverse range of Religion courses. More than one of her professors noted how she enriched class discussions and was especially dedicated to improving her writing, with impressive results. In addition to excelling in courses, she has enhanced her undergraduate studies by participating in several academic programs abroad: in France (twice), in India, and, most recently, in Thailand.  After leaving Wright State, Jacquelyn intends to apply to graduate school to pursue advanced work in a field that combines her interests in Asian religions and politics. 
Sociology: Andrea Thompson
Andrea Thompson is originally from Atlanta, Georgia. She moved to Ohio with her three children to care for her ailing grandmother, who unfortunately passed away two short months later. It was at that time she realized her opportunity to go to college, and enrolled at Sinclair Community College, which she attended for two years before transferring to Wright State.
Andrea is a Sociology major and is pursuing a minor in marketing. During her three years at Wright State she has earned memberships in both Phi Kappa Phi and Alpha Kappa Delta, and was awarded the Ellen Murray Memorial Scholarship by the Department of Sociology and Anthropology. After graduating with Latin honors and an excellent GPA, Andrea's immediate plans include a career in sales. In the future, she would like to effect positive change in her community at either the non-profit level or in local politics. It is her hope that her achievement, despite significant adversity, will inspire her three children to pursue their dreams and to never give up until they are satisfied with themselves. 
Theatre, Dance, and Motion Pictures: Alexis Evans-Krueger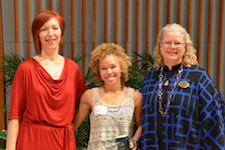 Alexis Evans-Krueger has been an outstanding dance major since her freshman year. In addition to her rigorous training at WSU she has been a member of Dayton Contemporary Dance Company 2, and this year was an apprentice with the professional company.  Alexis's work ethic and talent have been recognized by national choreographers both here at Wright State and at DCDC.  This year she performed works by Donald Byrd, who was nominated for a Tony Award for his choreography of "The Color Purple", and Ray Mercer of the Broadway smash "The Lion King".
Lexi has also given back to our community by performing in countless lecture demonstrations in area schools for Muse Machine and other arts outreach programs.  She has accomplished all of this in addition to performing in every emerging choreographer's concert and Wright State Faculty Concert since her freshman year. Alexis impresses audiences with the depth of her artistic ability.  Her talent and strength of character have led to an offer from DCDC for full time employment next season.
 
Urban Affairs: Prentiss Haney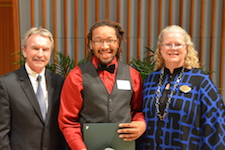 Since arriving at Wright State University in 2010, Prentiss Haney has been a fully engaged student and has tried to improve both academic and civic communities on campus.  He participated in Wright State's award-winning Model United Nations program, student government and the College of Liberal Art's Student Advisory Board.  He has served as president of the Non-Profit Leadership Alliance, an organization that trains the next generation non-profit leaders. He has interned at the Dayton Foundation, the City of Dayton, the Bolinga Black Cultural Resources Center, WPFAB and the U.S. Army Corp of Engineers.
When Prentiss sees problems, he attempts to solve them.  He saw a high dropout rate for African American students, and he organized a committee to improve retention rates.  His public service in the Dayton community is as exemplary as his campus engagement activity, stretching over multiple organizations. He was a field organizer in Greene County for President Obama's re-election campaign and registered over 1,400 students to vote.  After graduation, Prentiss plans to enter a graduate program and better equip himself with skills and knowledge needed to increase youth engagement and citizen participation in local government. 
Women's Studies: Jill Winchester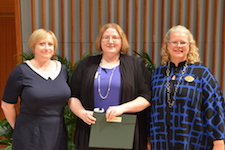 Jill Winchester is a dual major in Women's Studies and English Literature, and will be graduating in December 2014. She is originally from Cedar Grove, Indiana and worked as a paralegal before returning to school to complete her college education. She is a member of several honor societies, including Golden Key, Kappa Delta Pi, and Phi Kappa Phi.
While at Wright State, she has been published twice in the Fogdog Review and presented a paper at the 2012 Race, Class, Gender, and Sexuality Symposium.  After graduation, Jill plans on applying to law school with the intent to focus on family law, which is something she has wanted to do since she was eight years old and personally encountered this part of the legal system. She observes that "when practiced correctly, family law can be a powerful form of women's and children's advocacy," and that her Women's Studies degree has helped prepare her for entering into this career sector.
Graduate
Applied Behavioral Science: Tiffany Hunter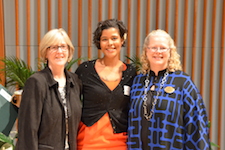 A native of the Dayton area, Tiffany Hunter graduated with highest honors from Wright State with a B.S. in Psychology in 2012. She was employed by the Wright-Patterson Air Force Base Medical Center and received valuable mentoring during her studies.  Tiffany plans to utilize her knowledge to earn a doctorate in public health at the University of Colorado in Denver.
Tiffany has applied her background knowledge in psychology while obtaining her M.A. in Applied Behavioral Science. Specializing in abnormal psychology, statistics, and cognitive research, Tiffany's thesis, titled "American Insanity: The Demise of the Elite and a Critical Analysis of American Unfreedom", discusses the parallel changes of the definition of "normal" social behavior in the United States by defining what is contextually abnormal.  After finalizing her thesis, she plans to co-author a condensed version for publication. In the future, Tiffany would like to investigate beyond the scope of personality disorders described in her current thesis, and research racial, gender, and socioeconomic disparities.
English: Jessica Gray
In the collective and unanimous judgment of the faculty of the English Department, Jessica Gray represents the best of what it means to be a graduate student. Her enthusiasm and her academic rigor are as inspiring as her collegiality and professionalism. Faculty members singled out for special mention that Jessica was thoroughly prepared for class, generous with her time and ideas, and mature, thoughtful and responsible as she undertook her graduate study.  They also noted how innovative her research promises to be.
Jessica is committed to being an active member of an academic community. This is evident not only in the way she engages with her peers and faculty but also in her willingness to test the professional waters. This year, for example, Jessica submitted (and had accepted) papers for presentation at two conferences. She has attended the discipline's premier annual convention. Finally, she has had a book review accepted for publication by the peer-reviewed journal, Criticism. Jessica is currently deciding between three Ph.D. programs that have offered her admission with full financial aid.
History: Sarah Aisenbrey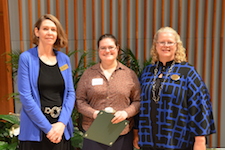 Sarah Aisenbrey graduated with honors from WSU in 2012 and immediately entered the graduate program in History.  As a graduate student, Sarah has served as president of the Public History Professionals chapter at WSU and has worked as a Graduate assistant.  Dawne Dewey, director of the Public History track in the M.A. program, says of her, "She is a great leader, organizer, and peer mentor.  Her performance in the classroom is stellar. She has excellent research and writing skills and participates fully in the classroom, contributing insight to discussions.  She is an outstanding student and individual who will shine no matter where she ends up." Her capstone project work on the Virginia Kettering Artifact Collection at the Boonshoft Museum of Discovery led to the offer of a full-time position as the Registrar for the Boonshoft. 
International and Comparative Politics: Charlene Preston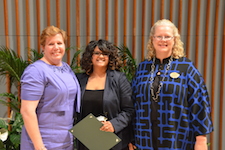 Charlene Preston has been an outstanding graduate student who completed an innovative and important master's thesis on Rwanda as the first female parliamentary majority in the world.  Charlene's thesis research builds upon feminist theory and the literature on post-conflict situations and failed states.  She examines the interesting dichotomy of semi-authoritarianism and democratic practices in Rwanda, a state that continues to deal with the legacy of the 1994 genocide.  Charlene contributes to the debate on Rwandan transitional justice by demonstrating that, despite unexpected and historic opportunities for women to enter politics (a record 64% of the Rwandan members of Parliament are female), patriarchy endures.  She concludes that the increased numbers of women in Parliament has been politically expedient for the Rwandan Patriotic Front, and that Rwandan women remain in a precarious situation:  they owe their opportunity to participate in democratic institutions to a political party that runs an authoritarian state. 
Prior to enrolling in the ICP M.A. program, Charlene completed a B.A. in International Studies from Wright State University (Class of 2009). 
Master of Humanities: Jacob Bauer
Jacob Bauer holds an Associate's degree from Sinclair Community College in Religion and Philosophy and a B.A. from Wright State, also in Religion and Philosophy. Jacob is a two-time recipient of the Outstanding Student Award, having received it from the Philosophy Department as an undergraduate. As a graduate student in the Master of Humanities program, Jacob wrote his thesis on the normative ethics of Gandhian non-violence. He advocates for non-violent initiatives in the Dayton region by serving on the Education Committee of the Dayton Peace Museum. He is a founding member of Wright State's Peace Club. Jacob is currently teaching Philosophy courses and is slated to teach Religion courses this fall at Sinclair Community College. He will also be teaching Philosophy courses at Wright State. 
Master of Public Administration: Matt Russo
Matt Russo is the first person in his family to graduate from college.  He began his college experience at Columbus State Community College, transferred to the University of Toledo and then earned a bachelor's degree in history from Ohio State.  After graduating, he volunteered for the Life Care Alliance and the Arthritis Foundation in Columbus.  His interest in managing non-profits brought him to Wright State's Master of Public Administration Program.  In addition to his heavy academic load as a full-time graduate student, Matt joined the department's Non-profit Leadership Alliance (NLA) certificate program and became President of the NLA Student Association.  He received NLA's Exemplary Service Award on April 11th.
In the summer of 2013, Matt became Executive Director of the College Readiness Initiative.  In this position, he collaborates with Wright State and area primary and secondary schools to provide college access services and events to Greene County high school students. 
Music: Aaron Jacobs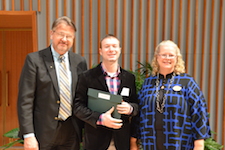 Aaron Jacobs has distinguished himself as an accomplished academician, musician, and scholar, but also as a truly outstanding Graduate assistant for the Department of Music.  Aaron has served as Graduate Conducting Associate for the WSU Wind Symphony and Chamber Players, and as Director for the WSU Raider Pep Band.  He has been an outstanding conductor of symphonic music, an excellent performer on trumpet, and a superb example for music students.  Aaron's leadership with the pep band has been demonstrated regularly at Raider men's and women's basketball games and other sporting events.  He coordinates with the cheerleaders and officials to generate an atmosphere that is undeniably exciting and keeps fans emotionally invested in the game. 
Aaron is more than just an effective athletic band director; his academic accomplishments and intellectual prowess are of the very highest order. He has produced research documents that are meticulous and insightful. Unquestionably, Aaron is a studied and dedicated conductor, teacher, researcher, academician, and band director. 
Women's Studies: Taylr Ucker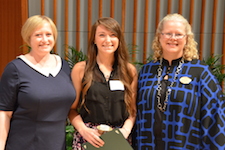 Taylr Ucker earned a B.S. in Journalism from Ohio University and is graduating from the Wright State Master of Humanities Program with a concentration in Women's Studies. Early in her graduate research, Taylr realized she had a passion for education and decided to combine that interest with her knowledge of feminist activism and social media. Her creative thesis project explores feminist pedagogy, social media, and the roles these can play in media literacy education. The product of her research is a curriculum plan that allows students to explore strategies for effectively engaging with tools for promoting online feminist activism.
Taylr has been involved with the Women's Studies program, assisting with its Teaching Innovation Grant and recruitment. Taylr was the first Wright State student selected to attend Soapbox, Inc.'s Feminist Camp in New York City, a program organized by Third Wave feminist authors to provide the next generation of feminist activists a transformative week of feminism in action.  And she just recently landed a job as Teen Advocate for the Dayton YWCA Teen Services program.