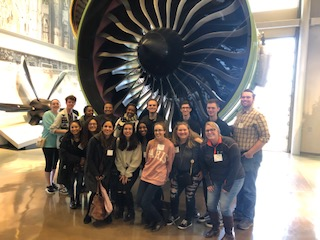 On Friday, November 22, 2019, Professor Daddah and her French Business class students traveled to Cincinnati to visit Safran, a French company, which is both a GE partner and one of its suppliers. Safran designs, develops, produces and markets engines for civil and military aircraft in partnership with GE. The company also offers a complete range of engine support services to airlines, armed forces and other operators.
The class met with Mr. Gerard Fournier, Logistics Director.
The visit included a tour of the GE training and aircraft center and a meeting with Mr. Fournier to discuss all the business and marketing aspects of the company while practicing vocabulary and "meeting" techniques learned in class.
---
Gallery