Advisory Board and Accreditation
Master of Public Administration
How the Wright State MPA Stays Relevant to the Professional Field
Our M.P.A. program changes to meet the demands of the profession, the needs of students, and the requirements of the Network of Schools of Public Policy, Affairs, and Administration (NASPAA), the highest academic accrediting body for public administration programs.
Advisory Board
Senior public service professionals, M.P.A. program alumni, and current M.P.A. students serve on the M.P.A. Advisory Board.  Members of the M.P.A. Advisory Board provide advice and recommendations on curriculum, program changes, student learning, and internships. The M.P.A. Advisory Board meets two times each academic year, with special meetings called to address critical issues or needs as warranted.
M.P.A. Advisory Board Members (2017–18)
Rob Anderson, City Manager, City of Fairborn
Benjamin Banning, President, MPA Alumni Society
Marissa Buckles
Steve Budd, President, Citywide Development Corporation
Paula Cosby, Executive Director, Clothes That Work
Jeffrey Hoagland, President and CEO, Dayton Development Coalition
Pete Landrum, City Manager, City of Beavercreek
Martin Kim, Director of Regional Planning, Miami Valley Regional Planning Commission
Jesse Lightle, Township Administrator, Washington Township
Mark Schwieterman, City Manager, City of Kettering
Mary Tyler, MPA Student Representative, began program Fall 2016
Graduate Survey
Next, we keep the M.P.A. relevant by talking to you after graduation. We survey our graduates to follow your accomplishments and to ask you how well we prepared you for your profession. We also assess your learning through outcomes based measures.
Accreditation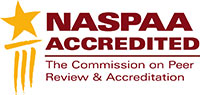 Finally, the Wright State University M.P.A. program must meet the accreditation standards of NASPAA. We commit ourselves to five competencies. They are the ability to:
lead and manage public governance
participate in and contribute to the policy process
analyze, synthesize, think critically, solve problems, and make decisions
articulate and apply a public service perspective
communicate and interact productively with a diverse and changing workforce and citizenry
Rates