Clubs
French Club
Dr. Pascale Abadie, Faculty Advisor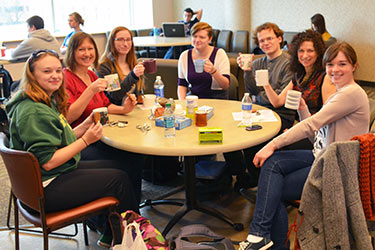 Formed in 1999, the Wright State French Club sponsors the twice-a-month "café français," where students, professors and native speakers enjoy a stimulating hour of conversation in French; a "soirée française" at a local French restaurant, and screenings of French films. In addition, the French Club helps organize the annual French Immersion Day in November.
Officers
---
Spanish Club
Profesoras Maria Astudillo and Michelle Cipriano, Faculty Advisors
The Wright State University Club is a campus organization strongly dedicated to promoting the Spanish language and culture. Each semester the club holds several activities such as movie nights, scrabble night, mesas de conversación (conversation tables) and lectures dealing with the Hispanic culture. These  events are organized by club officers and are overseen  by our faculty advisors, Profesora Maria Astudillo and Profesora Michelle Cipriano. WSU students are able to participate in all club activities, assist in the planning of future events and run for available officer positions. If you are interested in being a member and would like to receive future activity information, please join us through our Engage page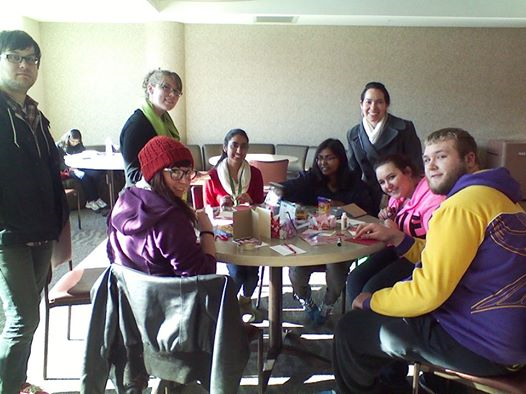 Officers
---
German Club
Dr. Elfe Dona and Dr. Renate Sturdevant, Faculty Advisors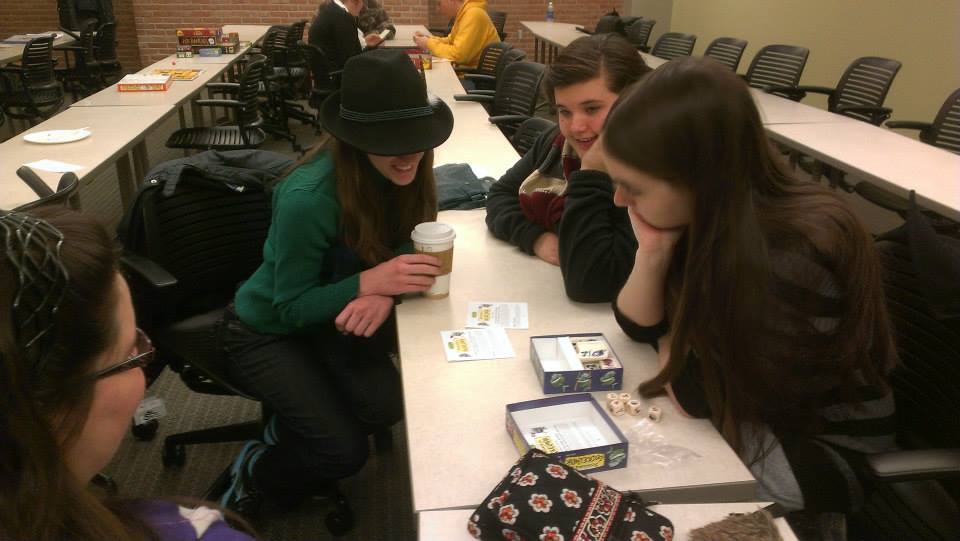 President Obama declares German American Day. Read Proclamation!
German Club is a gathering of students of German and other German-speaking individuals. Get together with classmates, faculty and others for an informal conversation in German. All students are invited to join the German Club.
What can the German Club do for YOU?
Practice your German
View German films and read magazines.
Receive free tutoring
Listen to popular German songs
Participate in excursions to German-related sites
Field Trips
Enjoy German foods and drinks
For times and dates of the Germanic Studies Association (German Club), contact the club officers.
 Officers:
---
Arabic Club
Professors Joshua Mabra, Faculty Advisor
The Arabic Club has been formed to bring awareness to the Arabic language, enhance reading, writing, and speaking in the Arabic language on campus and throughout the community. Join us to discover different cultures and dialects of the Arabic world. Stop by for some Arabic coffee, Baklava, Hummus... or join us for a night of Arabic movie (with English subtitles!) and more!  Open to everyone.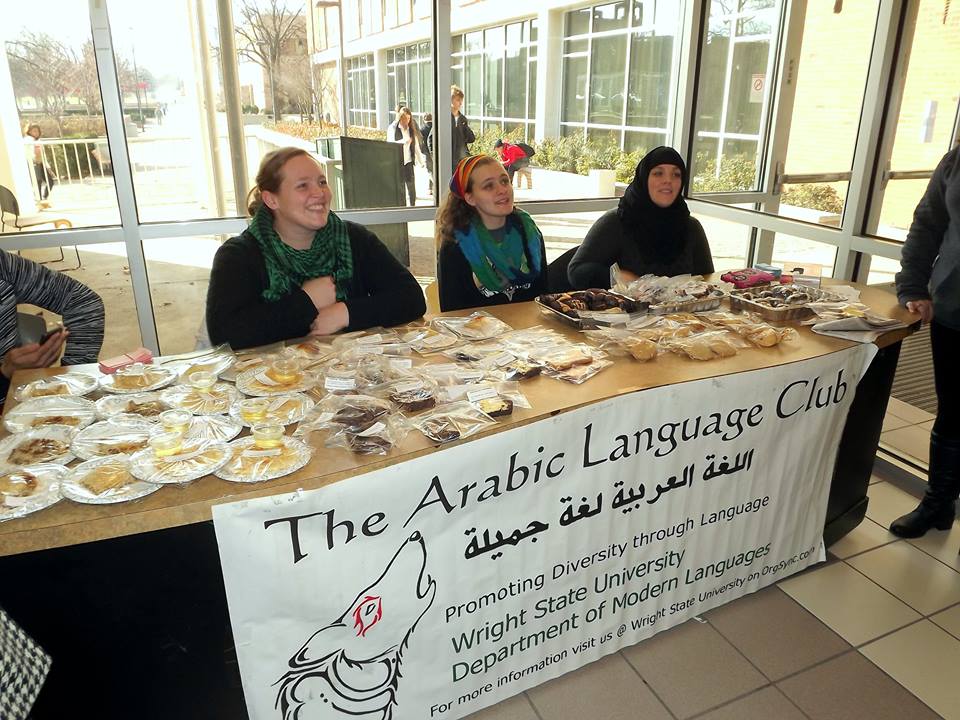 Officers:
---
Japanese Club
Dr. Kathryn Meyer , Faculty Advisor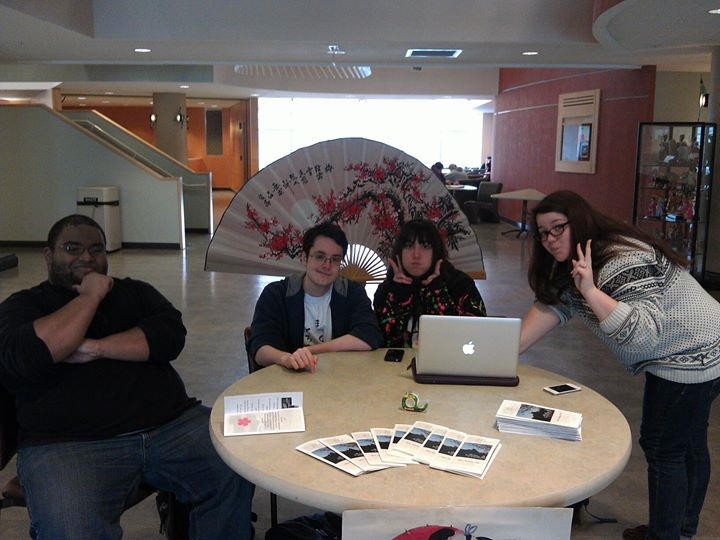 こにちは!We're a group of students interested in promoting Japanese literacy and study of Japanese culture, history, and impact on the world. Open to everyone: no Japanese language skill is required!
Officers:
---
Chinese Club
Haili Du, Faculty Advisor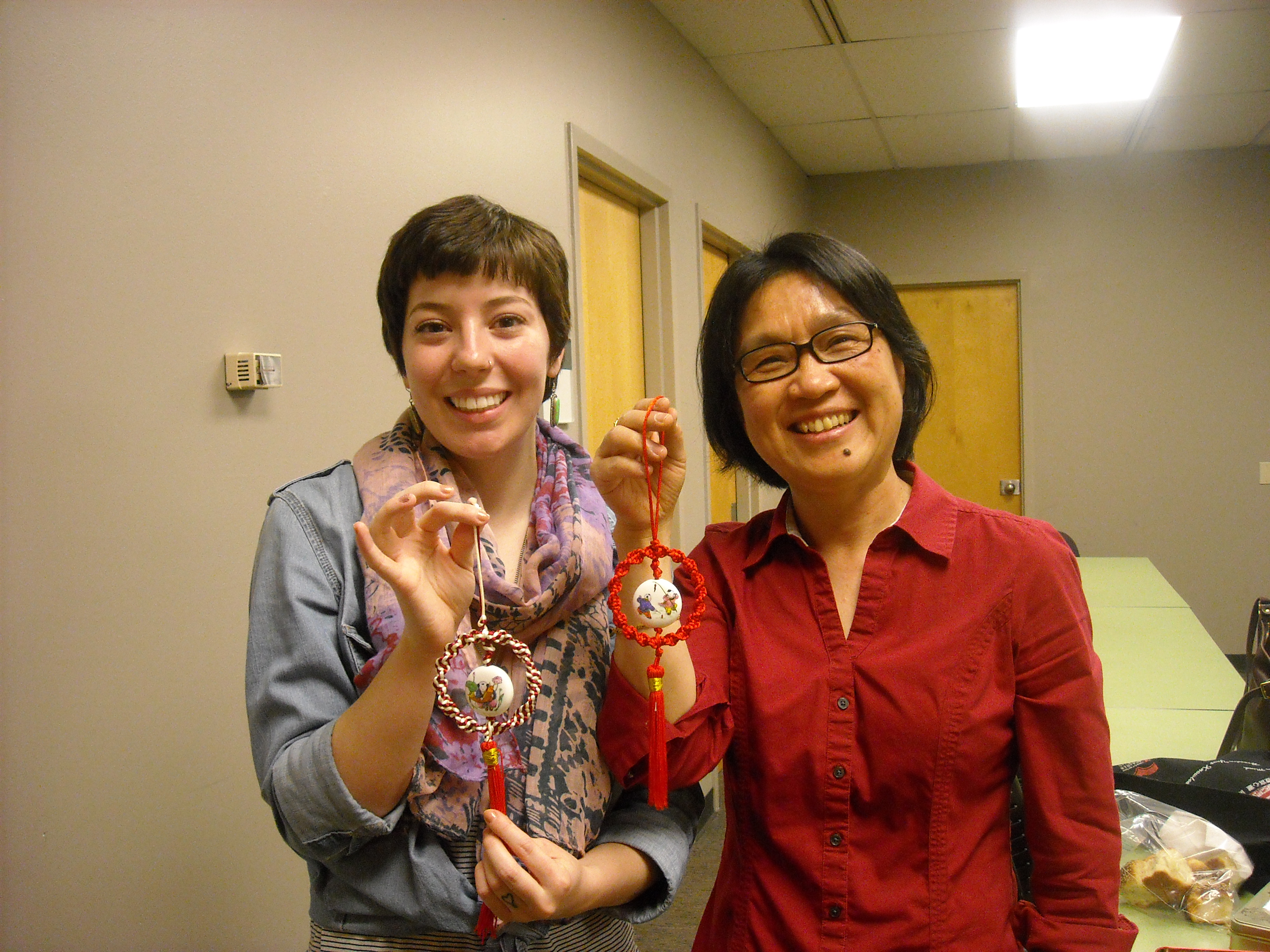 大家好! The Chinese Club (中文俱乐部) is for students who are interested in learning more about the Chinese culture and language. We also welcome Chinese students to join us as well. For more information about our events please email our treasurer Lina Lin.
Officers:
Honor Societies
French
Pi Delta Phi, Theta Epsilon Chapter
Dr. Kirsten Halling, Faculty Advisor
Students who have completed at least one upper -division course in French, whose overall GPA is 3.0 or above, and whose GPA for all courses completed in French is at least a 3.0, are invited to join the WSU chapter of the national French honor society, Pi Delta Phi. The society recognizes outstanding academic work in French studies and a commitment to French and Francophone language, literature and cultures. A formal initiation ceremony is held once a year, and the society occasionally sponsors other activities.
---
German
Delta Phi Alpha, Theta Iota Chapter
Dr. Elfe Dona, Faculty Advisor
Interested in being a member of one of the most selective Honor Societies? Join the Nationale Deutsche Ehrenverbindung (National German Honor Society), Delta Phi Alpha! Delta Phi Alpha seeks to recognize excellence in the study of German and to provide an incentive for higher scholarship. The Society aims to promote the study of the German language, literature, and civilization and endeavors to emphasize those aspects of German life and culture which are of universal value and which contribute to man's eternal search for peace and truth. Requirements include: a minimum of two years of college or university German or their equivalent; a minimum GPA of 3.3 or its equivalent in German courses; a minimum cumulative GPA of 2.7 or its equivalent; and an indication of continued interest in the study of German language and literature.
---
Spanish
Sigma Delta Pi
Ms. Dorothy Alvarez, Faculty Advisor
Minimum requirements for membership: At least three years of college-level Spanish (18 sh), including at least one three-credit hour class in Hispanic Literature or Hispanic culture and civilization; a minimum GPA of 3.0 on a 4.0 scale in all Spanish courses taken; a minimum overall GPA of 3.2 on a 4.0 scale. Students who meet these requirements and who are recommended by the department faculty will be invited to be a member of Sigma Delta Pi.
Useful Links
For additional language- and area-specific websites, please see Programs and then click on individual language from there.
Majors & Minors Meetings and Workshops
Modern Languages Majors and Minors Workshop        
On Thursday October 5th, 2017, the Department of Modern Languages hosted its Fall Prospective and Current Majors and Minors Information session. Attendees had the opportunity to chat with all the language professors while enjoying drinks and delicious pastries. There were a language artifact treasure hunt, information sessions on Scholarships, Study Abroad opportunities, Student Sucess Center and Advising.
---
On April 7, 2017, the Department of Modern Languages held its spring semester's Majors and Minors Workshop.  Attendees had a chance to chat with all the language professors while enjoying pizza and drinks.  There were an informational cultural guessing game, an Alumni & friends panel and an award and honor ceremony.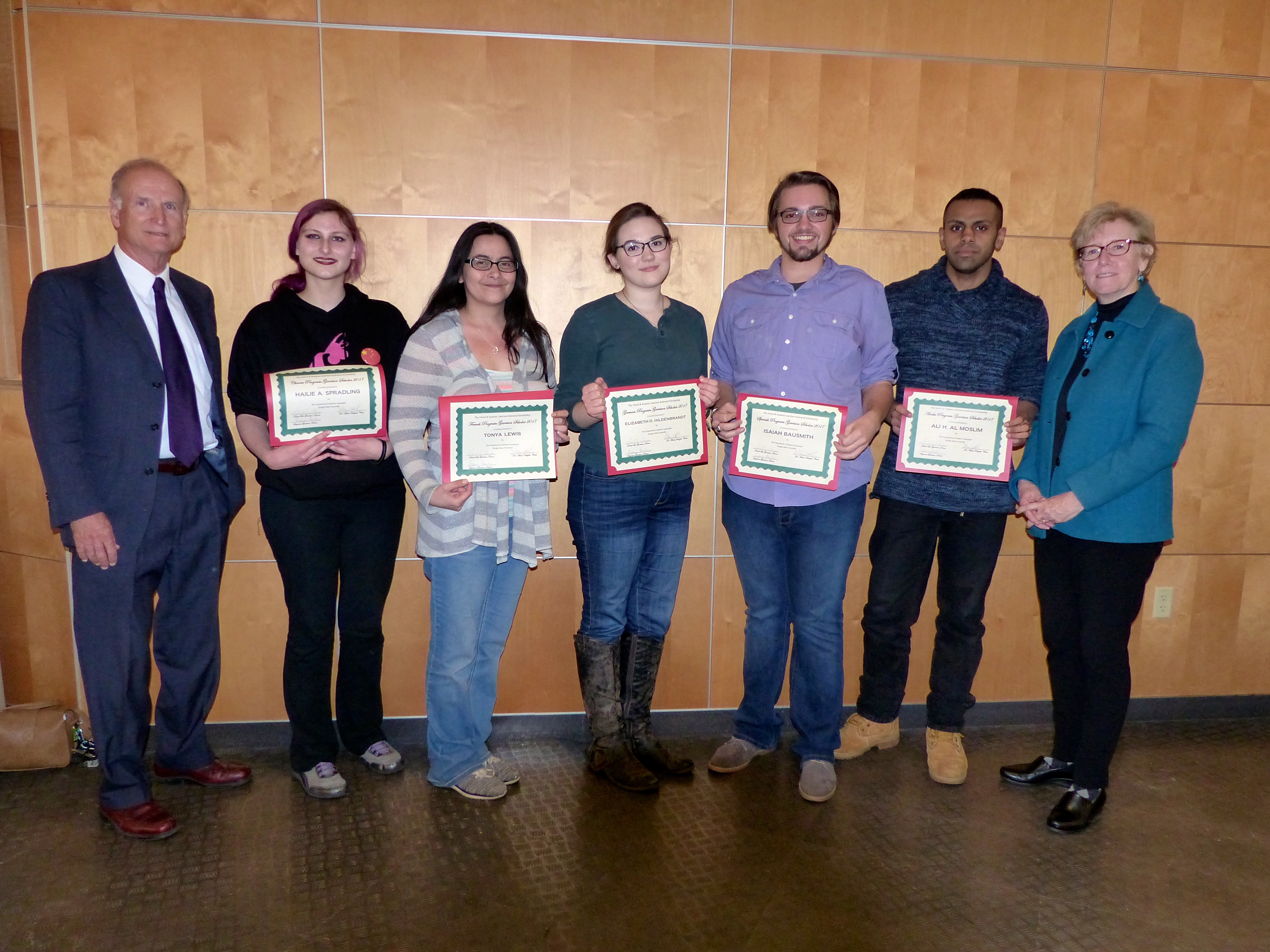 ---
On October 12, 2016, the Department of Modern Languages held its fall semester's Majors and Minors Workshop.  Attendees had a chance to chat with all the language professors while enjoying pizza.  There were informational tables explaining the various language clubs, honor societies, curriculum and study abroad opportunities.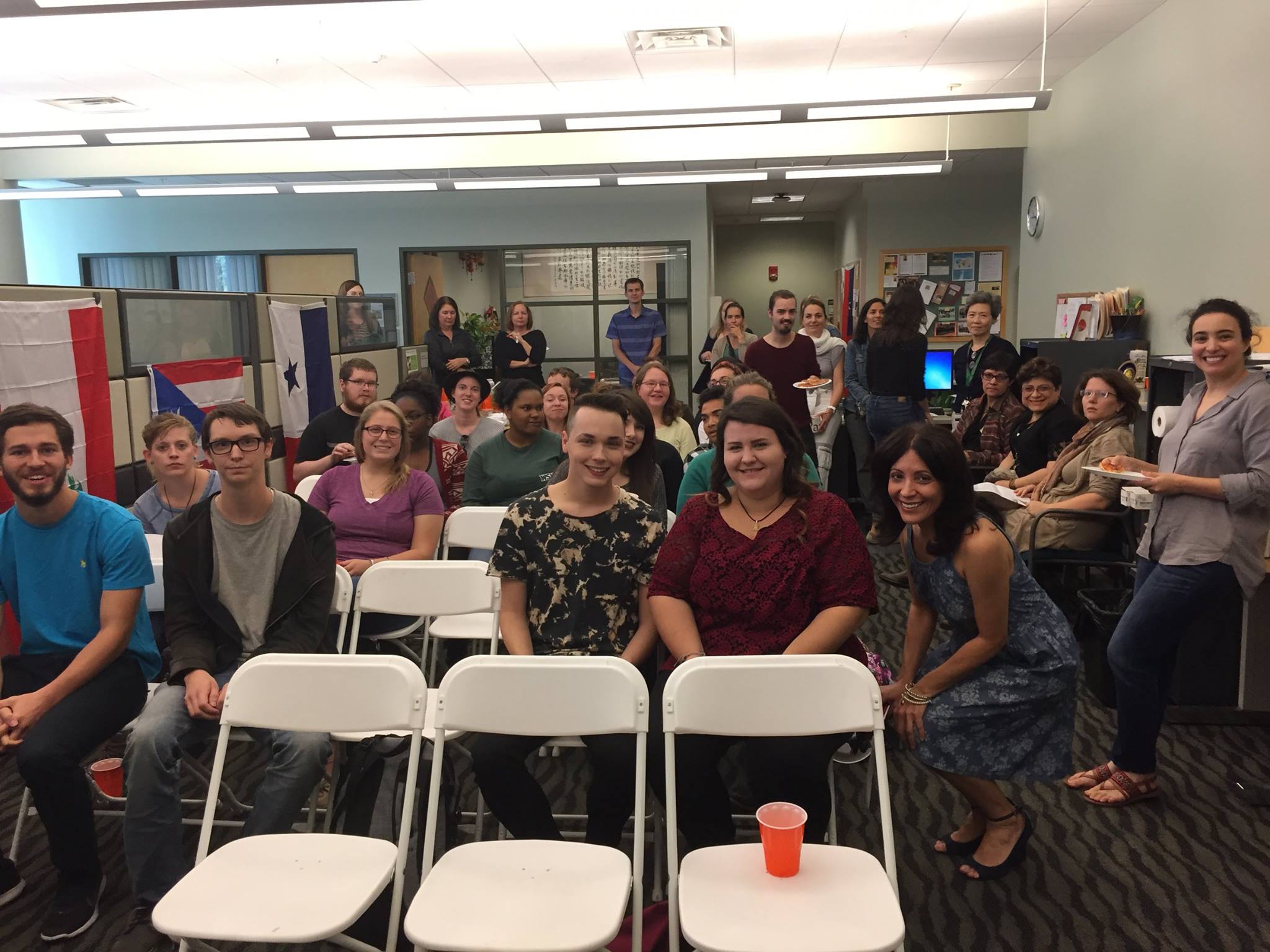 ---
On Wednesday April 22, 2015, The Department of Modern Languages hosted its Spring workshop "Interviewing Like a Pro" in the Millett Atrium.
Students worked on their résumé building and interviewing skills with Cintas and our Modern Languages faculty. All majors, minors and students currently enrolled in language courses attended this event.
The event ended with an award ceremony to recognize recent scholarship recipients.
---
The annual Fall Majors and Minors Workshop took place again in the Millett Hall Atrium on Friday, October 3, 2014.
Attendees learned about Career Preparation, Financial Wellness and Post Graduate Job Opportunities.
It was a successful, fun and informative event!
---
On Tuesday April 15, 2014, the Department of Modern languages hosted its Spring workshop for prospective and current majors and minors.
The workshop included five break out sessions:
Master in Business Administration
Master in Education
Master in Literature and Translation
Non-Profit Certification and Career Opportunities
TEFL & TESOL Certification and Career Opportunities
The event ended with refreshments and the department student award ceremony.
---
Scholarships
Wright State Scholarships
How to apply for WSU Scholarships?
Students can submit ONE online scholarship application to be considered for multiple scholarships.
College of Liberal Arts Scholarships

General Scholarships
College of Liberal Arts students have multiple opportunities to secure scholarships to ease the path to graduation. Some scholarships are based on merit, some on financial need, and some depend on the student's course of study.
By submitting just one application, all students—incoming, continuing, and transfer students—can apply for multiple scholarships for 2019–2020. The university-wide undergraduate and graduate 2019–20 Scholarship Application will be open until January 8, 2019. For more information regarding the Financial Aid Scholarship process, please call Raider Connect at (937) 775-4000.
---
College Scholarships
The COLA Dean's Office offers two additional scholarships – the COLA Leadership Scholarship and the COLA Study Abroad Scholarship.  These applications are both due to the COLA Dean's Office (163 Millett) by Friday, February 15, 2019. For more information regarding these scholarships, please call (937) 775-2233 or email susan.paul@wright.edu.
In addition, all majors in the college have scholarships for continuing majors. See the web pages for each major for more information.
Keep in mind that these scholarship applications all require letters of recommendation so please allow enough time to ask your faculty, work supervisors, club advisors, etc. to write you that very important letter!
---
College Emergency Fund
The College of Liberal Arts Emergency Fund assists students with one-time funding when financial support is urgently needed. The maximum award is $500. Please fill out this application form (PDF) and submit it to the COLA Dean's Office for consideration. 
Modern Languages Scholarships
David & Suzanne Garrison Endowed Scholarship Fund for Modern Languages
Awarded each year to outstanding rising junior or senior majors or minors in Arabic, Chinese, French, German and Spanish.  Selected by the Modern Languages faculty.
Jennie and David Buckwalter Study Abroad Scholarship
Awarded each year to CoLA students participating in a study abroad program. Preference is given to students who are traveling abroad for the first time and who are traveling to a Spanish-speaking country. Selected by the CoLA Dean's Leadership Board.
Joëlle Giacinti Endowed Scholarship for the Ambassador Program to France
Awarded each year to students participating in the WSU Ambassador Program to France. Selected by the program leaders.
Stefan M. Pugh Endowed Study Abroad Scholarship
Awarded each year to the continuing undergraduate student with the highest GPA (at least 3.4), who is pursuing a major or minor with the Department of Modern Languages and who will be studying abroad for one or more semesters (not including summer). This scholarship is intended to promote language acquisition and cultural exposure in any target country of the student's interest. Selected by the Chair of the Department of Modern Languages.
Modern Languages Study Abroad Program Fund
Awarded each year to students participating in non-French WSU Ambassador Programs. Selected by ML Ambassador Program leaders.
Other Opportunities
Information on 200 scholarships available nationwide.
The Boren Scholarships for International Study
This program focuses on geographic areas, languages, and fields of study deemed critical to U.S. national security.
The Critical Language Scholarship Program
Scholarships in less commonly taught languages.
Benjamin A. Gilman International Scholarships
Grants for U.S. citizen undergraduate students of limited financial means to pursue academic studies or credit-bearing, career-oriented internships abroad. Applicants must be current/future Pell Grant recipients planning to enroll in a study abroad program.