Overview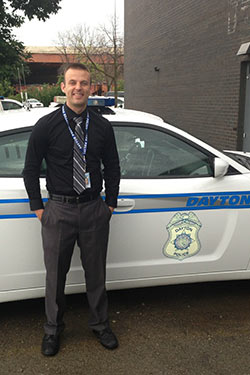 Crime & Justice Studies students are required to complete one 3-credit hour internship prior to graduation. Students should meet with an Internship Coordinator a minimum of one semester before registering (two semesters prior for the Sociology internships). Internships can be taken through Political Science, Sociology or Urban Affairs/Geography Departments (each have different minimum GPA requirements) by contacting the Internship Coordinators listed below:
Political Science
PLS 4821
Dr. Lee Hannah (lee.hannah@wright.edu)
(937) 775-2904
Urban Affairs & Geography
URS 4950
Dr. Jerri Killian (jerri.killian@wright.edu)
(937) 775-4451
Sociology
SOC 3000-01*
Dr. Jim Adamitis (jim.adamitis@wright.edu)
(937) 775-4465
*Prior to contacting Dr. Adamitis, be sure to complete the required steps before registering for SOC 3000.  Federal Regulatory agencies require interns to be U.S. citizens.

Please note: Background Checks, Drug/Alcohol screening will typically be required for Internship placement. Previous convictions could hinder this process and/or future employment within this career field. If you have a concern, be sure to notify the Crime and Justice Studies Program Director so it can be discussed. Given how strictly agencies screen applicants, if you have a drug/alcohol dependency or previous record you should likely reconsider a career path in criminal justice.
Convictions of any crimes of violence, or sex offenses - including misdemeanors
Serious felony charges that became misdemeanor convictions through plea deals
Marijuana use within two years; Marijuana sale within 8 years
Sale or use of illicit drug of any other type, including steroids, within 8 years
Prescription drug abuse within 8 years
Convictions for flee/elude, resisting arrest or any other crimes which show a contempt or lack of respect for the law or law enforcement officers
Defendant on a protection order
Active warrant or capias
Already Working in the Field? If you have the equivalence of one year's full time experience in a related field or have attained certification from an accredited criminal justice professional academy (e.g. OPOTA) by the time of graduation, alternative coursework can be arranged. Please contact the Program Director,  karen.lahm@wright.edu, (937) 775-4165 for more details.
Sociology Internship Program
Crime and Justice Studies students can explore career options through participation in the Internship Program (SOC 3000-01), a 3-credit hour internship wherein they work under professional guidance at a local agency or firm. For many, this opportunity has led directly to a career choice and, occasionally, a job. Students should meet with the internship director, Dr. Jim Adamitis, 289 Millett Hall, (937) 775-2667 at least one or more semesters before registering.
Steps before Registering for SOC 3000
Complete the application form.
You will need your UID number to log in.
Complete resume template.
Use this Sample Resume Template (DOC) to assist in completing your resume which you need to bring with you to your appointment.
Schedule an appointment with Jim Adamitis at (937) 775-4465.
Testimonials
"I have learned valuable information and skills throughout my experience as an intern at Fairborn Police Department that has put me on a path to be a successful police officer."
— Connor Mulcahy
"The experiences offered to me during my internship with the Fairborn Police Department have definitely persuaded me to pursue my dreams of entering the field of law enforcement. I am truly fortunate to have had the opportunity to work with such an amazing group of people within both the department and community of Fairborn."
— Ryan Dunlevy
"I am able to work on real criminal cases with different agencies on a wide variety of cases. The knowledge I have gained here will be an invaluable asset to help me advance my career."
— Megan Wulber, Advanced Technical Intelligence Center
"I have enjoyed my time with the U.S. Pretrial Services; this internship has provided an eye-opening experience and an invaluable opportunity to see the inner workings of the federal legal system."
— Sarah Hayes, U.S. Pretrial Services intern
"As an advocate and future employee of the criminal justice system, the skills and intellect gained from the College of Liberal Arts at Wright State University along with this internship opportunity with the Montgomery County Adult Parole Authority will serve as a path to a prosperous career."
— Danielle Shaw, Montgomery County Adult Parole intern
"During my internship with the Wright State Police Department, everyone has gone out of their way to make it a learning experience and a great chance to observe how they handle real life situations."
— Melanie Bearsby, Wright State University Police Department intern
"...an experience that prepares you for the real world"
— Cameron Giles, Montgomery County Public Defender Office intern
"It was an eye opening experience. I got to see what the police force have to deal with everyday on a 24/7 basis."
— Ryan Edwards, Dayton Police Department intern
Interns-in-Action