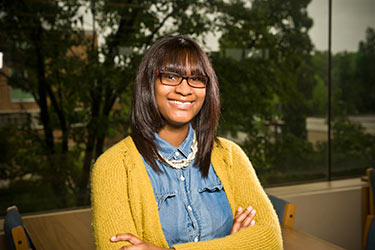 Women, Gender, and Sexuality Studies is an interdisciplinary program that places women and other marginalized peoples in all their diversity at the center of inquiry and examines how gender and sexuality influences our personal identities, cultural and artistic expressions, social arrangements, political and economic systems, and our ways of knowing and understanding the world. The Bachelor of Arts program in Women, Gender, and Sexuality (WGS) is organized around the following areas of concentration: feminist activism, theory, and methods of inquiry; women and other marginalized peoples as subjects of study within multicultural and global contexts; and multiple fields of difference, experience, and identity related to gender and sexuality. Through courses taught in these and other areas across many disciplines, as well as opportunities for internship experiences and/or independent research, students will gain:
Critical and creative thinking, communication, and problem-solving skills;
Proficiency in analyzing from interdisciplinary perspectives the intersections of gender, sexuality, race, ethnicity, cultural identity, nationality, class, age, and ability;
Understanding of how institutional, social, political, and personal patterns of privilege and discrimination play a role in their own and other people's lives;
New ways of seeing and new standards for evaluating diverse women's and men's contributions to knowledge, culture, and society;
A more inclusive view of the world(s) in which they live and the opportunity to actively participate in social change.
The breadth and flexibility of the WGS major enables students to choose among a variety of courses across many disciplines that suit their needs and interests as well as to tailor their course of study to develop a specialization within Women, Gender and/or Sexuality Studies. Because the major is made up of courses that also count toward programs of study in other disciplines, it also offers students the opportunity to pursue minors or dual majors in other fields to supplement and apply their training in Women, Gender, and Sexuality Studies. Students often decide to complete a second major in African and African American Studies, Anthropology, Communication, Crime and Justice Studies, English, History, International Studies, Modern Languages, Philosophy, Political Science, Religion, Social Work, and Sociology. Up to 20 credit hours of electives can count toward both majors and dual majors within the College of Liberal Arts may not need to complete additional credit hours beyond the standard requirements. Students also pursuing a major in Business, Economics, Education, Psychology, or Nursing will need to complete additional credit hours to fulfill their secondary college and program requirements.
Program options
Women, Gender, and Sexuality Studies Approved Course List (PDF)