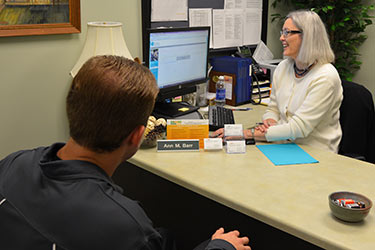 Academic Advisors are here to help you with registration, policies, tutoring, employment opportunities and more.  Students receive a list of their general education and major degree requirements when they are admitted to the College. Students are required to meet with an advisor to review these requirements and sign the requirements check sheets. Advisor signatures are not required for registration each quarter, but students are encouraged to see an advisor at least once a year to ensure they are on schedule for their projected graduation date. Advisors may also provide help with procedural or academic problems. Make sure you take advantage of this valuable resource.
Students newly admitted to the College of Liberal Arts (COLA) from another College within Wright State or transferring from another institution may wish to consult COLA advising. While students in the College are primarily advised by faculty members in their departments, COLA's Assistant Dean and College Advisors work together with the departments to ensure each student has a seamless transition into COLA.   
The College of Liberal Arts has an Advising office on the first floor of Millett Hall; this is where you should go if you have questions about transfer credit, Core classes, and the content of your degree audit. Students who major in either Sociology or Anthropology are also assigned a departmental faculty member as their advisor. You should seek out your faculty advisor for questions concerning the major. It is extremely important that you review your progress with your advisor on a regular, and at least a yearly, basis.