Advisors
College of Liberal Arts Advisor
WSU Core and College Advising.  Call (937) 775-2601 to ask for current Crime and Justice Studies CoLA advisor.
---
Crime & Justice Studies Faculty Advisors
OPEN ADVISORS - email for an appointment:
Major/Minor Advising for Students with last names starting with A-E, M-Z and Degree Grad Checks
Major/Minor Advising for Students with last names starting with F-L
Dr. Sean Wilson
Program Check sheets
Crime and Justice Studies major check sheet
Is Crime & Justice Studies Right for You?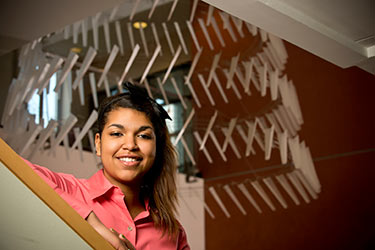 Crime & Justice Studies (CJS) is an interdisciplinary and incredibly varied field of study. Knowledge specific to the discipline relies upon research from fields as varied as sociology, law, history, psychology, and political science. It encompasses analysis of federal, state and local entities that seek to understand, control and deter crime. The principal agencies charged with these responsibilities are law enforcement, the judiciary, and corrections. More fundamentally, however, Crime and Justice Studies examines questions of social justice—concerns related to equality, fairness, freedom, security, and social order. To that end, our program offers classes for students who are interested in understanding the causes, responses, and consequences of crime for the individual as well as the larger society. 
Crime and Justice Studies is a Liberal Arts degree and therefore, our focus is on providing students with a well-rounded, critically engaged, and scientifically informed understanding of the field. While practical experience is a vital component of our curriculum, our larger mission is to produce graduates who will be innovators and leaders in their chosen occupations; individuals who will utilize scientific reasoning and sharply-honed analytical skills on their path to success. Program graduates will attain positions in a variety of occupations including local and federal law enforcement, probation and parole, civil, criminal and juvenile courts, research, corrections, teaching, forensics and a variety of other fields.
While Crime and Justice Studies is an exciting and challenging major, it is not for everyone. Unfortunately, if you have a prior criminal record or a drug or alcohol dependency it will be difficult for you to obtain employment in the field once you graduate. Further, it is a field that generally requires not only keen analytic and technical skills, but also the ability to empathize, establish strong interpersonal boundaries and most importantly, maintain a fundamental respect for the rights and dignity of others. 
Still interested? Fantastic! If you would like more specific career information, go to our Careers page where you will find links for a wide variety of common CJS career options.
Want to apply to the major?
Program Checksheets
Tips for Students
Tips for Successful Completion of the Crime and Justice Studies (CJS) Major
Meet with your CJS faculty advisor regularly.  Advisors help prevent you from taking unnecessary courses and make sure that the courses you take are counted in ways that best facilitate your progress towards graduation.  They will also direct you to important University resources.  They are here to help make sure you make the most of your WSU experience.  Call (937) 775-2582 for information about scheduling an appointment.
Our curriculum offers a strong foundation of core CJS courses while at the same time allowing the opportunity for great flexibility and specialization within the program.  Therefore, you will typically have two or more course choices that can be used to fulfill each of our program requirements.  For example, you can take the required discipline overview course in the CJS Core through the Political Science  (PLS 4420) or  Sociology (SOC 3710) or the Urban Affairs & Geography (URS 4280).
Not all courses are offered every semester so it is a  good idea to get critical courses (e.g. your CJS Core courses) completed before your senior year. 
Do not wait too long to take your COLA language requirement.  The courses are sequenced and the sequence begins in the fall. So, if you get off track, it can be difficult to complete!   Please note: For those interested in Spanish, Spanish 2110 and 2120 Spanish for Law Enforcement Personnel, are targeted for CJS majors and will substitute for the final two courses in the Spanish sequence (SPN 2010 and 2020).  SPN 2110 will be offered fall semester only; SPN 2120 will be offered spring semester.
An internship in a criminal-justice related occupation is part of our core requirements.  We generally recommend that students have completed a minimum of 15 hours in the major before taking the internship. Internships much be secured through one of our three core courses (PLS 4821, SOC 3000, or URS 4950) and students must begin the scheduling process at least two terms in advance; Federal internship planning should be a year in advance.   Detailed information about this process can be found on our Internship web page.  NOTE: CJS Minors are not required to complete an internship. 
NOTE:  Background checks, drug/alcohol screenings will typically be required for placement.  Given how strictly agencies screen applicants, if you have a previous record or dependency, discuss this with you advisor so that alternate arrangements can be made.  (See details on our web page.)
In the semester prior to your graduation date (e.g. fall semester for a spring graduation), you need to make an appointment to meet with the Program Director, Dr. Lahm (karen.lahm@wright.edu) to conduct a graduation check and exit interview. Once approved, the College of Liberal Arts Advisor will enable you to electronically apply for graduation.  
Portfolio Requirement – As part of our internal program assessment we ask that you turn in copies of your term papers from three of your five CJS classes to the department before you graduate (SOC 3410 should be one of these three).  NOTE: CJS Minors not applicable.
Email Listing:  This is the central communication tool which uses your WSU email address.  The Program Director, through the Administrative Support Coordinator, sends emails about course listings, class availability, internship information and job postings.  As a new student you will receive several WSU emails, so be sure to check your Wright State email regularly so you do not miss any important information.  These will be sent to you by mary.zurawka@wright.edu or crime-justice@wright.edu. 
How to Change Your Major or Minor
Go to your Wings Express Student Tab and click the Major/Minor Change Request.