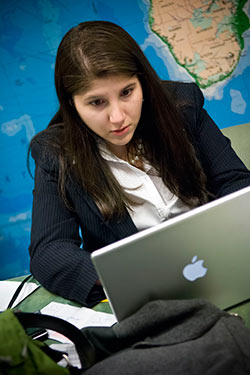 Our leading academic program is the Master of Public Administration. This program was launched 1991, accredited in 2002 and reaccredited in 2009 by the Network of Schools of Public Policy, Affairs, and Administration. Our graduates fill leadership positions throughout the Dayton region and across the U.S. We even have graduates in international leadership positions. 
We also offer majors in Urban Affairs and Geography. Students may complete a Bachelor of Arts or Bachelor of Science in either major. Urban Affairs and Geography strive to be professional programs, meaning students that graduate have learned the core concepts of their respective field of study and they have obtained a set of skills that allows them to qualify, contribute quickly and succeed in their chosen careers.
The Department offers certificates to both graduates and undergraduates that may enhance career goals. Nonprofit Leadership is a national certificate program recognized by the nation's major nonprofit corporations such as Boy Scouts, March of Dimes and Volunteers of America. The Geographic Information Science certificate develops analytical and visualization skills using geospatial software. The Public and Social service Transportation certificate serves the growing need for access to jobs, health care and every day necessities. The Ohio Department of Transportation supports four paid internships for students annually.
Read more about our programs, our students and our outstanding alumni. Call or stop by the office if you have more questions – we love talking about our programs!