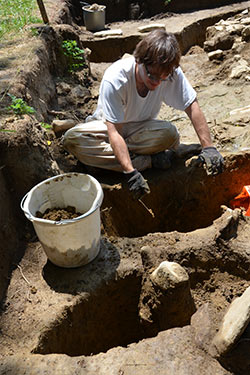 Our summer term Field School in Archaeology makes it possible for students from any major, and also those who are enrolled at other schools, to learn firsthand what archaeological field research is like. The Field School is conducted at sites in the Southwest Ohio region.
The Field School in Archaeology is the summer-only course conducted as ATH 4650/6650 for 3 to 6 hours of credit (semester system) that provides students with hands-on archaeological survey and excavation experience. It is an A term summer course that meets four days per week (Monday-Thursday) and about eight hours each day.
During the past decade, the Field School has worked at several sites including the large ceremonial structure (dubbed the Moorehead Circle) at the Fort Ancient Earthwork, the Pollock Works hilltop enclosure in Greene County, the site of the Wright Cycle Company in Dayton, where the Wright Brothers invented powered flight, and a house site related to the Underground Railroad. 
During the summer 2016 field school, students participated in a larger project that explores the history and archaeology of 18th century Shawnee settlements. Students investigated the site of the Battle of Piqua at the George Rogers Clark park near Springfield (located northeast of Wright State University).
The Field School is directed by Dr. Lance Greene, who is assisted each summer by 2-3 supervisors. Students who enroll in the field school are presumed to have had no previous field experience, and can be from any major. In recent years there have also been numerous student participants from schools other than Wright State. Students begin with an orientation in the classroom, followed by several weeks of fieldwork in which they learn basic skills such as mapping, survey, and excavation techniques. Students also spend time in the lab, learning methods of artifact processing, conservation, and analysis.
If you would like more information about the field school please contact the department at 937-775-2666.