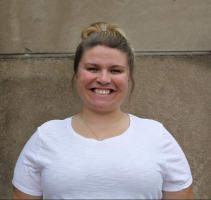 Emily Kronenberger, a senior at Wight State University, is the latest student from the Advanced Media Writing class to land a job before she graduates.
Emily has been hired as a part-time Social Content Producer at Cox Media Group.
"I am very thrilled about getting a position with Cox Media Group. It will help me to get more experience in my field of work and let me learn from the professionals." She said. "Also, I will get to learn more about driving readers through the social media platforms. This means a lot to me because I have been working very hard to accomplish my goals and this position at Cox brings me another step closer to my career after graduation. I wouldn't have been able to accomplish this without the great instructions from my Wright State professors, my peers in classes, and my family for pushing me to do the best I can."
Three other students from the Fall 2017 advanced media writing class have landed internships at Vivial, the web-based marketing company, that last through April. Another student from that class is interning at the Salvation Army Kroc Center.
For more information about internships and employment opportunities, contact Ray Marcano, the communication department's internship director.