Non-Profit Administration Certificate
Certified Nonprofit Professional Nonprofit Administration Certificate—Certified to Change the World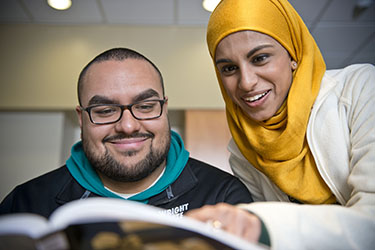 Nonprofit organizations and human services agencies play a vital role in the care and development of our society. To fulfill their mission, these organizations need dedicated, trained professionals with the desire and ability to make a difference in their community and the lives of others.
Wright State University is the only university in Ohio to offer both an undergraduate and a graduate Certificate in Nonprofit Administration. Successful completion of certificate requirements enable students to become Certified Nonprofit Professionals through sponsorship of the Nonprofit Leadership Alliance.
The Nonprofit Leadership Alliance (NLA) is a national organization that collaborates with affiliated college/university programs and nonprofit agencies in recruiting, preparing, and placing students in meaningful careers with youth and human service agencies. Participation in the NLA program builds on and enhances a student's chosen major course of study and provides the tools required to achieve success in the field of youth and human service agency management.
The Wright State Nonprofit Administration Certificate program, in concert with NLA, enables students to learn and apply leadership skills in nonprofit settings by combining coursework with hands-on experiences, such as internships, volunteer opportunities, NLA Student Association leadership activities, and professional development workshops. It also enables students to make a difference through education and training in various skill areas, including:
Board and Committee Development
Fundraising Principles
Human Resource Development and Supervision
Volunteer Management
General Nonprofit Administration/Management
Nonprofit Accounting and Financial Management
Program Planning and Evaluation
Risk Management
Public Relations and Nonprofit Marketing
For more information concerning the requirements of the Certificate in Nonprofit Administration and NLA program activities, visit the Wright State University NLA Chapter or email Nonprofitldr@wright.edu.