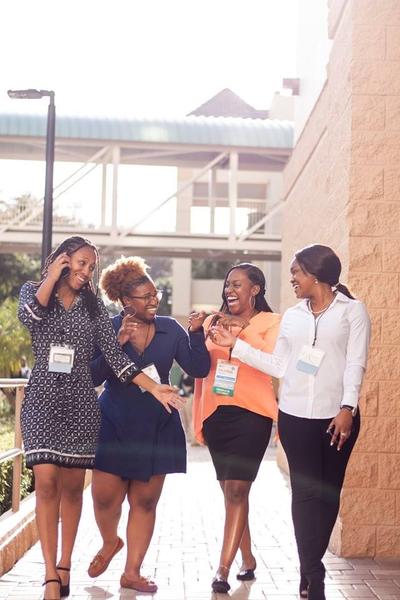 What better way to spend winter break than a few days in Orlando, Florida!
Each year, members of the Nonprofit Leadership Alliance get the opportunity to attend the 3-day Alliance Management Institute conference as part of their certificate program. This year, six students were honored to attend. They had this to say:
"The Alliance Management Institute was an eye opening experience. I learn so much about the future of nonprofit sector, best practices, and about how to conduct myself as a nonprofit professional. My favorite workshop was The Five Secrets to Building Influence and Impact. This workshop talked about how to brand yourself so you can leave a lasting impression on people." Yabome Kanu
"Leaving AMI, I had a reignited understanding of why I wanted to work in the nonprofit sector. I was reminded on the importance of thinking outside of the box and to embrace what may be unconventional, to help mold the world into what it should be." Yahziyl Palmer
"It was interesting to listen to the keynote speakers and speakers from the workshops, like Vernon Brown who spoke on healing yourself through talking, and making sure you have time for yourself at the end of the day, and Latonya Smith who touched on deconstructing the need. I am also very glad I attended because I figured out that I really want to work with the homeless." DaJisha Hubbard
"The most important thing I gained from AMI is the understanding of what envisioning means. Envision is seeing our community not as it is but as it should be. This explanation has given me so much knowledge that I am currently using it to set the pace of my life as a student leader, as a future nonprofit professional, and in everything, other place or organization I am involved in." Chinenye Amagwu
Students met with:
over 500 undergraduate and graduate students
50 speakers
150 volunteers
25 exhibitors
They:
networked with national nonprofit leaders
participated in interviews with prospective employers
attended workshops that focus on innovation
served as consultants, solving real issues facing local nonprofit organizations
Dr. Jennifer Subban, the program director, leads the group each year. The trip is one of the requirements to complete the Certified Nonprofit Professional credential. 
In previous years, the students have traveled to Denver, Kansas City, Houston, Atlanta and Chicago.  Where might next year's adventure take them?
Interested in learning more about the CNP credential?