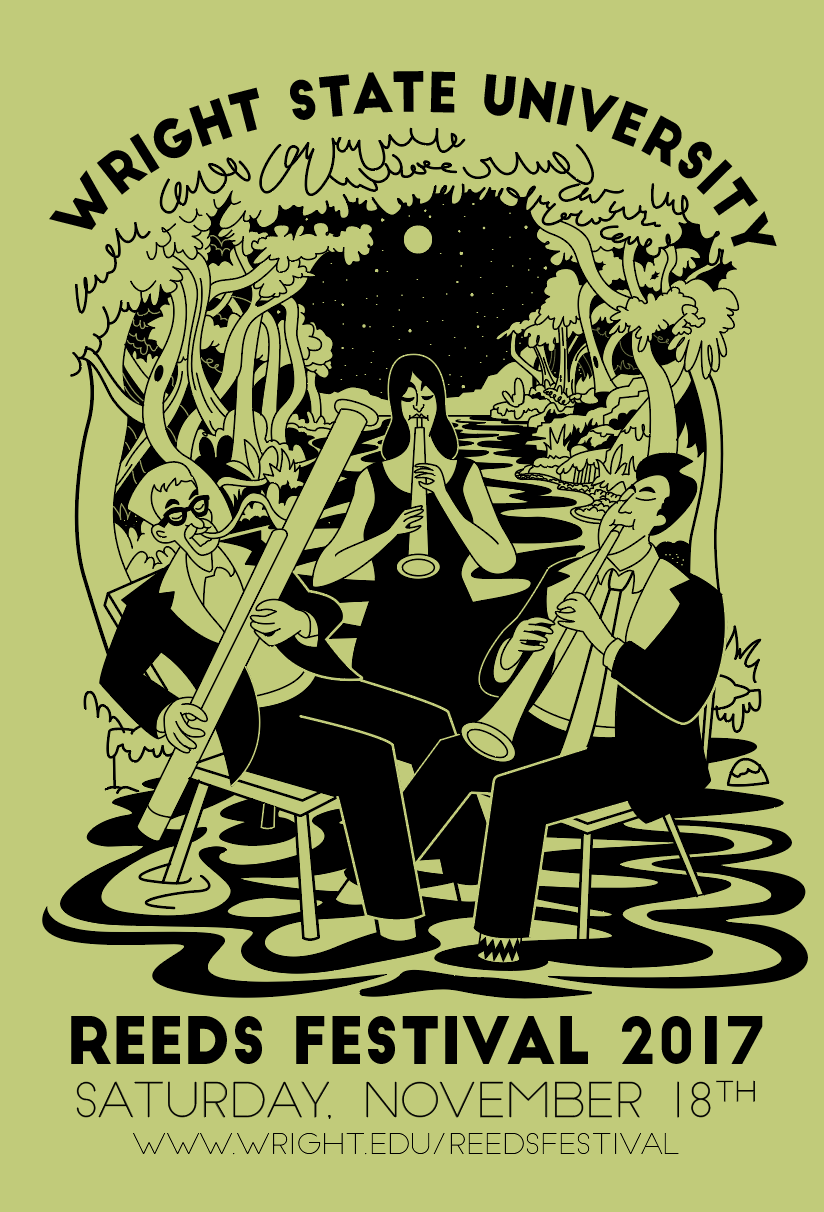 The Wright State University Reeds Festival is an event that brings together clarinet, bassoon, and oboe players from throughout Ohio, Kentucky, and Indiana. The festival is a full day of new ideas and exchanges of knowledge geared towards the needs and interests of high school students, private studio teachers, and amateur double reed players. The day will include:
With separate schedules and events for clarinet, oboe, and bassoon, the day will include classes covering concepts of performing, reed adjustment, the English horn and contrabassoon, and literature with separate offerings for high school students and adults.
The WSU Reeds Festival is for high school and college students, amateur and professional players, and private studio teachers.
Cost of the event is $35 This covers all masterclasses, recitals, and events of the day.
Everyone should bring an instrument and participate in the clinics and workshops.
All festival events will take place on the campus of Wright State University at the Creative Arts Center.
All participants under the age of 18 must submit a Medical Form (PDF)
Cost of the event is $35 This covers:
Registration fee
All masterclasses, recitals and events
Festival t-shirt
NOTE: in order to receive a T-shirt, you must register by November 13, 2017.
Workshop Presenters
Bill Jobert

Bill Jobert is now in his 10th year at Wright State where he serves as Lecturer of Bassoon and Coordinator of Music Education.
Jobert received his master's degree in Bassoon Performance and Literature from the Eastman School of Music and his major teachers include Bill Davis, John Hunt, Loren Glickman and Carl Niche. Jobert performs in the Faculty Woodwind Quintet and with the University Chamber Orchestra as well as presenting a faculty solo recital each year. Over the past six years he has commissioned and premiered works by composers Michael Issacson, Steve Winteregg, Carlos Carrillos, Christopher Weait, and Robert Broemel on his faculty recitals and at the IDRS conference. He has also been involved in video recording projects aimed at bringing new music and composers to a wider audience.  Currently Jobert is working with several other bassoon professionals to record all of the OMEA bassoon trios so that young bassoonists and music teachers can have a resource for selecting and preparing these pieces.  Jobert served for several years as principal bassoonist and personnel manager in the Lebanon Symphony Orchestra and is on the sub list for the Dayton Philharmonic, Hamilton-Fairfield Symphony, and the Middletown Symphony Orchestra.
Jobert received his bachelor's degree is in Music Education from the University of Georgia and student taught at Lassiter High School under Alfred Watkins. He taught for over 12 years in public school, directing bands at the middle and high school levels and building award winning instrumental programs in upstate New York and Raleigh, North Carolina. Jobert has worked on the marching band staff at Mason high school and Lebanon high school and has served as a woodwind adjudicator for OMEA and the woodwind editor for the Triad Magazine.   He has also served as a band and orchestra adjudicator for Showcase Music Festivals and at the Alberta Band Association Concert Band Festival in Canada.  At Wright State Jobert serves as the Coordinator of Music Education, teaches education pedagogy courses, and in 2008 was awarded Wright State's Outstanding Instructor Award.
Recently  Jobert served as the National Scoring Supervisor for edTPA Performing Arts and worked with the SCALE team at Stanford University to develop the rubrics and scorer training modules. He does state and national presentations and has published several articles on edTPA.
Currently Jobert maintains a large high school and middle school bassoon studio with students from Mason, Sycamore, Lakota East, and Kings and is one of the double reed instructors at the Double or Nothing Double Reed Camp.
Outside of all of that Jobert manages to make time for his family and to read a book or two. He is a huge Stephen King fan, having read almost everything published by the master of the macabre Careful to never go as far as to say that he is King's number one fan, as that would just be farmhouse-in-the-middle-of-the-woods creepy, Jobert would be amazed to meet King someday. Other authors he enjoys include Joe Hill, Tobias Wolf, and DJ Molles, and Neil Gaiman.
Katherine L. deGruchy

Katherine, a native of Dayton, Ohio, received her Bachelors and Masters in Music Performance from the Cleveland Institute of Music where she studied with the renowned oboist John Mack of the Cleveland Orchestra.  She lived in Mexico City for 17 years where she played oboe and English horn with the Mexico City Philharmonic and other orchestras.   Katherine performed the Mexican debuts of the Persichetti Concerto for English horn and the Honegger Concerto for English horn and Flute with the Mexico City Philharmonic. She also was a member of the award-winning octet Sinfonietta Ventus which recorded on the Urtext label and toured Mexico and the US including a concert in the Carnegie Hall recital hall in New York City.   She returned to the Dayton area in 2005 and has continued her performing career in the Middletown Symphony Orchestra, the Clermont Symphony, the Lebanon Symphony and subbing frequently with the Dayton Philharmonic Orchestra. Katherine has played Dayton performances of the Broadway shows "Wicked" (three times) and "Mary Poppins"  In 2006 she helped create the Burning River Winds with her husband John. The Burning River Winds were featured as guest artists at the 2012 IDRS Annual Conference and have performed at the Dayton Art Institute, the Hayner Cultural Center and Hamilton Fairfield.  She also is an active member of the International Double Reed Society.  In addition to being the Adjunct Instructor, Applied Oboe at Wright State University, Katherine also teaches oboe to younger students in several local schools. 
John Kurokawa

John Kurokawa is the Instructor of Clarinet at Wright State University. In addition to teaching applied clarinet, he teaches courses in woodwind chamber music, woodwind pedagogy, and music education. He performs in the resident faculty wind quintet, the Wright Winds, and the WSU Chamber Orchestra. His performances have been praised for their "...warmth, communication, and easy virtuosity" (Cincinnati Enquirer) and "truly flawless technique and intonation...a tone as smooth as silk and velvet." (Kettering-Oakwood Times). He has presented clinics and performed at institutions across the midwest, including the University of Cincinnati College-Conservatory of Music, Penn State University, James Madison University, Viginia Commonwealth University, Bowling Green State University, the University of Evansville, the University of Arkansas-Fort Smith and many others, as well as being a frequent clinician with high schools and youth orchestras in the Cincinnati and Dayton areas.
Kurokawa currently performs as Principal Clarinetist of the Dayton Philharmonic Orchestra and Cincinnati Chamber Orchestra. He has been a featured soloist with both ensembles, performing the works of Mozart, John Williams, Gerald Finzi, and John Adams. Aditional solo appearances include the WSU Chamber Orchestra and most recently, the Dayton Bach Society and the WSU Wind Symphony performing Michael Daugherty's Brooklyn Bridge for solo clarinet and wind ensemble. In the summer Kurokawa performs as Principal Clarinetist of the Cincinnati Chamber Orchestra's festival, 'Summermusik' and has also performed as Eb clarinetist and guest Principal Clarinetist with the Cincinnati Symphony Orchestra. An avid chamber musician, he gives educational concerts at schools all over the Miami Valley with the Dayton Phiharmonic Woodwind Quintet and is a founding member of the Prestige Clarinet Quartet, which has been a featured ensemble at the Oklahoma Clarinet Symposium, International Clarinet Association Clarinetfest, Ohio Music Education Association, and Midwest Band and Orchestra Clinic. Kurokawa has performed on the International Double Reed Society Conference, published articles in the Triad, presented at the Ohio Music Education Association Conference, and in 2013, was one of twenty faculty members recognized by Wright State University for Excellence in Teaching General Education.
Kurokawa holds the B.M. in woodwind performance (specializing in clarinet, flute, and saxophone) from Bowling Green State University and the M.M. in clarinet performance from the University of Cincinnati College-Conservatory of Music. His teachers include Angelo Fortini, Edward Marks, and Ronald de Kant.
Mr. Kurokawa performs exclusively on the Yamaha CSVR Clarinet and is a Yamaha Performing Artist.
Recitals and Performances
Vendors
Vendors will be on site with instruments to try, and music and supplies to purchase.
Are you a vendor and would like to have a display? Fill out the Vendor Application form.
Schedule
Double Reeds Festival, 2017
Bassoon Schedule
 

HS Bassoons

College Bassoons

9:00-9:30

Casey Gsell, Masterclass                      M259

Visit vendors                                          CAC Lobby

9:30-10:00

 
 

10:00-10:30

Visit Vendors                                         CAC Lobby

Casey Gsell, Masterclass                      M259

10:30-11:00

Double Reed Band Rehearsal              M162

 

11:00-11:30

Guest Artist Recital                               Schuster Hall

Guest Artist Recital                               Schuster Hall

11:30-12:00

 
 

12:00-12:30

Lunch                                                   The Hangar

Lunch                                                    The Hangar

12:30-1:00

 
 

1:00-1:30

Bill Jobert, Masterclass                        M259

Rachael Young, Masterclass                 Recital Hall

1:30-2:00

 

2:00-2:30

Double Reed Band Rehearsal             M162

Visit Vendors                                         CAC Lobby

2:30-3:00

 
 

3:00-3:30

Visit Vendors                                       CAC Lobby

Visit Vendors                                         CAC Lobby

3:30-4:00

Festival Recital                                   Schuster Hall

Festival Recital                                     Schuster Hall

4:00-4:30

 
 
Oboe Schedule
 

HS Oboes

College Oboes

9:00-9:30

Dana Sundet,  Masterclass                M344

Dana Sundet, Masterclass                   M344

9:30-10:00

 
 

10:00-10:30

 
 

10:30-11:00

Double Reed Band Rehearsal          M162

Visit Vendors                                      CAC Lobby

11:00-11:30

Artist Recital                                     Schuster Hall

 Artist Recital                                      Schuster Hall

11:30-12:00

 
 

12:00-12:30

Lunch                                               The Hangar

Lunch                                                 The Hangar

12:30-1:00

 
 

1:00-1:30

deGruchy Reed Class                      M344

deGruchy Reed Class                        M344

1:30-2:00

 

2:00-2:30

Double Reed Band Rehearsal         M162

Double Reed Band Rehearsal            M162

2:30-3:00

 
 

3:00-3:30

Visit Vendors                                   CAC Lobby

Visit Vendors                                      CAC Lobby

3:30-4:00

Festival Recital                               Schuster Hall

Festival Recital                                  Schuster Hall

4:00-4:30

 
 
Clarinet Schedule
 

HS Clarinets

College Clarinets

9:00-9:30

Georg Klass, Masterclass (M180)

Visit vendors (CAC Commons)

9:30-10:00

 
 

10:00-10:30

Visit Vendors (CAC Commons)

Krista Weiss Masterclass (M146)

10:30-11:00

 

 

11:00-11:30

Guest Artist Recital (Schuster Hall)

Guest Artist Recital (Schuster Hall)

11:30-12:00

 
 

12:00-12:30

Krista Weiss Masterclass (M146)

Georg Klass Masterclass (M180)

12:30-1:00

 
 

1:00-1:30

Lunch (The Hangar)

Lunch (The Hangar)

1:30-2:00

 

2:00-2:30

Clarinet Choir Rehearsal (Schuster Hall)

Clarinet Choir Rehearsal (Schuster Hall)

2:30-3:00

 
 

3:00-3:30

Visit Vendors (CAC Commons)

Visit Vendors (CAC Commons)

3:30-4:00

Festival Recital (Schuster Hall)

Festival Recital (Schuster Hall)

4:00-4:30

 
 

4:30-5:00
2016 Photo Gallery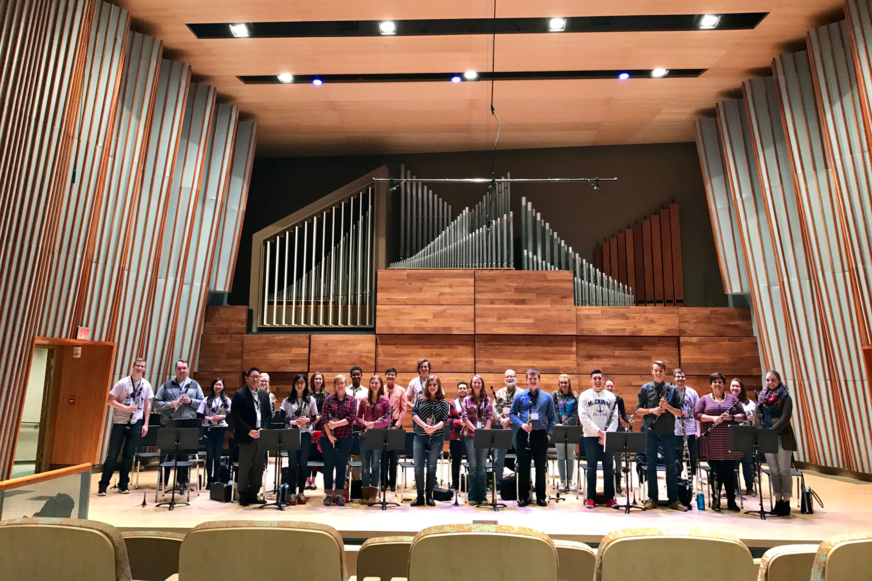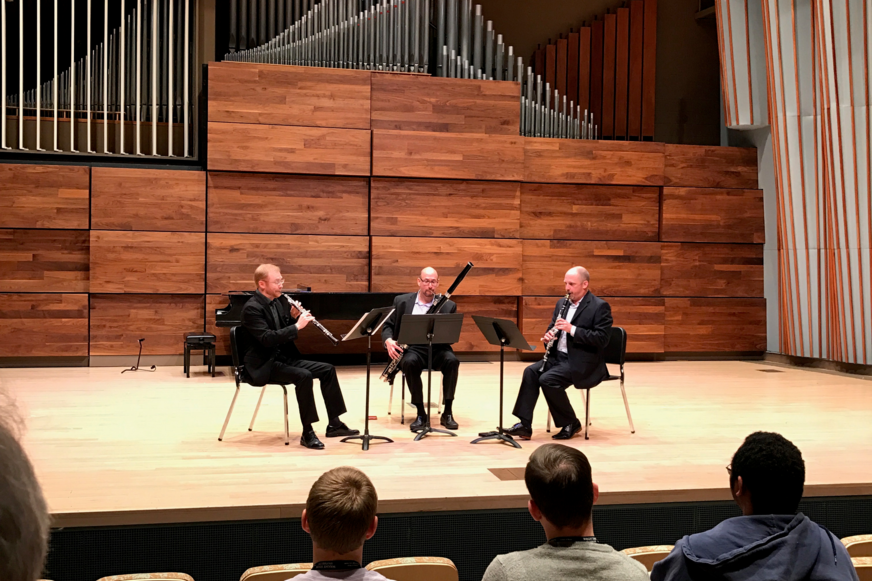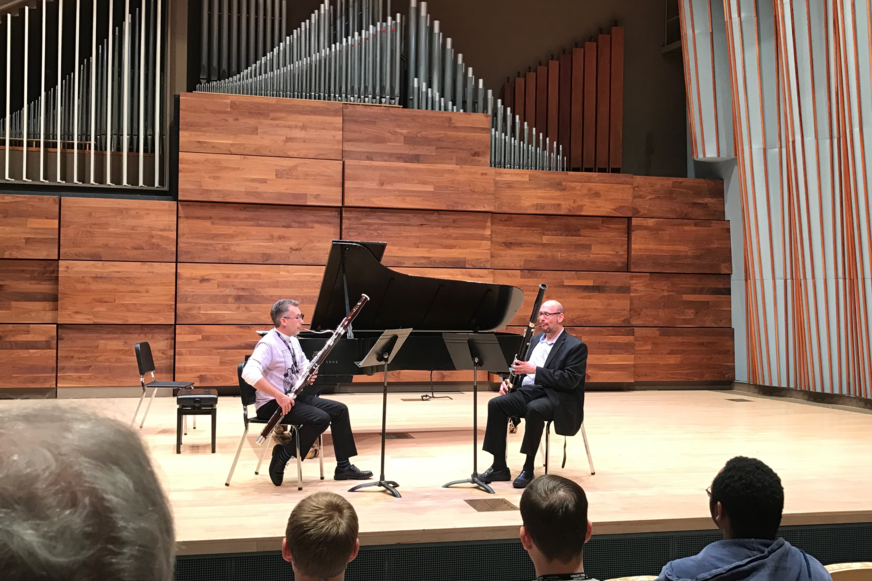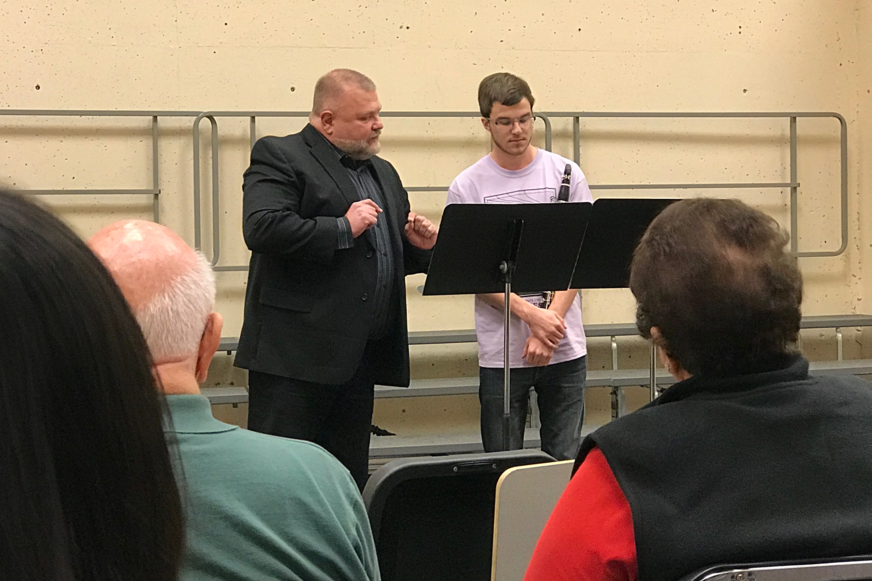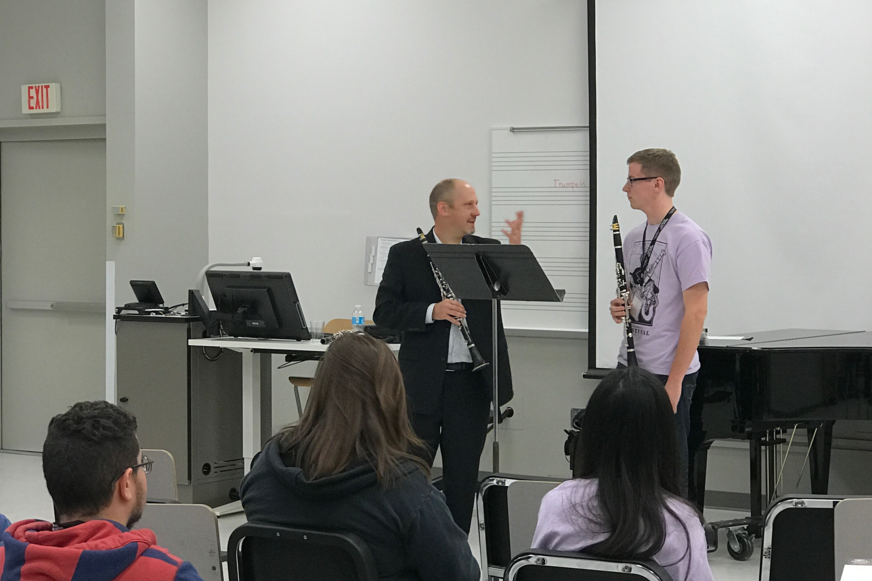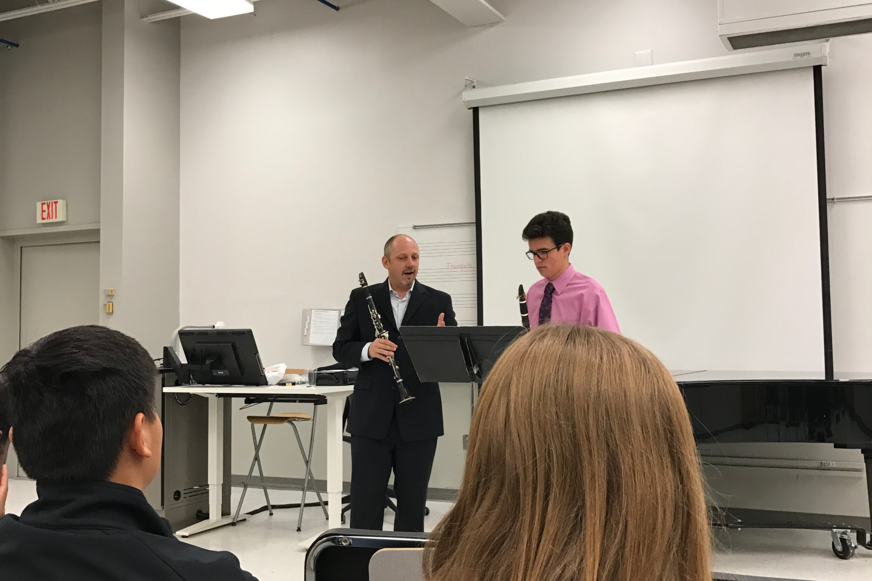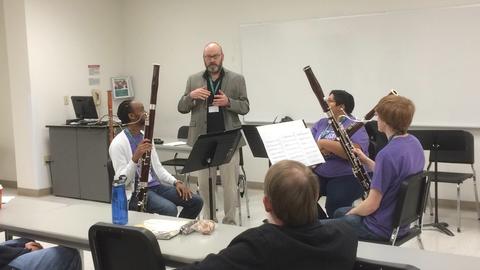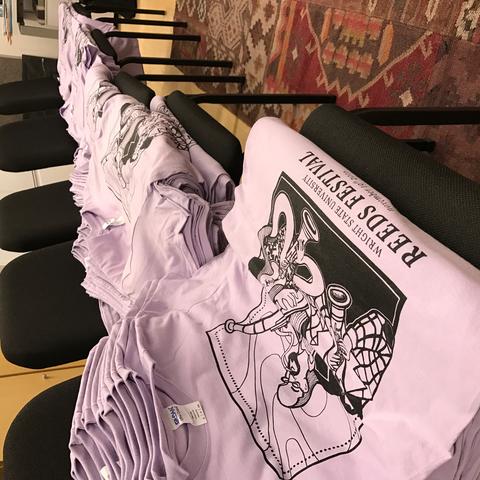 2017 Photo Gallery