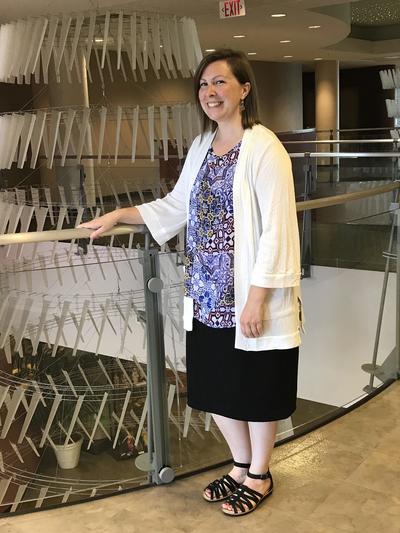 Stephanie Brooks, a student in the Applied Behavioral Science (ABS) Master's program at Wright State University is having a fantastic summer learning about the ways in which she can be helpful to those in Dayton! With the help of the ABS program, Stephanie gained the opportunity to work with the Boonshoft School of Medicine's Center for Interventions, Addictions, and Treatment Research (CITAR). There she works with Dr. Raminita Daniulaityte and Dr. Robert Carlson on their R21 Project in which they study the differing effects of Fentanyl and Heroin use in Dayton. Stephanie has been fortunate to learn several operating systems including NVivo and RedCap. She is currently working on a qualitative study concerning pregnancy and the use of marijuana through an analysis of Reddit posts.
Further, the ABS program created a new partnership with YWCA Dayton for ABS students and Stephanie is the first student to take advantage of this prospect. At YWCA Dayton Stephanie works under Caitlin Bentley, Sexual Assault Program Manager. Ms. Bentley's guidance and support have been paramount to Stephanie's growing understanding of the nature of sexual assault programming in particular and non-profit business practices in general. Working as a team, Ms. Bentley and Stephanie have begun two new partnerships. Both the Dayton International Peace Museum and the Dayton LGBT Center have partnered with YWCA Dayton to allow Ms. Bentley and Stephanie to offer Drop-In Support Groups for anyone affected by sexual violence. Ms. Bentley and Stephanie are also creating a short go-to instructional guide for other non-profits who would like to begin their own Trauma Informed Drop-In Support Groups and plan to mobilize their findings to publication.
This is a great summer! Stephanie encourages all ABS students (current, returning, or perspective to take advantage of the partnerships in our department and program!