On this page:
Dance Program Overview
Wright State University offers a Bachelor of Fine Arts (B.F.A.) degree in Dance that prepares students to become versatile professional dancers, choreographers, and teachers – by integrating rigorous training and performance experience in ballet, jazz, and modern dance, with acting and musical theatre studies. Our faculty and guest artists represent all facets of professional dance and do all they can to help students prepare for success.
Dance majors hone their technical abilities and creativity through daily ballet classes and specialized training in modern and jazz/theatre dance, perform in dance concerts and musical theatre productions, and create and produce their own choreography.
Our most exceptional students experience the life of a professional dancer from the start, when selected for scholarships that provide performance opportunities with our partner companies Dayton Ballet and the Dayton Contemporary Dance Company.
Dance majors perform regularly on and off campus, including dance ensemble productions, studio concerts, dramatic and musical theatre productions, as well as works choreographed by fellow students. Our alumni are currently performing with leading dance troupes nationwide.
---
Admissions & Auditions
The Dance program at Wright State University is designed for students who are highly motivated to pursue professional careers in dance. Students must demonstrate dance proficiency through an audition and meet the university's educational standards for undergraduate admission. The Dance program is unique in its multidisciplinary emphasis that integrates dance training with acting and musical theatre studies.
Admission Process
Prospective students should:
Apply online for admission to Wright State University.
Schedule an audition by completing and submitting the B.F.A. Admission and Scholarship Application (PDF).
Submit $25.00 audition fee at wright.edu/tdmp/auditionfee
Provide copies of academic transcripts to Wright State University Admissions and the Department of Theatre, Dance and Motion Pictures.
Submit photographs and a dance resume no later than two weeks before the audition.
Submit a DVD of excerpts from a typical dance class at least two weeks before the audition, to be considered for performance scholarships with the Dayton Ballet or the Dayton Contemporary Dance Company. See the admission and scholarship application for the details.
Admission to the Dance program is competitive and dependent upon the results of the audition.
Auditions
Auditions, which are required for all first-year and transfer students, are held each year in the winter for students who want to be considered for admission in the fall semester. Please see the department calendar for the audition schedule or refer to the B.F.A. Admission and Scholarship Application (PDF).
The audition consists of an interview with the Dance faculty and a ballet barre followed by learning a short combination from each discipline: ballet, jazz, and modern dance. Students who wish to audition for performance opportunities with Dayton Ballet and the Dayton Contemporary Dance Company must submit a DVD of their dance class work two weeks before the audition.
The audition also serves to determine qualification for scholarships.
2019-20 Dance Auditions
Friday, November 9, 2018 (Audition and Master Class)
Saturday, January 26, 2019 (Audition)
Saturday, February 23, 2019 (Audition)
Call (937) 775-3792 if you have any questions.
---
Upcoming Performances
---
Scholarships
The Department of Theatre, Dance and Motion Pictures offers an array of scholarships based on talent, academic performance, and financial need. For first-year students, the audition will determine qualification for a scholarship.
Department scholarships include:
The Tom Hanks Scholarship

The Augsburger/Estevez Scholarship created by Martin Sheen

The Theatre Arts Talent Scholarship

The Rising Star Scholarship
Talent scholarships are awarded for one year to students in acting, dance, motion picture production, and design/technology. Students in all majors are eligible to apply each year for merit scholarships. Although competition for scholarships is keen, the department provides generous support to qualified students throughout their four years of study to enable them to complete their degree.
---
Curriculum
Dance
The underpinning of the Dance curriculum is the daily ballet class, coupled with specialized training in modern and jazz/theatre dance. The Dance program also encompasses dance history, dance pedagogy, improvisation, choreography, tap, pointe, men's class, and pas de deux.
Acting
To enhance their performance, dancers train in acting to develop the internal responses that support the external, physical movement of dance. All dancers take one full year of acting in which they explore various skills and methods of acting.  The overlapping of dance with acting allows the students to develop both disciplines in an effort to produce an educated, artistic, and versatile individual.
Music
The accomplished, artistic dancer requires knowledge of and appreciation for music aesthetics. Dancers study basic music theory, including time and key signatures, note values, rhythm, phrasing, and dynamics. Dance majors take two years of private voice lessons along with a variety of music courses in jazz music, popular musical theatre, introduction to music theory, and music in the western culture.
Course Work
To see the entire four years of curriculum and course schedules for the Dance major, please visit the Undergraduate Catalog.
Regular Evaluation
To remain in the Dance program, students must demonstrate continual growth as judged by the Dance faculty, maintain a 2.5 grade point average in all dance courses, and maintain a 2.0 overall grade point average. Juries are given at the end of each semester for freshmen, sophomores, and juniors.  Seniors have a final jury at the end of their fall semester.  Students must earn a positive recommendation by the Dance faculty before they can enroll for the next level of training.
Senior Project
Seniors are required to complete a senior choreographic project before graduation, for which they create and produce an original choreographed work and a support paper. Students are responsible for all facets of the choreographed work, including casting, rehearsal schedules, costuming, and staging. The support paper contains a detailed discussion of the choreographic process, an analysis of the production elements, and recommendations for upcoming seniors.  Each senior project is performed in February on the main stage.
---
Faculty & Staff
Teressa Wylie McWilliams, Coordinator/Professor of Dance
Gina Gardner-Walther, Associate Professor of Dance
Gregory Robinson, Instructor
Erin Robbins, Instructor
Jon Rodriguez, Emeritus
Kevin Anderson, Accompanist
Larisa Stone, Accompanist
---
Careers
Wright State's professional dance training nurtures each student to attain artistry, technique, and versatility as a dancer, in preparation for careers in dance performance, musical theatre, choreography, and teaching. 
The Dance program uniquely fuses theatrical and musical training into the dance curriculum, enabling dance students to prepare for specialized careers in modern and ballet companies or in the professional theatre as dancers who sing and act.
Today, our alumni are performing in companies and venues around the world, including the Luna Negra Dance Theatre, Dayton Contemporary Dance Company, Rockettes at Radio City Music Hall, Battleworks, Forces of Nature, Wylliams/Henry Contemporary Dance Company, BalletMet, Ballet Noir, Hirabayashi Dance Theatre, and Disney World, as well as on cruise ships, national tours, and Broadway.
---
Guest Artists
Adam Hougland, Choreographer
William McClellan, Jr., Choreographer
Kennet Oberly, Instructor
Susanne Payne, Choreographer
Kiesha Lalama, Choreographer
Ryan Caroll, Instructor
Greg Graham, Instructor and Choreographer
Jon Leher, Choreographer
Shonna Hickman-Matlock, Choreographer
Britton Spritler, Instructor
Christopher Fleming, Instructor
Dawn Wood-Carter, Insructor
Jeanne Mam-Luft, Instructor
Sheri "Sparkle" Williams, Instructor
Debbie Blunden-Diggs, Choreographer and Instructor
Shannon Bramham
Dwight Rhoden
Clifford Williams
Lloyd Culbreath
---
Partner Companies
The Department of Theatre, Dance, and Motion Pictures has established exchange programs with the Dayton Ballet and with the Dayton Contemporary Dance Company (DCDC), which provide high-level professional training and performance opportunities for exceptional dance majors. Selected dance students may serve as apprentices or full company members in Dayton Ballet II or DCDC II; perform with their main companies in town or on tour; and attend master classes, workshops, and lectures conducted by their directors, dancers, and other professionals.  In addition, our programs have had major collaborations with regional professional organizations, such as the Dayton Philharmonic at the new Benjamin and Marian Schuster Center, a state-of-the-art facility in downtown Dayton.
All Wright State dance majors who are accepted into Dayton Ballet II or DCDC II are eligible for scholarships from the Department of Theatre, Dance, and Motion Pictures, Jeraldyne's School of Dance, or the Dayton Ballet School.
Several former Dayton Ballet II/DCDC II dancers are now apprentices or full members of Dayton Ballet and DCDC. In addition, Wright State Dance faculty members have choreographed for Dayton Ballet and DCDC.
Through our affiliations with other leading arts organizations in the Dayton region, our students also have opportunities to perform in professional theatrical and operatic productions.
Partner Companies, Affiliates and Collaborations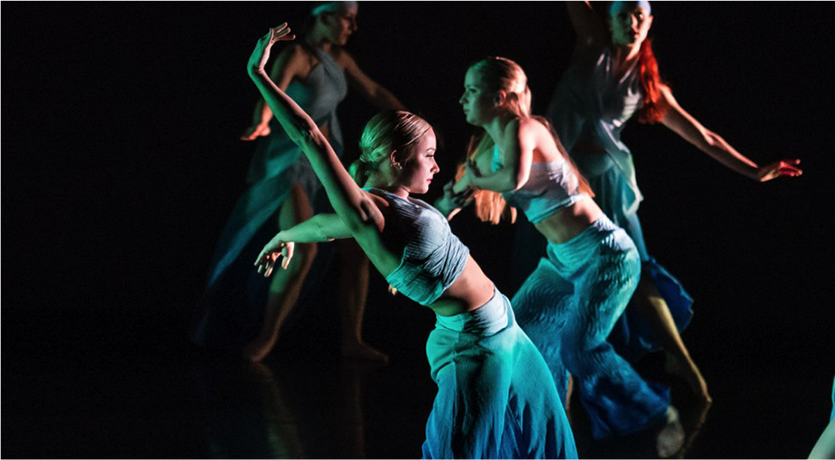 ---
Prospective Student Brochure
For more than 40 years, Wright State University's B.F.A. Dance Program has prepared students to begin professional careers in modern, ballet and jazz dance companies, on Broadway, in commercial dance venues, and theatres around the world. Let us help you follow your dream.