Advising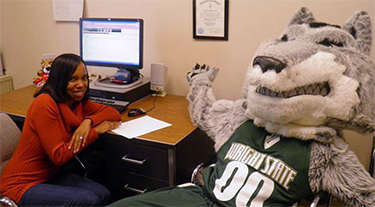 Upon admission to the university and acceptance to the School of Music, you will be assigned a music school advisor. The advisor's name will be listed on your acceptance letter and posted on this website (see below).  In most cases, your advisor will be your private (applied music) teacher. You are encouraged to discuss your progress regularly with them and register for classes early, in order to avoid last-minute complications with your schedule.
Although you are assigned an advisor, it is ultimately your responsibility to meet graduation requirements. Wright State uses an electronic degree audit reporting system (uAchieve) to help you track your progress, and your advisor will provide you with a curriculum sheet outlining your four-year course of study for your major program. (These curriculum sheets are also available on this website). You should always keep current with your degree audit, and seek help early from your advisor if you have any questions. This way, you will always be aware of the requirements that you have met and those that remain. 
In addition to seeking guidance in the selection of courses, students are encouraged to consult with their advisor on any matters concerning their programs, as well as their personal and professional goals.  Music Education students are especially encouraged to also seek the advice of the Music Education Coordinator to be sure to stay on track with more specific requirements.  Please note that music faculty and advisors are prohibited from discussing a student's progress with anyone. This includes family and caregivers. [Family Educational Rights and Privacy Act of 1974]
Registration
The School of Music wants to insure our students complete their program of study in the shortest time possible. To help students accomplish this, the school requires all students have their advisors help the students register for the correct classes each semester. These are the steps for registering for classes:
Have an appointment with your assigned advisor to discuss and plan your next semester's schedule
Your advisor must sign the completed registration form
To register for classes you have two options:

Online registration: most students are eligible to register online through WINGS Express. Some music classes may have restrictions, such as program restriction or instructor approval.  In this case, you need to get the instructor's signature on a registration form and give to Amy Neace in the music office.  After Amy enters the approval, you will be able to register online.  Please note that Amy does not register your classes, you must do that yourself.
In Person Registration at RaiderConnect: take your completed and signed registration form to RaiderConnect located in the Student Union.

Always be sure to check your registration online to make sure you are registered for the correct courses, the correct section number of each course, and all of the courses you plan on attending. If you find a problem with your schedule, go to your advisor immediately to have the problem corrected. The sooner problems are addressed, the easier they are to correct.  You, the student, are ultimately responsible for registration, and completion of your degree plan.
Faculty are responsible to check their class lists to make sure that all students are registered, and especially in the area of Applied Music (MUA) courses, that students receive the correct amount of lesson time (1/2 hour or 1 hour) for the class in which they have registered.  Adjunct and overload pay is figured based on course registration not on how much time was spent in lessons.
Any faculty or student who does not understand these important policies are encouraged to see the Director of the School of Music for clarification.
Majors and/or Minors
It is important to be sure the University has as your correct major and/or minor. This can be checked by going to WINGS and going to the Registration Information Checklist. The checklist will have your major and, if applicable, your minor and second major. If one of these listings is incorrect, come to the School of Music Office and see Amy Neace to get the listing changed.
Applied Music
All applied music study is subject to the regulations in the Applied Music Policy Statement. This document includes procedures for applied music jury examinations, policies on grading, recital requirements, and attendance at lessons. The Applied Music Policy Statement is contained in Appendix A of this handbook. You are expected to be familiar with this information.
Recital Fees and Programs
There are No Fees required to perform a degree required recital.  Exceptions and non-degree performances must have prior approval from the School of Music Director.
All material for recital programs must be submitted to Amy Neace two weeks before the recital via email.
Recital and Concert Posters
Every student giving a School of Music sponsored junior or senior recital is welcome to create posters to advertise their event. Posters must be professional in appearance. Please do not place on walls, doors or lockers in the School of Music wing of the Creative Arts Center. Posters are to put only on designated bulletin boards. Check with the staff in the School of Music office if you are unsure of on which bulletin boards you can post. Posters that do not follow these guidelines will be removed.
Guidelines for Staff Accompanists
The School of Music employs several professional accompanists. These individuals are available to accompany at lessons, recitals, and jury exams. Please contact the Coordinator of Accompanists for more details.
Recital and Rehearsal Guidelines
Music for student performances must be in accompanist's possession six weeks prior to the performance or pre-hearing.
Staff accompanists shall arrive at all rehearsals and concerts thoroughly prepared.
Keyboard Proficiency
All music majors must meet certain basic keyboard requirements. These requirements, which vary according to curriculum, involve the study of piano for a stated number of semesters and the passing of the Keyboard Proficiency Examination for the particular curriculum in question. For further information, please refer to the Keyboard Proficiency Requirements document contained in Appendix B of this handbook.
OMEA Conference Attendance Policy
Junior and senior Music Education majors planning to attend the OMEA Conference during the semester will be excused from music classes, lessons, and rehearsals for the Thursday and Friday sessions of the conference. Faculty must be notified in advance of the class to be missed, and work must be made up within a reasonable time period, as determined by the student and faculty member.
Freshmen and sophomore Music Education majors planning to attend the OMEA Conference during the semester must obtain prior permission from the appropriate faculty member to receive an excused absence for the Thursday and Friday sessions of the conference. Course work missed due to attendance at the conference must be completed within a reasonable time period, as determined by the student and a faculty member.
A copy of the registration receipt or name tag must be presented to the appropriate faculty member to verify excused absences and to allow make-up work to be evaluated. Students will need to confer with their instructors of non-music courses to determine their attendance policy.
It is your responsibility to notify the appropriate faculty member before the class is missed.
Ensemble Requirements
Every BM Performance major and BM Music Education major is required to participate in at least one university ensemble related to the student's applied music concentration during each semester in which the student is enrolled full-time (with the exception of the Student Teaching Semester for music education students). Every BM Music History/Literature major and every BA major must participate in at least one university ensemble related to the student's applied music concentration for the number of credits/semesters stipulated in the in WSU Catalog.
Assignment to an ensemble is made by the director of bands, director of choral studies, or director of orchestral studies; the appropriate ensemble director; and the student's full-time applied instructor. When the student's applied instructor is not a full-time faculty member, approval must be given by the chair of the student's applied board. To be eligible for the Bachelor of Music degree, the performance major must have a minimum cumulative GPA of 3.0 in the major performing medium and a 2.0 in all other required music courses.
School of Music Final Exam Schedule
The School of Music is on the same final exam schedule as the rest of the university. The university's final exam schedule can be found on the Exam Schedules page on the Registrar's website.
Teacher Education Program
Music Education Clinical/Field Experiences
Music Education majors are required to complete a minimum number of clinical/field experience hours prior to student teaching. This requirement is accomplished through enrollment in College of Education and Human Services courses, Music Education Methods courses, and additional experiences.
Please see the Music Education website for detailed information.