Acting Program Overview
On this page:
Wright State University prepares serious pre-professional students for careers in all facets of Acting, from stage to television and film. Our Bachelor of Fine Arts degree in Acting offers a highly selective conservatory training environment that focuses on rigorous training for the professional artist. As part of the College of Liberal Arts, our students not only train to perform at the highest level, but also gain a greater understanding of our world to inform their work.
With our exclusively undergraduate focus, students participate in comprehensive conservatory training with exceptional performance opportunities from the very start. Throughout their four years, students are cast in a range of plays and musicals, as understudies, ensemble members, supporting parts, and leading roles. Students also have the opportunity to perform in films produced by our award-winning Motion Pictures program. Seniors can participate in an intensive career workshop and showcase, with elite casting professionals and creative talent in New York City.
Acting faculty members are working professionals and internationally respected experts in their field, with active careers as directors, actors, choreographers, and teachers around the world.
Recent graduates are working across the nation at the finest regional theatres, appearing in TV and movies, on and off-Broadway and in national and international touring companies.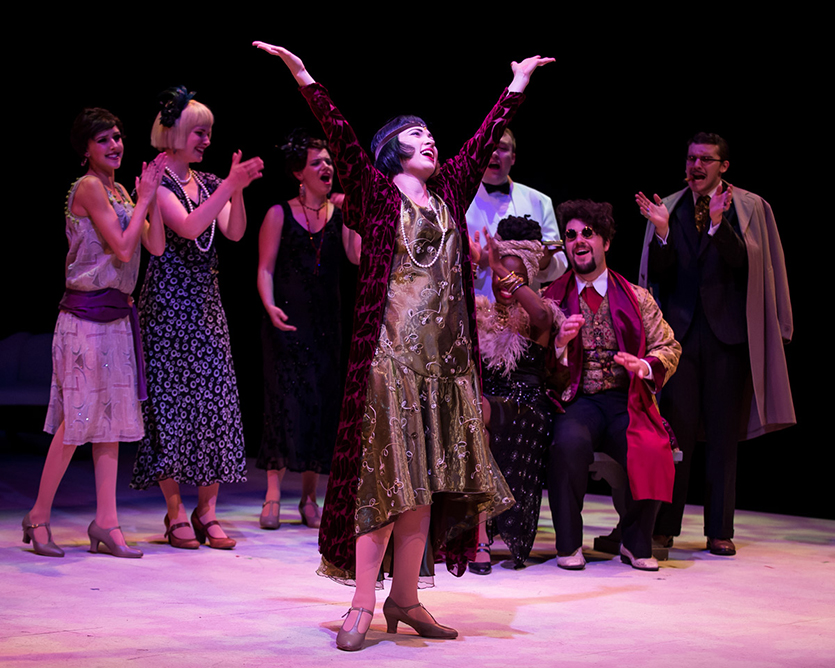 ---
Admissions & Auditions
The Acting program at Wright State University is designed for students who are highly motivated to pursue professional careers in acting performance. Students must demonstrate acting proficiency through an audition and meet the university's educational standards for undergraduate admission. The BFA Acting Program accepts approximately 10% of those who audition. The day before many auditions, we hold master classes so students can get a glimpse of the outstanding level of our faculty and our productions.
Admission Process
Prospective students should:
Apply online for admission to Wright State University.
Schedule an audition by completing and submitting the B.F.A. Admission and Scholarship Application (PDF).
Provide copies of academic transcripts to Wright State University Admissions and the Department of Theatre, Dance and Motion Pictures.
Submit recent photographs and a resume of pertinent training and performance experience.
Admission to the Acting program is competitive and dependent upon the results of the audition. An individual may audition only once for the Acting Program.
Auditions
Auditions, which are required for all first-year and transfer students, are held each year in the winter for students who want to be considered for admission in the fall semester. Please see the department calendar for the audition schedule or refer to the B.F.A. Admission and Scholarship Application (PDF).
The acting portion of the audition consists of two one-minute monologues that should be selected from plays in roles that are roughly the student's age. The monologues should contrast in style, showing two sides of the student's abilities (classical, contemporary, comic, dramatic) and should not be from musicals or stand-alone monologue collections.
Students also present one one-minute song excerpt from a source of the student's choice. This is primarily a diagnostic audition – the monologues are the central consideration in your audition. The student should provide sheet music in the desired key, marked to the appropriate length on double-sided copies in a binder for easy reading by our accompanists.
Students may audition for the Musical Theatre Program at the same audition (see the Audition section on that page for specific information). Your audition also serves to determine qualification for talent scholarships.
Transfer Credits
Transfer students may be accepted into the program after a successful audition and university admissions process. The university generally follows a liberal policy in accepting general education and elective credits, allowing virtually all credits earned at an accredited institution from courses in which the student earned a "C" or better. The Office of the Registrar is responsible for determining which credits are eligible for transfer. However, the program is geared to four years of training and transfer students rarely receive credit for conservatory courses from other institutions.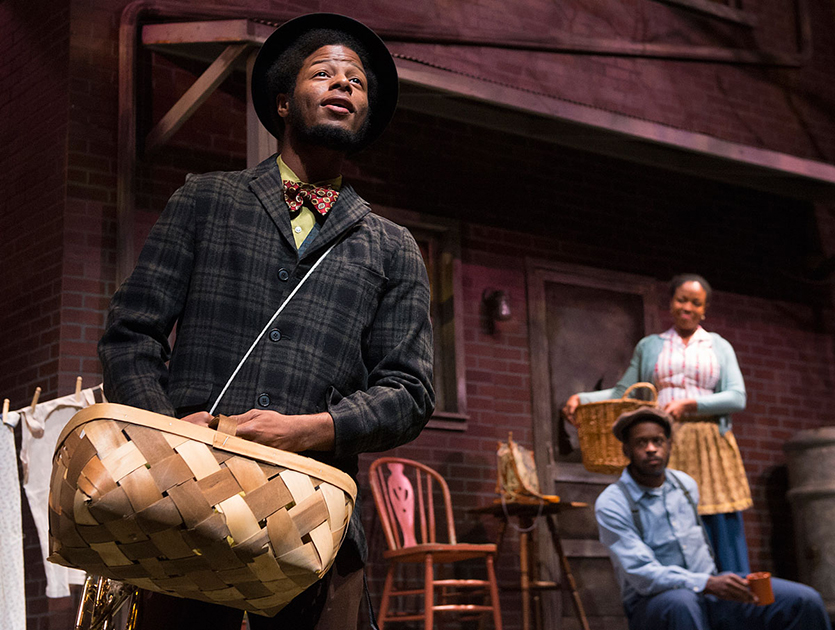 ---
Alumni
Our grads can be seen on and off-Broadway and London's West End in shows like The Mad Ones, Speech and Debate. They appear at America's finest regional theatres, from The Guthrie to American Conservatory Theatre, Shakespeare Theatre of New Jersey to Actors' Theatre of Louisville, and on television in shows like Law and Order, True Blood, Grey's Anatomy and Big Bang Theory.
---
Scholarships
The Department of Theatre, Dance and Motion Pictures offers an array of scholarships based on talent, academic performance, and financial need. For first-year students, the audition will determine qualification for a scholarship.
Department scholarships include:
The Tom Hanks Scholarship
The Augsburger/Estevez Scholarship created by Martin Sheen
The Theatre Arts Talent Scholarship * The Rising Star Scholarship
Talent scholarships are awarded for one year to students in acting, dance, motion picture production, and design/technology. Students in all majors are eligible to apply each year for merit scholarships. Although competition for scholarships is keen, the department provides generous support to qualified students throughout their four years of study to enable them to complete their degree.
---
Curriculum
The Acting program focuses on both contemporary and classical styles with instruction in dance and voice to prepare the well-rounded professional. All acting majors are required to study one year of dance fundamentals and modern dance, followed by jazz/theatre dance or ballet as electives. The Acting major is encouraged to participate in additional dance courses.
The Acting faculty believes that all actors must be trained to sing. Students who study singing learn the rudiments of breathing, vocal support, and placement. Singing is required all four years of the training period. 
The four-year B.F.A. curriculum in Acting includes:
Four years of acting training
One or more years of dance classes
Three years of private singing lessons twice each week
Intensive Movement and Physical Training (including a year of stage combat)
To see the entire four years of curriculum and course schedules for the Acting major, please visit the Undergraduate Catalog. 
Students are required to maintain an active performance schedule in campus productions throughout the school year.
Honors Program for Seniors
The Honors program in Acting provides superior students with further opportunity to demonstrate excellence and receive special recognition in their senior year. Honors students create a capstone project, such as a self-written monodrama, a solo recital, directing a production, or other projects that are mutually agreed upon with the student's advisor. To apply for admittance to the Honors program, a student must possess a 3.0 overall grade point average and be in the last year of the B.F.A. program.
Senior Showcase in New York
Musical Theatre students may choose to participate in an intensive workshop to prepare them for audition trips to New York or other major entertainment centers. This workshop assists students in the selection and preparation of a wide range of audition materials and in the development of the actor's presentation. The Showcase in New York City is the culmination of four years of intensive training, includes several audition workshops with top industry professionals, career seminars, alumni networking events and an intensive introduction to the theatre, film and TV industry.
Assessment of Progress
The department leaders feel a strong obligation to graduate only those students whose chances of attaining professional employment remain strong. The faculty believes it is unfair to graduate people who, because of lack of motivation or developing skills, are unlikely to achieve successful, professional careers or who do not seem to be growing adequately within the Professional Actor Training Program. Therefore, students are evaluated regularly for progress, especially through their sophomore year. At the end of the first year of training and at the end of each term of the sophomore year, students participate in faculty juries to assess their singing, acting and dance abilities. When deemed necessary, the faculty advises some students to select another major. All students are urged to carefully consider their career choice and to fully understand the rigors and demands of the acting profession. There is no specific quota for the number of students in any given year of the curriculum.
Professional Acting Training Program students must maintain a grade of "C" or better in all classes required of their major to be retained. Students who are not making satisfactory progress, even with a grade of "C" or better, may be advised by the faculty to withdraw from the program. An overall GPA of 2.5 is required for graduation.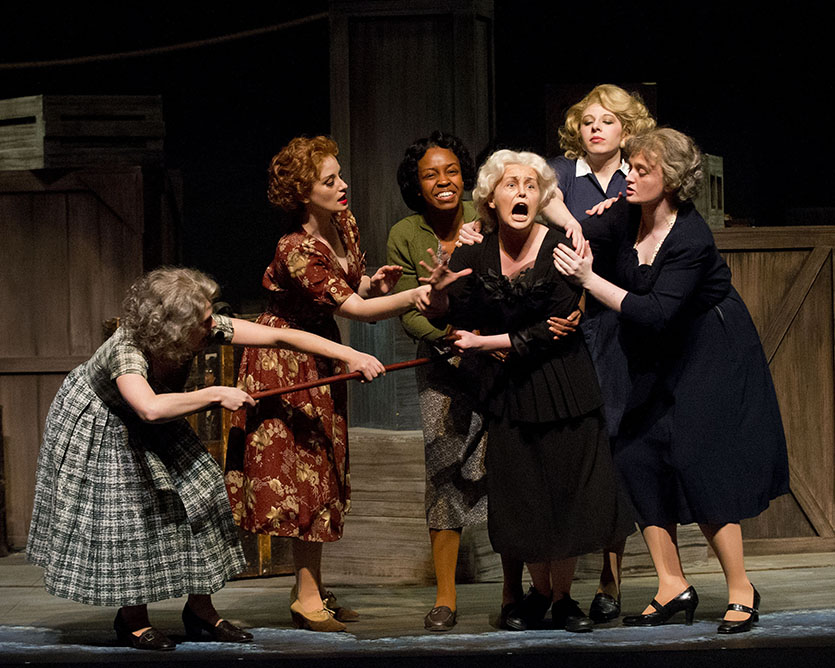 ---
Faculty & Staff
Acting & Musical Theatre
Bruce Cromer, Area Coordinator of Acting and Musical Theatre
Dr. Mary Donahoe, Professor Emeritus
Voice
Dance
Shelly Goodman, Faculty Associate
Erin Robbins, Instructor Dance
John Ueber, Instructor Dance
Danita Wallace, Instructor Dance
Associate and Adjunct Faculty
Jamie Cordes, Faculty Associate, Head of MAPP Program
Michelle Goodman, Faculty Associate in Dance
David Hapner, Faculty Associate 

Lee Merrill, Faculty Associate in Voice
Sherri Sutter, Faculty Associate in Voice
Scot Woolley, Faculty Associate & Musical Director
Jill Becker, Adjunct Acting


Christopher Erk, Adjunct Dance
Tricia Gelmini, Adjunct Acting

Pamela Matthews, Adjunct Dance

Brian McKnight, Adjunct Acting
Jeanette Popp, Adjunct Dance

Erin Robbins, Adjunct Dance
Susan Carlock, Accompanist 

Bernadette O'Connor, Accompanist

---
Careers
Competition for professional opportunities in acting is extremely high, and our Professional Acting Training Program is designed to develop our students' talent, skills, and commitment to secure employment upon graduation from Wright State University. We maintain an excellent network of relationships with agents, casting directors, and creative talent nationwide. Because of their intensive professional preparation at Wright State University, fully 80 percent of our graduates find work in the field immediately after graduation.
Wright State students find jobs in a wide variety of performance-related fields. If desired, they may pursue additional graduate training in order to teach at the college or university level.  Graduates have attended such programs as the Denver Center, Northwestern University, DePaul University, Emerson College, and New York University.
Our alumni are working on and off Broadway, in national tours, and at many of the country's finest regional theatres, including The Guthrie, Actors Theater of Louisville, Cincinnati Playhouse, Seattle Repertory Theatre, New Jersey Shakespeare Festival, and the Human Race Theatre Company in Dayton. They appear on television, films, radio, industrial films and commercials, as well as on cruise ships and themed entertainment venues, comedy clubs, and cabarets.
Graduates of the program have achieved membership in professional theatrical unions, including Actors' Equity Association, the Screen Actors Guild, the American Federation of Radio and Television Artists, and the Society of Stage Directors and Choreographers.
---
Guest Artists
The Acting and Musical Theatre faculty at Wright State University are connected to some of the brightest stars in the performing arts, who are invited to campus to share their talents with our students.
Recent guest artists include a long list of luminaries:
Sutton Foster, Tony Award, Best Actress, for Anything Goes, Thoroughly Modern Millie
Victoria Clark, Tony Award, Best Actress for The Light in the Piazza
Jason Robert Brown, Tony Award, composer, Parade, The Last Five Years
Tom Jones, award winning lyricist for the longest running musical in New York stage history, The Fantasticks
Tina Landau, Obie Award winner for Best Director
Liz Callaway, star of stage and screen, from Sonheim to The Spitfire Grill
Howard McGillin, Tony-nominated actor, from Drood to Phantom of the Opera
Ted Sperling, award-winning conductor and arranger
Audra McDonald, multiple Tony Award winning actress - presently in Porgy and Bess on Broadway
Ted Neeley, star of stage and screen, including the title role in the film Jesus Christ Superstar
Brian Yorkey, Pulitzer Prize and Tony Award winner for Next to Normal
Austin Pendleton, Broadway director, award-winning playwright, and featured actor in over thirty films
Martin Sheen, Emmy Award winning actor of stage, television and screen