NAfME: National Association for Music Education is the world's largest arts education organization. NAfME for Music Educators' activities and resources have been largely responsible for the establishment of music education as a profession, for the promotion and guidance of music study as an integral part of the school curriculum, and for the development of the National Standards for Arts Education.
Why Join?
Network with professionals in your discipline.

Your membership includes the following periodicals:
Your membership includes access to the following online journals:

NAfME Collegiate NewsLink
Music Educators Journal
General Music Today
Journal of Music Teacher Education
UPDATE

Receive news and events in music education.
Receive discounts on NAfME resources
Attend our state OMEA conference at the NAfME membership rate
Access to the NAfME Online Job Center
WSU Collegiate Chapter (NAfME) Officers
Faculty Advisor: Gretchen McNamara
gretchen.mcnamara@wright.edu
 
2017-2018 Student Officers
Wyatt Heinz – President
Rachel Kline – Vice-President
Adam McCoy – Secretary
Andrew Hackworth - Treasurer
Join NAfME
You are strongly encouraged to join NAfME and become an active member today! This organization is very practical for future music educators (elementary and general music, instrumental, string, and vocal) and studio musicians.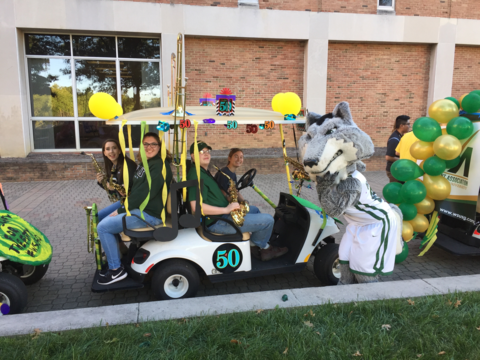 OCMEA members decorated a golf cart for Homecoming and won for best decorated and themed cart!