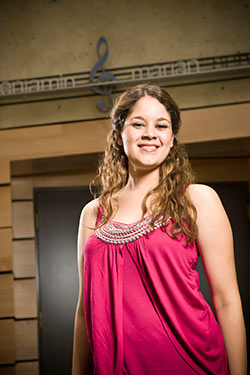 Music is universal in human culture. It is a medium for expression and communication, a powerful accompaniment of ceremony and work, a pastime that lifts our spirits. Research has repeatedly demonstrated that musical training strengthens mathematical and spatial abilities, and the historical study of music is a window on the fundamental worldviews of the cultures that produced it. Through technology, music is now accessible to a degree unprecedented in human history; it pervades our lives.
The study of music at the college level is multifaceted. Performance and teaching require technical skill developed in rigorous sequence, carefully honed musicianship, thorough knowledge of styles and repertoire, and facility in the use of electronic and computer technology. The Wright State University School of Music offers a curriculum designed to prepare students for careers as performers, teachers, and community leaders. Wright State music graduates are successful in a variety of music-related fields such as teaching privately and in the public schools and in colleges and universities; performance as professional singers, instrumentalists, and conductors; creating music as composers and arrangers, and administration of musical and cultural organizations and institutions.
When you come to Wright State to study music, you will develop a variety of essential musical skills, and you will discover new worlds of cultural expression and communication. 
Programs of Study
Admissions Information
Audition dates for admission in Fall 2019:
February 9, 2019: Admission and scholarship consideration
March 16, 2019: Admission and scholarship consideration
April 20, 2019: Admission only
To apply for admission to the school, make an appointment for your audition, and get more information on the admission process. Visit our Admissions page.