(937)774-2346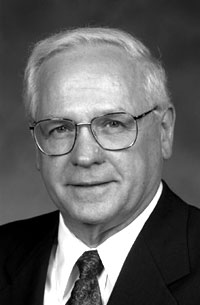 leland.bland@wright.edu
Dr. Leland Bland, Professor Emeritus of Music, was the Coordinator of Theory and Literature and taught theory, composition, aural skills, and computer applications in music. He holds both a B.S. in Ed. and a M.A. degree from Truman State University and a Ph.D. in Theory from The University of Iowa. His textbooks are Sight Singing through Melodic Analysis , and Basic Musicianship . He has also developed a large amount of software on theory and ear training. He is a member of the Honor Society of Phi Kappa Phi and was the recipient of the Presidential Award for Faculty Excellence, "Excellence in Research" at Wright State University in 2000. Dr. Bland retired from Wright State in 2006 after many years.
Active as a composer, Dr. Bland wrote several works for large ensembles and chamber groups. Among his compositions is Fanfare for Brass and Percussion , premiered by the Dallas Wind Symphony during its 2004-05 season. His City of Dreams , commissioned by the Dayton Chamber Music Society for their 50th anniversary, was performed by the Wright State Woodwind Quintet at the 2005 Ohio Music Education Conference in Cincinnati . His Sonata for Clarinet and Piano was premiered at the University of Oklahoma International Clarinet Symposium in 2003. The Sonata for Bassoon and Piano was premiered at Wright State in 2003.
Dr. Bland has presented papers and multimedia demonstrations at regional or national meetings such as The College Music Society, The Society for Music theory, Music Educators National Conference, the Ohio Music Education Association and the Ohio Choral Directors Association. He served two terms as Treasurer for Music Theory Midwest.