The Wright State University School of Music is proud to host THE MAD RIVER VOCAL ARTS FESTIVAL on October 7 and 8, 2018! This two-day event features a highly select honor choir composed of high school singers from all over the state and region! Students will gather for two days of rehearsal, concerts, and fun, and will have an opportunity to perform in Wright State University's Schuster Hall.
If you've been to Mad River before, here's some exciting changes!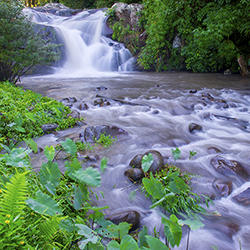 No music to purchase!
Most music from the OMEA required list
No advanced preparation!
Festival conducted by Dr. Hank Dahlman and other WSU choral and voice faculty!
APPLICATION AND REGISTRATION PROCEDURE
Each participating school may nominate up to two SATB quartets. These singers will be accepted AUTOMATICALLY.
APPLICATIONS DUE BY SEPTEMBER 25
The student fee for Mad River Vocal Arts Festival is $40 and directors and/or chaperones are free. Three types of online registration are available:
Schools prepaying online for their students

Schools or districts requiring an invoice to pay a registration

Individuals prepaying for one or more students
Registration will open in September.  
PLEASE NOTE:
Students are required to attend all of each rehearsal on the schedule.
Lodging and meals are the responsibility of the participant.
Since the regular school year is in progress, WSU does not provide on-campus housing for this event.
An attending teacher or other responsible adult chaperone for each participating school is strongly suggested. Wright State University cannot accept chaperonage responsibility for participants.
Once again, WSU is pleased to offer 15-minute mini-lessons with WSU voice faculty at no additional fee for selected high school singing participants. These will take place TBA during rehearsals on Sunday or Monday. Each school may nominate up to two singers for mini-lessons. Mini-lesson singers should bring a prepared solo to their mini-lesson.
Concert dress is your MRVAF t-shirt with black slacks, jeans or skirts.
A complimentary t-shirt will be given to each participant and their director. Please fill out the form. Please include your t-shirt size on the school application form.
Questions? Contact Dr. Hank Dahlman at hank.dahlman@wright.edu or (937) 775-3721.
We look forward to seeing you in October for THE MAD RIVER VOCAL ARTS FESTIVAL!