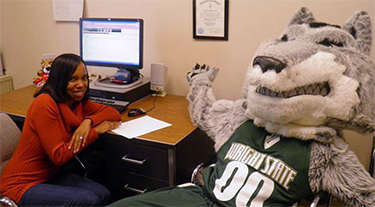 Upon admission to the university and acceptance to the School of Music, you will be assigned a music school advisor. The advisor's name will be listed on your acceptance letter and posted on this website (see below).  In most cases, your advisor will be your private (applied music) teacher. You are encouraged to discuss your progress regularly with them and register for classes early, in order to avoid last-minute complications with your schedule.
Although you are assigned an advisor, it is ultimately your responsibility to meet graduation requirements. Wright State uses an electronic degree audit reporting system (uAchieve) to help you track your progress, and your advisor will provide you with a curriculum sheet outlining your four-year course of study for your major program. (These curriculum sheets are also available on this website). You should always keep current with your degree audit, and seek help early from your advisor if you have any questions. This way, you will always be aware of the requirements that you have met and those that remain. 
In addition to seeking guidance in the selection of courses, students are encouraged to consult with their advisor on any matters concerning their programs, as well as their personal and professional goals.  Music Education students are especially encouraged to also seek the advice of the Music Education Coordinator to be sure to stay on track with more specific requirements.  Please note that music faculty and advisors are prohibited from discussing a student's progress with anyone. This includes family and caregivers. [Family Educational Rights and Privacy Act of 1974]
Advisor Lists by Student Name and Advisor Name
Advisor list arranged by Student's last name (PDF)
Advisor last arranged by Advisor's last name (PDF) 
If your name is not listed on the Advisor list, contact Amy Neace, (937) 775-2353.
Time Limitations for Degree Completion
All requirements for music degrees should be completed within seven years of the date the student is admitted to the School of Music.
Students not enrolled for over one calendar year must re-audition.
Students may petition the Director of the School of Music for an extension. 
Students who do not complete the degree requirements within seven years will automatically be considered inactive.