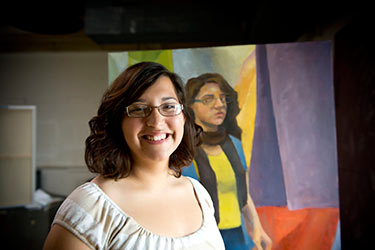 The Department of Art and Art History offers programs leading to the Bachelor of Arts (BA) degrees with areas of concentration in art history and/or studio art. The BA degree is designed for those students who wish to combine a liberal arts education with their studies in art. The department also offers a Bachelor of Fine Arts (BFA) degree with concentrations in painting, photography, printmaking, and sculpture. This degree is designed for students who have decided to pursue a more intense and professional program in studio art.  BFA degrees can be combined with an art education component or allow students to supplement their Fine Arts education with a certificate in Graphic Design or Interior Design from nearby Sinclair Community College. Many graduates of these programs are successful applicants to graduate programs in Fine and Applied Arts and Education.  Because self-expression and self-learning are the ultimate goals of the BFA program, students are largely responsible for determining the options that best meet their individual needs and interests.  
In the studio area, studies begin with introductory courses in Drawing, 2D and 3D Foundations, Photography and Art History. These courses are designed for the beginning artist and guide the student's development in the visual arts. The program helps students expand and express their knowledge and grow in self-expression by exploring the processes and language that are basic to all visual arts. Rather than follow a system of independent courses in a given medium or discipline, students investigate issues and ideas in a variety of visual modes.
View program requirements in the University Catalog.
Minors: Studio Arts & Art History
The minor in Studio Arts is designed to allow students to complement other academic interests with creative and artistic practice. It is intended for students who wish to develop artistic and conceptual skills while expanding their understanding of aesthetics and visual literacy.  The minor is designed to be flexible and allows for students to either survey several studio practices or concentrate in a specific medium.
The Art History minor is available to students throughout the University and serves as a valuable complement to all liberal arts disciplines with a historical component including classics, philosophy, religion, international studies, liberal studies, political science, anthropology, women's studies, modern languages, music, theater, English and history. Students minoring in art history will gain a sense of the overall evolution of the history of art as well as in-depth knowledge of several periods in the history of art and will learn the critical and analytical techniques used by art historians. 
View program requirements in the University Catalog.