The Department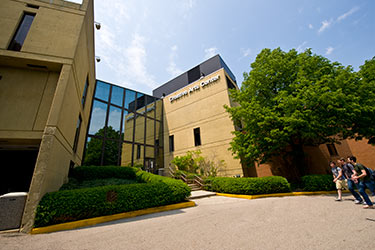 The Department of Art and Art History offers programs leading to the Bachelor of Arts (BA) degrees with areas of concentration in art history and/or studio art. The BA degree is designed for those students who wish to combine a liberal arts education with their studies in art. The department also offers a Bachelor of Fine Arts (BFA) degree with concentrations in painting, photography, printmaking, and sculpture. This degree is designed for students who have decided to pursue a more intense and professional program in studio art.  BFA degrees can be combined with an art education component or allow students to supplement their Fine Arts education with a certificate in Graphic Design or Interior Design from nearby Sinclair Community College.  Many graduates of these programs are successful applicants to graduate programs in Fine and Applied Arts and Education.  Because self-expression and self-learning are the ultimate goals of the BFA program, students are largely responsible for determining the options that best meet their individual needs and interests.
In the studio area, studies begin with introductory courses in Drawing, 2D and 3D Foundations, Photography and Art History. These courses are designed for the beginning artist and guide the student's development in the visual arts. The program helps students expand and express their knowledge and grow in self-expression by exploring the processes and language that are basic to all visual arts. Rather than follow a system of independent courses in a given medium or discipline, students investigate issues and ideas in a variety of visual modes.
The Faculty
The Faculty of the Department of Art and Art History, in addition to being excellent and dedicated teachers, are all artists and scholars with active exhibition and publication records.  Their work can be found in public and private collections throughout the United States as well as in some of the fields' most prestigious journals.  In addition, many are multiple recipients of national and international residencies and numerous awards and grants.
Faculty Galleries
The Students
Graduates from the Department of Art and Art History go on to exciting careers in such areas as Education, Commercial Art and Photography, Museum and Gallery administration and the Fine Arts.  Successful graduates of the program go on to exciting careers in many non-art related fields as well.  Recent graduates have been accepted into a number of prestigious MFA programs including Boston University, University of Pennsylvania, The School of the Art Institute of Chicago, University of Georgia, The Pennsylvania Academy of Fine Arts and the University of New Hampshire.
Selected works from the 2015 Senior Thesis Exhibition