Welcome to Religion, Philosophy, and Classics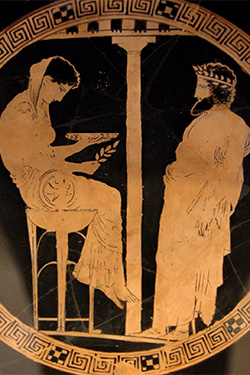 KNOW THYSELF! According to ancient Greek legend, this saying was inscribed on the oracle at Delphi. People not only asked this oracle questions about public policy and military strategy but also sought her advice on matters of the heart and the location of lost objects. Upon entering the shrine, they were admonished that all their concerns were secondary to the duty to know one's self.
If you are interested in exploring the challenge posed by the Delphic oracle, the Departments of Religion, Philosophy, and Classics are ready to assist you.
In our courses we discuss the great questions that have been debated since ancient times.
We study how peoples from past times and places have thought about the world and humankind's place in it.
We read great texts, and encourage students to analyze and debate their meaning.
We develop the skills of critical thinking and effective writing students need to pursue careers in such fields as business, law, education, and medicine.
To begin this journey of self-knowledge, I invite you to explore our departments, and the courses we offer:
Any further questions you may have, please contact me, or another member of our faculty or staff.
Dr. Ava Chamberlain
Chair, Depts. of Religion, Philosophy, and Classics