On this page:
The Middle Eastern and Islamic Studies Program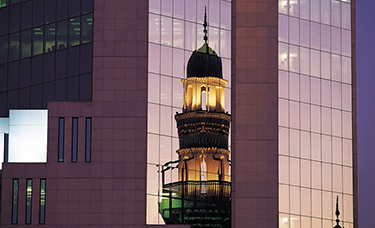 The Middle Eastern and Islamic Studies program (MEI) provides students with an opportunity to minor in a multidisciplinary concentration of courses incorporating the fields of Arabic, Islam, and Middle Eastern history, religion, and politics.  The program is geographically focused on what today forms the Arab world, Iran, Israel, and Turkey in the period after the advent of Islam in the seventh century.  Students have the opportunity to acquire a depth of knowledge in a region and a faith rich in language, culture and religious practice, which are as central to the dynamics of history as they are to current political and economic affairs.  
If you are interested in this program, contact the Coordinator of the MEI Minor Awad Halabi.
Minor in MEI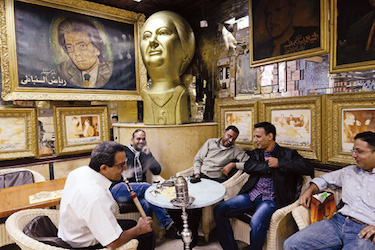 Requirements for the Minor in Middle Eastern and Islamic Studies: 
Required: ARA 2010/2020 * (6 credits)
Required: REL 3310 "Introduction to Islam" (3 credits)
Required: Two courses: one from History and one from Political Science (6 credits)
Electives: Choose 2 courses (6 credits) from eligible courses in the Departments of History, Modern Languages, Political Science, Religion, or Sociology & Anthropology, or from "Cross-Listed and General Courses."  
Total: 21 Credit Hours
   * Native speakers of Arabic are required to take two ARA 3000- or 4000-level courses in lieu of ARA 1010/1020 (6 credits)
Eligible Courses
Cross-listed and General Courses
ARA 3700 Internship
ML 3990 / AFS 3990 / WGS 3800 Arab World Cultures and Gender
ML 3990 / AFS 3990 / WGS 3800 Women's Voices in Arabic Film
REL 2040 The Bible, the Qur'an, and Western Cultures
RST 2910 Regional Studies: Middle East
ML 3500 Summer Program to Arabic speaking countries
PLS 4750 Weapons of Mass Destruction
PLS 4940 Special Topics: Oman Summer Program
Dept. of Modern Languages
ARA 3110 Arabic Conversation I
ARA 3120 Levantine Arabic
ARA 3210 Advanced Arabic Syntax and Grammar I
ARA 3220 Advanced Arabic Syntax & Grammar II
ARA 4510 Introduction to Media Arabic
ARA 4310 Classical Arabic Texts
ARA 4410 Introduction to Arabic Fiction
Dept. of History
HST 3450 Survey of Middle Eastern History:

Ottoman Empire, 1200-1800
Arab Peoples, 1800-2000

HST 4450 Topics in Middle East History:

Arab Peoples from 1800 to the Present
Middle East Under Colonial Rule, 1832-1962
Middle East from WWI to WWII
Middle East from WWII to the Present
Middle Eastern History Through Literature and Film
Dept. of Political Science
PLS 4540 Politics of the Middle East
PLS 4550 Politics of Iraq
PLS 4640 Politics of Israel/Palestine
Dept. of Religion
REL 3310 Introduction to Islam (applies to AAFS program)
REL 3320 / PLS 4600 Islam in the Modern World
REL 3300 Topics in Islam:

Islamic Law and the Qur'an (PLS 4930, and applicable to WGS program)
Islamic Tradition and Culture
Dept. of Sociology and Anthropology
SOC 4090 Sociology of Middle Eastern Society
Capstone Project
(must receive the approval of a MEI faculty member)
ARA 3980 Independent Study
HST 4950 Independent Readings
PLS 4900 (Independent Reading) and 4910 (Independent Research)
REL 4810 Independent Study
SOC 4080 Independent Study
Faculty
Middle Eastern and Islamic Studies Lecture Series
The Middle Eastern and Islamic Studies Program Fund was established in 2016 to support public lectures and events at Wright State University that relate to the Middle East and Islam.  In the 2016-2017 academic year, the Middle Eastern and Islamic Studies Lecture Series collaborated with other departments and programs at Wright State to host various scholars from across the country to address a diverse range of issues and topics.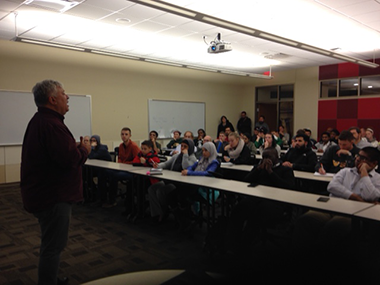 "Civil War in Syria & ISIS: Challenges for the Next President"
Dr. Amr Al-Azm, Shawnee State University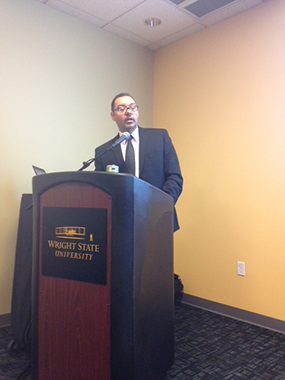 "The Untold Story of the Arab Uprisings: Climate Stress"
Dr. Fadhel Kaboub, Denison University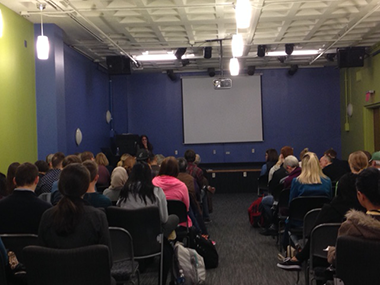 "Jewish-Muslim Relations During the Holocaust & Colonialism"
Dr. Mehnaz Afridi, Manhattan College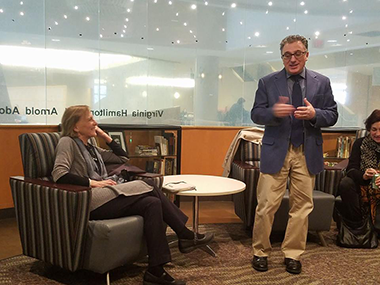 "Gender Issues in Islamic Law"
Dr. Judith Tucker, Georgetown University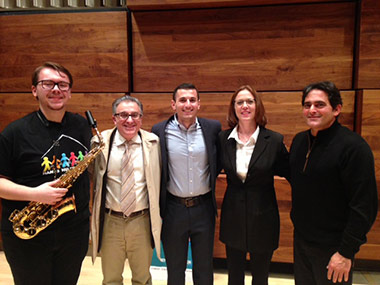 "A Symphony for Peace: Reflections on the Syrian Crisis"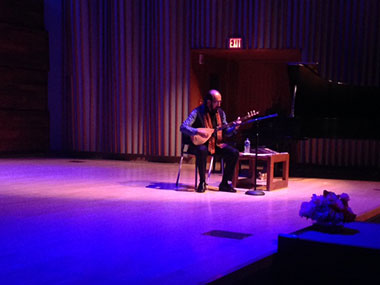 "Turkish Sufi Music and Dance Performance"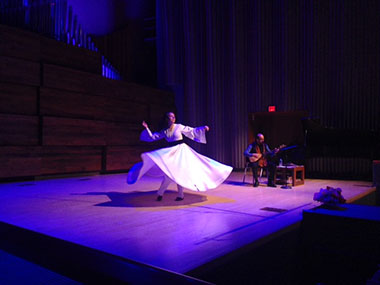 "Turkish Sufi Music and Dance Performance"
Donations to the lecture series are always welcome. Give to the Middle East Program Fund.
Upcoming Classes: Summer 2019
| Course | Title | Days of Week | Time |
| --- | --- | --- | --- |
| HST 4450 | The Middle East from WWII to the Present | T/R | 4:40–8:05 p.m. |
Upcoming Classes: Fall 2019
 

| Course | Title | Days of Week | Time |
| --- | --- | --- | --- |
| ARA 1010 (1) | Beginning Arabic | M/W/F | 10:25–11:20 a.m. |
| ARA 1010 (2) | Beginning Arabic | T/R | 2–3:20 p.m. |
| ARA 2010 | Intermediate Arabic | M/W/F | 9:30–10:50 a.m. |
| ARA 3210 & ARA 5210 | Advanced Arabic Syntax and Grammar | T/R | 11 a.m.–12:20 p.m. |
| REL 3300/5300 & WGS 4200/6200 | Women in Islam | M/W | 4:40–6 p.m. |
| RST 2910 | The Middle East | N/A | online |
More News and Upcoming Events
Middle Eastern and Islamic Studies: 2018–2019 Lecture Series
An Afternoon of Sufi Mystic Music, Dance, and Poetry
Monday, October 15, 1:30–3 p.m.
Schuster Hall, Creative Arts Center
Free and Open to the Public
New minor focuses on Middle Eastern and Islamic studies
Students interested in learning more about the Middle East and Islam can now do so for college credit with a new minor. The minor in Middle Eastern and Islamic studies gives students a broad and strong foundation in the history, language, religion, sociology and politics of the Middle East. Classes cover a period beginning in the seventh century, after the rise of Islam, to present day. Read more
Arabic Language / Summer Abroad / Internship Programs