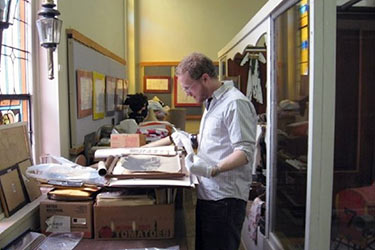 The Public History concentration is designed for graduate students who are primarily interested in careers in archival administration or museum management. It provides students with both theoretical and practical training in these areas.
Public Historians apply their skills and knowledge outside of academic or classroom settings. The Public History concentration at Wright State University integrates a traditional history curriculum with courses taught by professionals in archives, museum studies, and historic preservation; an internship; and a project leading to a Master of Arts degree in history with a specialization in public history.
Course Requirements and Electives
Required Academic Core Courses: 12 credit hours
Students in the Public History concentration are required to complete 6 hours of seminar (HST 7100- 7830), Historical Methods (HST 7000) and either an additional seminar or one 6000-level course. One seminar or 6000-level course may be in non-U.S. History.
Required Public History Courses: 11 credit hours
Public history students must complete the following core requirements:
HST 7500 Introduction to Public History 3
HST 7600 Introduction to Archives and Manuscripts 3
HST 7650 Introduction to Museum Administration and Collections 3
HST 7810 Public History Internship 1
HST 7900 Capstone Project 1
Advanced Public History Course Requirements: 6 credit hours
Students may choose breadth over specialization by taking three credits each in Museum Studies and Archives and Records Management. Students also have the option to specialize and take six advanced credit hours in either Archives or Museum Studies. Additional advanced classes can be taken as electives to strengthen the student's program.
HST 7700 Research in Local History 3
HST 7750 Museum Interpretation and Exhibits 3
HST 7800 Advanced Archives 3
HST 7815 Records and Information Management 3
HST 7850 Archival Preservation 3
HST 7880 Artifact Preservation 3
Electives: 9 credit hours
Students may select from advanced public history courses and the following Public History electives. With the approval of the Public History concentration director, students may take courses in an outside discipline such as art, anthropology, urban and geography, English, education, and business.
HST 7820 Practica: Archives and Museums 1-2
HST 7825  Exhibit Design Technology 3
HST 7830 Special Topics in Public History 3
HST 7860 Historic Preservation 3
Total: 38 credit hours
Resources
Contact
Drew Swanson, Ph.D.
362 Millett Hall
(937) 775-5282
drew.swanson@wright.edu