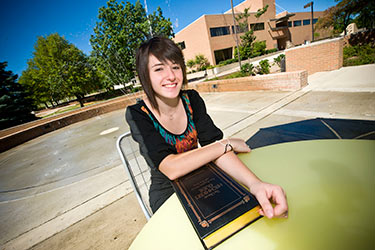 The Department of English Language and Literatures cultivates literacy in its broadest sense. We believe that our courses of study inspire students to excel in their use of language and literature.
Our department offers high-quality programs for all students. Faculty members undertake groundbreaking research in their fields, which inspires new courses designed to prepare students for a range of careers. Through study abroad programs and co-curricular activities, we incorporate cultural diversity and global awareness into our curriculum. We promote civic engagement and social responsibility through service learning opportunities, and we offer public programs that bring literature and language to life for a wide audience.
Humanities programs like ours help students develop careful practices of reading, thinking, researching, and writing that are essential for success in an increasingly global, technological world in which texts proliferate and literacies constantly change. Because the study of English deals closely with the ways individuals use language in diverse cultural, historical, social, and rhetorical contexts, our department fosters the intellectual potential of all students by developing their powers of expression and judgment, and by awakening them to the varieties of lived and imagined human experiences.