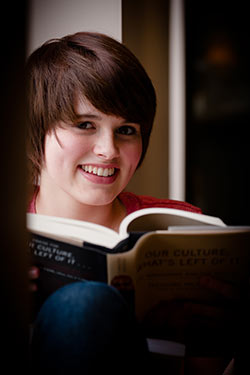 The English major provides a balanced program of introductory and advanced work in English and American literature, world literature in English, English language and linguistics, and professional and creative writing. A humanistic discipline, English is challenging and enriching in itself, helping you develop skills and methods of thought that employers value.  An English major or minor is excellent preparation for students entering professional schools—including medical school!—or planning careers in public, private or non-profit sectors.
All undergraduate English majors begin with a core foundation in literary and language or rhetoric studies, giving solid footing to their chosen concentrations in literature, professional and technical writing, creative writing, TESOL or Language Arts Education. Study Abroad opportunities are available every year.
Three graduate concentrations lead to the Master of Arts in English: Literature, Rhetoric and Writing, and TESOL. Competitive Graduate Teaching Assistantships and Graduate Tuition Scholarships are available.
Students in other majors can enhance their WSU degree and strengthen their marketability with an undergraduate minor or a graduate or undergraduate certificate in literature, creative writing, professional and technical writing, TEFL or TESOL.
Put your English Degree to work
Got a WSU Math Placement of 5 (ACT Math 27; SAT Math 620)? Increase your earning power with a Dual Degree in Computer Science and English or with one of the Pre-Med Options: literature or professional writing. (Students with MPL of 4 will need one additional Math prerequisite). Or combine your  English major with a minor in Business or Urban Affairs, or a certificate in Non-profit Administration. WSU offers dozens of other minors and certificates. See your advisor.
See what our graduate alumni are doing.
Program Contacts
Chair: Alpana Sharma
Director of Writing Programs: David Seitz
Director of Graduate Studies: Kelli Zaytoun
ESL Coordinator: Robert E. Rubin