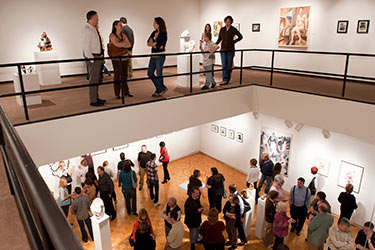 The college is home to four unique entities that reach out to the community. 
Collaborative Education, Leadership and Innovation in the Arts (CELIA) is an Ohio Center of Excellence that creates initiatives to enrich the already-remarkable artistic climate in the Dayton region—an important tool for economic development.
Applied Policy Research Institute is an applied research center focused on urban, suburban and rural issues. The center provides data and information to government, nonprofit and community-based organizations ultimately to improve the quality of public systems and services.
The Learning English for Academic and Professional Purposes (LEAP) program provides full-time intensive English instruction and offers non-native speakers the linguistic, academic and social skills they need to be successful in an American university.
The Robert and Elaine Stein Galleries bring the best of contemporary art to the Dayton region and Wright State. The Galleries have both a permanent collection and travelling exhibitions, and are always free and open to the public.