Undergraduate
Anthropology: Georgia Fenton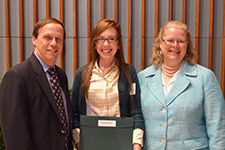 Georgia Fenton was raised in Newark, Ohio by her parents, Kelly and David Fenton. She was the eldest of 4 children. After graduating from Newark High School, she chose to pursue her undergraduate degree in Anthropology at Wright State. Throughout her college career she has been a part of the University Honors Program, the Wright State University Chamber Orchestra, the Wright State Symphony Orchestra and the Wright State Anthropology Club. This past summer she participated in the Wright State Field School in Archaeology. She plans on attending Graduate School at Wright State in the Public History Program. She hopes to one day work at a museum or an archival institution, working with and preserving elements of both history and prehistory. 
Art and Art History: James Kidd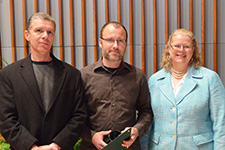 James Kidd, single father of three children ages 5, 8, and 10, is about to obtain his BFA with a focus on sculpture. He is a recipient of the ArtsGala and McCoy scholarships, and is currently a Yeck Fellow with the Dayton Art Institute where he is one of four college students mentoring a select group of high school students. He has exhibited in the Dayton Visual Arts Center's Cline Show and The Senior Show at Wright State. He will also be exhibiting some his work at the DAI in the coming month.
Once James leaves Wright State, his primary focus will be to spend quality time with his children and remain local in an effort to strengthen his body of work and take an active role in the artistic community. His long-term goal is to become an influential member of the world society of artists and to be a positive representative for the Fine Arts program at Wright State.
Communication: Talya Flowers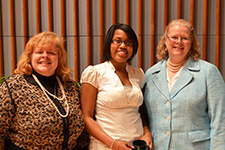 There is no question that majors graduating from the WSU Communication Department are making their presence known in Dayton. A fine example is Talya Flowers, who completed her first two years at Sinclair and now will graduate with a BA in communication studies. Ms. Flowers is noted by faculty for her ability to work equally well independently or with others. The observation was made by one of her teachers that "she exhibits some of the best interpersonal communication skills you would hope a communication expert would demonstrate, and she can write too!"
With a focus on journalism at Sinclair and her emphasis on human communication at Wright State, Talya demonstrates that the two disciplines can indeed work together. Her published stories in the Dayton Daily News combine journalism with the interpersonal interviewing skills learned in her com major. As indicated by her selection for this award, Talya Flowers is already standing out from the crowd.
Crime and Justice Studies: Emilie Fillion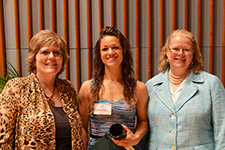 Emilie was born in Quebec, Canada, and raised in the Montreal region. She played soccer and basketball throughout high school but always made sure academics stayed a priority. After years of dedication to soccer, the opportunity for a full scholarship at Wright State was offered to her. She did not hesitate to grasp it. As a Crime and Justice Studies major, she selected the Greene County Juvenile Court in Xenia for her internship requirement. This experience widened her knowledge of prevention skills for juveniles at risk, and rehabilitation settings and goals for youth in need. It opened her eyes to an interesting career path in the rehabilitation system.
In addition to holding a dual major in Psychology and Crime and Justice Studies, Emilie was a member of Wright State's Women's Soccer team. She will continue her education here in the Applied Behavioral Sciences Master's Program. She also hopes to perform one more year on the soccer field for the Raiders and eventually go on to pursue a doctorate degree.
English: Christine Haney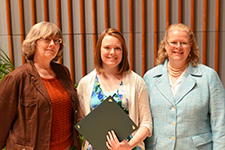 Christy Haney, an English Integrated Language Arts major, will be graduating with her bachelor's degree from Wright State this spring. She will also graduate from the University Honors Program with a University Honors Scholar degree designation. For her honors project, she developed a rationale for the pairing of classic and young adult literature in Language Arts classrooms. She has also greatly enjoyed being a writing consultant at the University Writing Center. She looks forward to starting graduate school at Wright State this summer, where she plans to complete her Masters of Education and earn her license to teach Language Arts for grades 7-12.
Geography: Amanda Phillips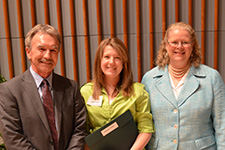 Amanda Phillips is working on both a Geography degree and a certificate in Geospatial Information Science. She graduated from high school just 2 years ago, and also earned an Associate in Arts from Sinclair Community College in the same year. Ms. Phillips impressed faculty with her writing and the depth of her understanding of geographic methods and theory. She presented her research on electronic waste disposal and recycling at the West Lakes/East Lakes Annual Association of American Geographers Conference, she served on the College of Liberal Arts Dean's student advisory board, and she is a member of the International Geography Society. 
But Amanda does more than study things. She organized Wright State's first electronic waste collection day. She also joined the Center for Urban and Public Affairs as a research assistant, where she is collecting information on new technologies that could help transform the economic base and how government operates for Montgomery County. Amanda is not sure what she will do after graduation in the Fall semester, but we are pretty sure that whatever she decides to do will be outstanding.
History: Eastman Klepper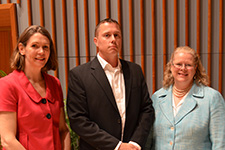 Eastman Klepper is a combat veteran of the United States Marine Corps. His 12 years of military service included deployments to Iraq as an M1A1 Tank Commander and to Morocco to train coalition armored forces. Having held various positions on the Abrams tank, including driver, loader, gunner, and tank commander, his final two years were as the Company Master Gunner, directly advising the commanding officer on training and tactics. 
Eastman Klepper returned to college at age 32, and completed the B.A. in History with a minor in Russian Studies in three years while working the 3rd shift at FedEx. He is married and the step-father to three children, ages 20, 17, and 14. Later this summer, he will be entering graduate school to pursue an M.A. (and possibly a Ph.D.) in Russian and East European Studies.
International Studies: Emily Little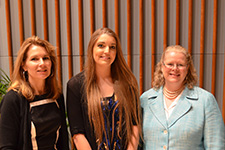 Emily Little is graduating summa cum laude with a dual degree in International Studies and Political Science. She is described by her professors as an exemplary student. In fact, she has excelled in everything she does, whether it is working at a food pantry, as a student ambassador, or in Representative Mike Turner's office.  Emily's passion, however, is everything Middle Eastern. As her supervisor at the Writing Center put it, "Emily is a talented Writing Consultant who thrives on her work with international students. Her grasp of the Arabic language, sense of humor, and enthusiasm make her an extremely effective tutor and advocate for international students."
In addition to several other honors, Emily was awarded Outstanding Delegate at the Ohio Valley Regional Conference of the Model Arab League and she won the WSU Presidential Award for Excellence in Co-Curricular Activities. She leaves us to pursue her dream of working one day for the United Nations. The next step is continuing her studies of the Middle East at the University of Chicago this fall.
Liberal Studies: Ian Snapp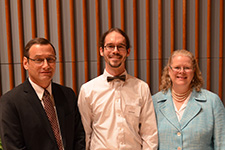 Ian Snapp is the outstanding graduate for the Liberal Studies Program. He started at Sinclair as a Social Studies Education major and then completed his degree at Wright State where he has honed his interests to Philosophy, in particular the study of Ethics and how they pertain to public policy. He hopes to pursue a PhD in Ethics and eventually to work for the Government or the U.N. as an ethicist.
In his spare time Ian is the sound board operator and the combat choreographer for The Kettering Children's Theater. He also teaches at theater camps at Rosewood Arts Center in Kettering.
Modern Languages: Nathan Cardenas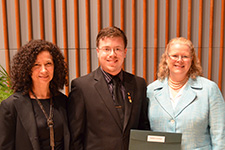 Nathan Cardenas is a German major and Spanish minor. His is a former Vice President of the Germanic Studies Association and current Vice President of Finance of Sigma Phi Epsilon, Ohio Pi Chapter. He volunteers as a tutor for both German and Spanish. He studied for a semester abroad in Lüneburg, Germany, and considers this to be the best decision he's ever made. He will be returning to Germany this summer as a participant of the Ambassador Program led by Dr. Sturdevant. 
Nathan is a graduate of Miamisburg High School, and says that he owes a huge debt to Mr. Joe Yuppa, his high school German teacher and who also teaches German and Spanish at Wright State. Nathan's minor in Spanish fulfills the last request of his grandfather, Alejandro Cardenas, which was to learn his native language. Nathan plays video games, listens to electronic dance music, and enjoys Olympic-style fencing. He plans to graduate in December of 2013 and will pursue a linguist or intelligence position in the United States Air Force or Navy.
Music: John Seaton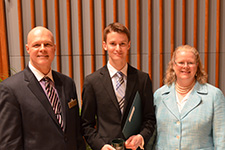 John Seaton is a senior music education major. John has performed in master classes and had additional studies with such leading musicians as Jean-Marie Londeix, Timothy McAllister, William Street, the Amstel Saxophone Quartet from the Netherlands, Conundrum, and John Fonville. He has won both the Wright State and Miami Valley Symphony Orchestra concerto competitions, and won the Ohio Young Artist Woodwind Competition.
John has collaborated extensively with the composer Hye Kyung Lee in the performance and interpretation of her music for saxophone, and recently premiered a piece by the same composer at the World Saxophone Congress in St. Andrews, Scotland. He performs with the internationally acclaimed Wright State University "Avion" Saxophone Quartet and Wind Symphony, from which he received the Clark J Haines "Most Outstanding Musician" award by a vote of his peers.
Philosophy: Hope Houston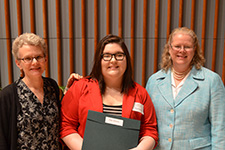 Hope Houston is a senior, dual majoring in Philosophy and English with a concentration in Creative Writing while also minoring in German. She is a member of both the Golden Key International Honor Society and the Alpha Lambda Delta Honor Society. Since the fall quarter of 2010, Hope has been employed as a writing consultant at the Writing Center. For the 2012 – 2013 academic year she was awarded the GM/Frigidaire Scholarship for a fourth consecutive year and the Nelson Faerber Endowed Scholarship for a second consecutive year, as well as the Ronald F. Hough Scholarship for her work in Philosophy and the Harry P. Jeffrey Scholarship. Hope was recognized as an Outstanding Student in German and was awarded the Garrison Scholarship in Modern Languages. 
Political Science: Caitlyn Banis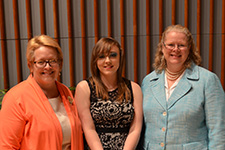 Caitlyn Banis will graduate with honors, having participated in many academic and community opportunities, including two years on the Model UN, both garnering Outstanding Delegation awards, an internship with the Montgomery County Office of the Public Defender, and as an intern for Congressman Mike Turner's 2012 re-election campaign. Cait is a graduate of Tecumseh High School, and has served her fellow students as a tutor and as an instructor in a learning community. She has also received the Presidential Commendation, been inducted into Phi Kappa Phi, and is co-president of the Golden Key International Honor Society. Cait has engaged in student life as a member of the Dean's Student Advisory Board, as a member of Omicron Delta Kappa, and also as a member of the WSU Student Honors Association. She plans to pursue graduate study in international relations following her graduation.
Religion: Tina Porter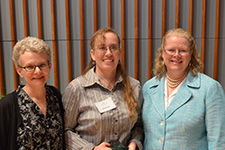 Although she had an Associates degree in Accounting, Tina Porter entered Wright State intending to pursue a much different path, one that reflected her long-standing interest in Religious Studies. She graduated cum laude in December, having excelled in a diverse range of Religion courses. While attending Wright State, Tina found time to serve as president of the Pagan Student Association and as a member of the Rainbow Alliance—all while raising special needs twin boys. She now serves as treasurer of the Dayton Pagan Alliance, and plans to attend Cherry Hill Seminary in Columbia, S.C., to train as a Pagan chaplain.
Sociology: Shawn Rolfe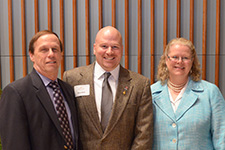 After serving in the United States Marine Corps, Shawn Rolfe attended college to obtain a degree in finance and economics. However, life does not always go as planned, and he left school to pursue a career in business. Although successful, Shawn felt compelled to start a new chapter in his life by returning to school at WSU. He majored in sociology with a minor in crime and justice studies. Recently he presented his departmental honors thesis "Sex Offenders and the Obstacles They Face Reentering Society" at the Annual Meeting of the Academy of Criminal Justice Sciences.
Shawn gives credit for his success to his wife and daughter, along with his mentor Dr. Karen Lahm and the entire sociology department at Wright State. In the fall he will begin graduate work at the University of Louisville on a full academic scholarship. Ultimately, he wants to obtain his Ph.D. in order to teach and continue to do research that will help mold future policies for those who face barriers in the reintegration process.
Theatre, Dance, and Motion Pictures: Nicole Wetter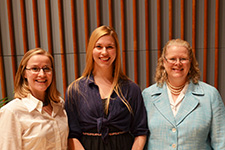 Nikki Wetter will graduate with her BFA in Dance this April. She was a member of Dayton Contemporary Dance Second Company for three years where she premiered her concert choreography in the DCDC2  Holiday Happenings Concert. While a second company member, Nikki has performed in DCDC's annual gospel concert, along with numerous lecture demonstration performances at schools in Dayton and Southern Ohio. 
Nikki has performed in and choreographed for many of the Wright State Dance Ensemble Fall Concerts and Emerging Choreographers Concerts. Recently, Nikki's senior choreographic work Fullgera was selected by the Wright State Dance Program faculty and guest adjudicator as the only senior work to be performed in the 2013 WSU Faculty Spring Dance Concert. Nikki also choreographed the Dayton Encore Theater production of Spring Awakening, as well as musicals for local high schools. For her most recent choreographic achievement, she set the choreography for one of Wright State's mainstage plays, 1913: The Great Dayton Flood.
Urban Affairs: Zachary Moore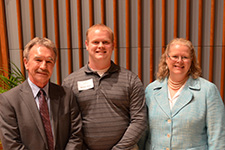 Zach Moore is graduating with dual degrees in Geography and Urban Affairs, along with a certificate in Geospatial Information Science and an Honors certificate. Mr. Moore has been an academic leader in both majors.  He played a key role in the Center for Urban and Public Affairs through a research scholarship grant. He collected huge amounts of data for a project designed to reshape Montgomery County's government priorities and programs. His work resulted in published article in 2012, and his 74 page senior paper is also of publishable quality with just a little more work.
In the classroom, Mr. Moore stands out as a resourceful team member. He co-presented his research at three different regional academic conferences. Mr. Moore is currently an intern at the Miami Valley Regional Planning Commission where he is generating 3D models of geospatial data and tracking new commercial and residential developments using GIS. Zach has been accepted into the University of Cincinnati's Master of Community Planning program where he plans to concentrate in planning and urban design.
Women's Studies: Andrea StojsavlJevic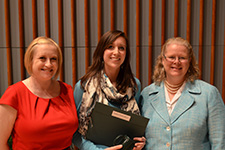 Andrea is originally from Cleveland, Ohio and came to Wright State in 2009. In her four years at Wright State she has been involved on campus from being a Resident Assistant to President of the Rainbow Alliance this past year. She has worked to make education a crucial aspect of all her roles on campus, to help individuals better understand each other's perspectives and differences.
In 2013 Andrea was awarded the Distinguished Outstanding Senior Leader award from the Office of Student Activities. She will be graduating magna cum laude and with honors, with degrees in Psychology and Women's Studies. Next fall, Andrea plans on working in AmeriCorps and then after that going to Graduate school.
Graduate
Applied Behavioral Science: Rebecca Cantrell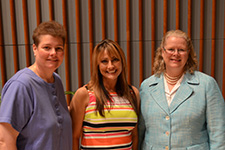 A Xenia resident, Rebecca received her B.A. in Political Science and Criminal Justice from Wright State. She finished her primary graduate degree in Applied Behavioral Science in Fall, 2012. Rebecca is working towards her second Master's Degree in the MPA program with a concentration in nonprofit organization.
While in the ABS program, Rebecca served as a Teaching Assistant for several introductory Sociology courses. In addition to maintaining academic excellence, she completed two internships at the Greene County Prosecutors office Victim Advocacy Division and Greene County Juvenile Justice Center. Rebecca represented ABS at the 4th Annual Research Celebration, presenting her Master's Project entitled "Are zero-tolerance policies enough?  A synthetic meta-analysis of school-based bully prevention programs in the United States." In addition, she is a recipient of the Graduate Student Excellence Award and the Non-Profit Leadership Exemplary Fundraising Award.
English: Dani Eller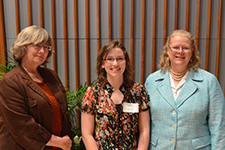 Dani Eller is an excellent writer and scholar who brings these interests to life in her classroom. Her memoir writing contains deep levels of analysis that are often related to her own experiences. Dani's scholarship about pedagogy has developed from her interest in our working class students at Wright State. One project worthy of publication focuses on having writers develop a rival hypothesis to their own values toward literacy in order to analyze the power relations between discourse communities. As faculty who have observed her teaching have noted, Dani plans her lessons so thoughtfully that she brings out the absolute best in her students. Moreover, Dani is a leader among other graduate students, who often consult her for insights about teaching as well as her expertise in multimodal writing.
History: Casey Huegel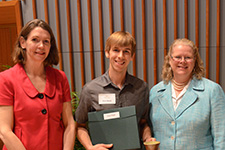 Casey Huegel earned his degree in Anthropology at Grand Valley State University in Michigan. Specializing in archaeology, he learned excavation techniques in Colorado, Michigan, and New Hampshire, and presented research on historic ceramics from a Michigan frontier site at the Midwest Historical Archaeology Conference. Casey's interest in museum studies brought him to the public history program at Wright State.
Since his arrival in Dayton, he has presented a paper at WSU's Public History Symposium, served as project manager for the exhibit Civil War Voices at Carillon Park, and was hired as a park guide at the Dayton Aviation Heritage National Historical Park. In this position he creates educational programs and resources, heads two social media sites, and successfully authored a grant through the National Park Foundation. For his final project Casey will be conducting oral history interviews with veterans in the Wright State community, and looks forward to exploring his options in the public history field after graduation in December. 
International and Comparative Politics: Crystal Whetstone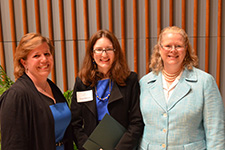 Crystal has been an outstanding graduate student who has really made the most of some tremendous opportunities. Her thesis research asks whether a "motherist approach" or a "feminist approach" was more helpful in obtaining women's rights in Lebanon and Liberia. She concludes that while a more practical approach to promoting social change, known as the "motherist" style, doesn't preclude rights advancements, feminist approaches are necessary in order to sustain larger gains throughout society.
During the summer of 2011, Crystal completed a prestigious internship at Georgetown University's Center for Contemporary Arab Studies. Her internship was facilitated through the National Council on U.S. Arab Relations and thus she was able to attend a closed media event featuring Tony Blair. Next month, she is presenting a paper at the McGill Institute of Islamic Studies' Graduate Symposium in Montreal.  During her time as a graduate student at Wright State, Crystal served as a Graduate Assistant and also volunteered as an assistant in the University Center for International Education.
Master of Humanities: Michelle Burdine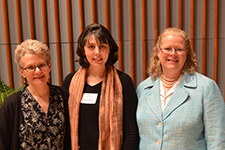 Michelle came to the Master of Humanities Program with a degree in photography and extensive experience as a portrait photographer. While a student she both operated her own photography business and taught photography at the Dayton campus of Kaplan College. Her graduate curriculum extended across disciplines, and included course work in studio art, English, and religion. Most importantly, she discovered a passion for philosophy, a subject at which she excelled. Her thesis, entitled "Value Perspective: A Necessary Condition for Photographic Art," combines her talent as an artist with her interests in philosophy. In this project, she develops a theory to judge the aesthetic value of fine art photography, a task made even more challenging by the development of the new  technology that  has "democratized" the art of photography, simplified the manipulation of images, and blurred the line between fine art and commercial photography.
Master of Public Administration: Jackie Anderson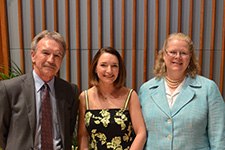 Jackie was the first woman in her family to graduate from high school. She continued to set the bar higher when she received a bachelor's degree in English from Walla Walla University almost 15 years ago.  Before entering the Master of Public Administration  program she worked for Antioch College, UD Law School and Kettering College of Medical Arts as a counselor.  With two children and an understanding husband, Jackie enrolled in graduate school to gain knowledge and skills to develop community and  people. The faculty can attest that she squeezed every ounce of knowledge and skills from her courses. Her zest for learning and high level of performance earned Ms. Anderson the Outstanding Graduate Award.
Ms. Anderson expects to return to higher education in some capacity in the future. Not surprisingly, she hopes to pursue a doctorate someday, if that is, her husband and family can be persuaded! 
Music: Stacey Russell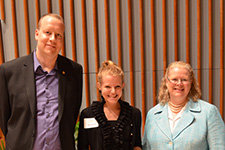 Stacey Russell earned a Bachelor of Music degree in music education from Cedarville University. While at Cedarville, she was treasurer and Vice President for her music educators national conference student chapter. She participated in symphonic band, orchestra, and flute choir and won the Concerto Competition in 2010. She was awarded a Cedarville music grant and faculty scholarship. She student taught K-8 general music, beginning band, 5th grade band, middle school band, and middle school choir at Lebanon Christian School. She also co-directed the spring musical.
Stacey Russell is an active performer, and teaches a small private studio. She is currently pursuing a Master of Music degree in flute performance at Wright State. She is also a teaching assistant. Stacey performed in the honors recital and participates in Chamber Orchestra, Wind Symphony, Chamber Players, and Flute Choir.
Women's Studies: Michael Peters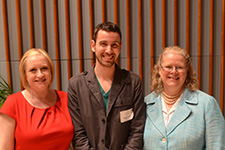 Mike Peters is currently a graduate student in Women's Studies and International and Comparative Politics. His Bachelor's degree was in Anthropology, also from Wright State. Mike's thesis research focuses on Ugandan feminisms, health policy, and violence against LGBTQ Ugandans. 
During his years as an undergraduate student, Mike traveled to the Republic of Congo, the Democratic Republic of Congo, Rwanda, Burundi, Uganda, and Kenya on several different volunteer experiences to work with groups supporting the health rights of women and LGBTQ people. Mike also volunteered as a teaching assistant with the Women's Studies faculty for almost three years - including helping to construct new classes on sexuality and human rights issues.  Currently, Mike is doing an internship with the AIDS Foundation of Chicago that focuses on sub-Saharan Africa. After completing his thesis, he plans to either pursue full-time teaching within Women's Studies and Political Science or to continue working with international non-profit organizations.