To celebrate and prepare for Wright State University's 50th Anniversary, the College of Liberal Arts announces a new column about our history called Back in the Day that will include stories, articles, and reminiscences about the founding of our great university.  The first column, which will be divided into three installments, is entitled A University is Born, featuring the 20th Anniversary Convocation Address delivered on September 12, 1984 by Dr. Elizabeth Harden, Professor Emerita in English and former President of the University Faculty. 
A University is Born
Installment I of III
By Dr. Elizabeth Harden, Professor Emerita of English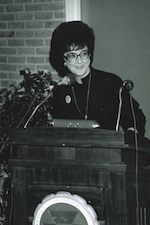 The year was 1961. In that year the United States tried unsuccessfully to overthrow Castro in Cuba. Alan Shepherd became the first American to go into space. And the Communists built a wall between East and West Berlin. On a Tuesday afternoon in December, at a regular meeting with the Council of Deans, Miami University President John D. Millett advised the Deans to "be ready to keep up with a fast developing proposal for the Dayton State University branch to be operated jointly by Miami and Ohio State." The night before, approximately 100 civic leaders had met at the Moraine Country Club to discuss the project. At that meeting, Miami's President Millett, Ohio State's President, Novice Fawcett, and Stanley C. Allyn (Board Chairman of the National Cash Register Company) proposed a $6 million campaign – half of which would go to the University of Dayton for a student activities center and a business administration building. The other half would be used as "seed money" – to "establish a jointly operated state university branch which eventually could become a separate university in its own right."
The civic group's confidence was apparent, its enthusiasm, infectious. As Millett described it to his Deans, "Mr. Allyn seems to believe that the $6 million dollars can be raised by June of 1962…This means that in six months we may be getting this proposal put into action." Miami University's press release had been issued on December 20, 1961, and it is possible that Millett and Fawcett spent much of their holiday thinking about the various details that must be worked out, the careful decisions, the involved planning.
1962 would be remembered as the year of the Cuban Missile Crisis and the year when Ohio's native son, John Glenn, became the first American to orbit the earth. At 6:30 p.m. on April 26, Dayton civic and business leaders launched the $6 million campaign at a dinner in the University of Dayton field house. Co-chairmen of the campaign, the largest fund drive in Dayton history, were Stanley C. Allyn and Robert S. Oleman – both of whom had been widely identified with civic leadership and efforts on behalf of higher education.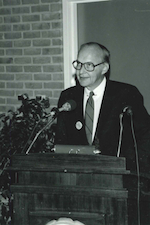 A campaign brochure stressed both the needs and scope of the projected facilities: (1) the new state branch would ease enrollment burdens for the University of Dayton, Ohio State, and Miami which then drew most of our local young people; (2) it would help meet the educational needs of nine counties; (3) and most important, it would help preserve educational opportunity throughout the state. In August, 1962, architects and engineers were appointed for the planning of Allyn Hall, and Charles W. Ingler (acting manager of the business office for the joint state university campus) opened an office in Room 1520 of the Hulman Building in downtown Dayton. It was about this time that a man named Frederick A. White arranged a meeting to ask President Fawcett how "nine good years of public school administration and twenty good years at General Motors" might best be put to use. And on October 1, 1962, White became the first employee of the Dayton Center of Miami and the Ohio State Universities; and as Business Manager and Treasurer, he would serve as the fledgling university's chief fiscal officer for the next four years.
In November, the Trustees of Miami and Ohio State were discussing land acquisition and purchase: 190 acres of federal land would come from the Wright Patterson reservation, and the remaining 428 acres would be purchased from 13 different private owners. Later, White would recall with nostalgia that a choice segment in the center of the campus was purchased from a farmer and the deal "completed on the back of his old truck." "It was the best parcel of all," White said, "the woodland." It was also in November that Millett and Fawcett approved a memorandum of agreement, accepting joint responsibility for the academic program and for terms and conditions pertaining to the disposal of the lands.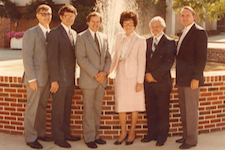 In 1963, two events would strike at the depths of the American national consciousness: In August, Martin Luther King, Jr. led the Freedom March on Washington D.C. and delivered his famous "I Have a Dream" speech at the Lincoln Memorial. King's dream was that we would "be able to transform the jangling discords of our nation into a beautiful symphony of brotherhood." With this faith, King said, "We will be able to work together, to pray together, to struggle together, to go to jail together, to stand up for freedom together, knowing that we will be free one day." Three months later, President John F. Kennedy was assassinated in Dallas by a rifle that cost $19.95. As one newspaper described it, "Shock, horror, profound disarray in the American Republic, the agony of looking inward, deep into our national soul. 'My God,' we cry…what are we coming to?'"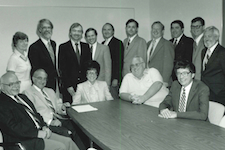 Closer home, a child was being born. A Miami press release read, "Currently under construction on the 635-acre Dayton campus is Allyn Hall, first academic building for the new institution. It is scheduled for completion by the opening of classes in Autumn 1964." Miami's General College would offer courses in the humanities, social sciences, teacher education and business administration – from the freshman through the Master's level; and Ohio State's College of Science and Engineering would offer courses in mathematics and in the biological, physical, and engineering sciences.
Installment II of III
By Dr. Elizabeth Harden, Professor Emerita of English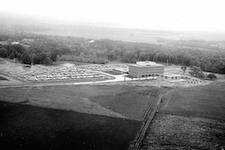 In 1964 the Tonkin Gulf Resolution gave President Johnson power to escalate America's role in the Vietnam War. And in September of that year, the Dayton Campus of Miami and Ohio State University opened its doors to 3200 students and fifty-five faculty. There was a cornfield (with crows) – and a building (not quite finished) – and a dream. There were our students – young – products of the World War II "Baby Boom" – often first generation college students who had not really expected to attend college. The most striking trait of the faculty, too, was its youth; and despite severe limitations of facilities, equipment, and library resources, the faculty thought of the "Dayton Campus" as a University. In general, there was the feeling (among faculty, students, staff, and administration) that we were embarking on a very important venture and that the opportunities were virtually limitless. White organized a Common Services staff to provide student services, personnel, accounting, purchasing, and maintenance functions; and a staff of academic directors, who met weekly to discuss issues and make decisions as the child continued to develop.
The mid-late sixties were the best of times and the worst of times. There were protest marches to end discrimination in voting registration (King, 1965), race riots in major cities, including Chicago and Cleveland (1966), antiwar protests (1967), the assassination of Martin Luther King in Memphis (1968) and of Robert Kennedy in Los Angeles (1968). They were years, too, when the first American and the first Russian walked in space (1965), when Dr. Christian Barnard performed the first heart transplant on a human (1967), and when America landed the first man on the moon (1969). "That's one small step for man, one giant leap or mankind," Neil Armstrong said – and the world listened – as he looked at the footprints of his boot in the fine particles of sand (July 20, 1969).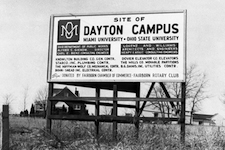 1967 was a history-making year for Wright State and for the community when the State Board of Regents declared the three-year-old campus a University, effective October 1. The University Board of Trustees (with Robert S. Oleman, Chairman, and Dr. John E. Keto, Vice Chairman) came into being on that date, although full independence would be recognized on January 1, 1968. The students did not see it that way, and when President-Elect Brage Golding returned from Columbus (after pleading Wright State's case), they staged a demonstration. The students painted placards proclaiming "We're free," "Go, go Golding," "IN-dependence," "Long live Wright State University," "Wright Power," "WSU, We Luv You." They x-ed "Campus" out of the sign at the entrance and replaced it with "University." They painted out the names of Miami University and Ohio State University, which had guided Wright State into being.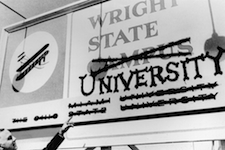 On Sunday, September 17, 1967, an editorial in The Dayton Daily News contained the following challenge: "Wright State comes out on its own relatively unencumbered by traditions. It can swing. Here's hoping it will. Let it challenge local assumptions. That's part of education. Let its faculty and students sharpen the learning experience against community involvement, and never mind that sharpening by definition means abrasions. That's education, too. Its students will learn much from Wright State. The Community can count itself a student, too."
Installment III of III
By Dr. Elizabeth Harden, Professor Emerita of English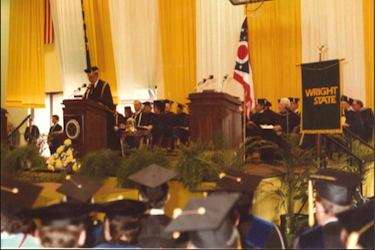 The rest of the story is history. It's the story of what we did with our independence – a story about buildings and people – and WORK that has identified who we are and what we have become.  The legacy of our past is an impressive one. Unlike those who reject the past as a source of hypocrisy and humbug, I am convinced that the past has something to teach us "either because it… instructs the present or because it offers a challenge to the present to surpass itself." Twenty years ago, the Dayton community provided us with a threefold challenge: (1) Financial support; (2) A mandate to serve the educational needs of the Miami Valley area; and (3) A spirit of optimism, generosity, good faith, and good will.
There is little doubt that the community has supported our rapid development or that Wright State has contributed significantly to the area's economy and industry and to the community's tradition of innovation and research. Furthermore, through more than eighty programs of study (leading to ten different baccalaureate degrees) and more than thirty programs of graduate and professional study, we have served (and are continuing to serve) the educational needs of the Miami Valley area. Such statistics are impressive, of course, but a University is much more than quantifiable statistics. As Anthony Burgess has state, "The term 'university' may be rich in noble connotations, but it means only what we want it to mean." The first two decades have been years of building – brick – mortar – asphalt – concrete. We can be justifiably proud of our rapid physical expansion and academic growth, but when we try to articulate our university mission statement, we run into trouble.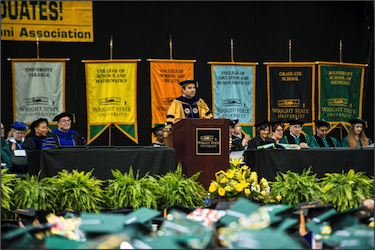 I suggest then, that we use the past as a challenge to the present – to help us prepare for the future. In the closing decades of the twentieth century, in an increasingly technological society, we are feeling depersonalized, computerized, diminished as human beings. What we must remember from our past, however brief and recent, is that we shared in common an idealism – a faith in ourselves and in one another, a sensitivity to human values and the human condition, and a strong commitment to an educational mission. Idealism cannot alone solve the problems of the future. But it CAN provide a basis for belief that Wright State will develop a unified intellectual life and concentrate less on dispersed specialties; that it will develop (among its students, faculty, and staff) the real sense of an educational enterprise; that it will successfully adapt to change – and changelessness.
That would be the beginning of a new story. But for now the words of the editorialist, written seventeen years ago, seem sufficiently relevant: in the third decade, "Wright State can swing. Here's hoping it will."
Wright State Oral History Project
In 2000, Wright State's Retirees Association and the Wright State Special Collections & Archives embarked on an exciting project to reach out to some of the founding faculty of Wright State and collect their stories about those early years on campus. Wright State began as a branch campus of Ohio State University and Miami University in 1964 and became its own university in 1967.  This special collaborative project has resulted in a collection of over 20 interviews of WSU's pioneers; many of these faculty, staff, and students were on campus from the very beginning in 1964.  These collective stories and memories captured through transcripts, audio, and in some cases video, will serve as a great resource and memoir on the history of Wright State University.  Enjoy these oral history interviews, including one from Dr. Harden below.