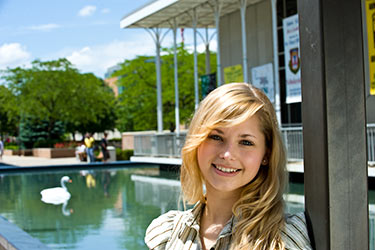 The Liberal Studies major provides a strong foundation in core areas of critical thinking, writing and understanding society. In addition to the Wright Core courses and the College of Liberal Arts basic requirements (two years of a foreign language and Methods of Inquiry courses), Liberal Studies students take 12 hours of courses for the Liberal Studies Core with at least one course in each of three Liberal Arts area of study, Fine Arts, Social Sciences and Humanities. Each student then selects one of these three as an area of concentration in which to take 15 hours of upper division courses (two courses must be designated Integrated Writing). Students also must take one Interdisciplinary Studies course and a Professional Component course chosen in consultation with and approved by the Liberal Studies Program Director.
Three Liberal Arts Areas of Study
Fine Arts
Art, Art History, Music, Theater Arts
Social Sciences
Economics, Political Science, Social Work, Sociology, Anthropology, Urban Affairs, Geography, History (can also be classed with Humanities)
Humanities
Classical Humanities, Communication, English, History, Modern Languages, Philosophy, Religion
Interdisciplinary Studies
Students take one course (3 hrs) selected from a list approved by the Liberal Studies program director. These include courses in African and African-American Studies, Women's Studies, International Studies and other courses of a multidisciplinary nature.
Professional Component
One course (3 hrs) selected by the student and approved by the Liberal Studies Program Director that relates directly to the student's career choice. Examples include courses in Business, Computer Science, Public Administration, Technical Writing, among many other possibilities.
View Bachelor of Arts in Liberal Studies degree requirements in the University Catalog.
Graduation Planning Strategy (PDF)
Liberal Studies Checklist (PDF)