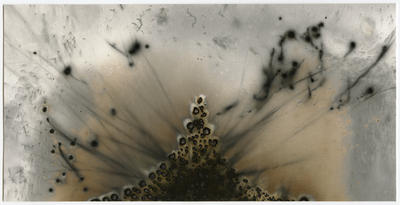 From October 27 - December 8, 2013 the Robert and Elaine Stein Galleries will present selected works by artists from across the United States. The works use camera-less photographic processes. Among the processes used are photograms, scanograms, lumen prints, chemigrams, and photogenic drawings: all of which describe methods where light is used to capture an image directly onto a surface.
Technological advances continue to expand the ways in which light can be used to record an image. Camera-less photography can make use of processes developed at the advent of photography, as well as new technology such as printers and scanners. Contemporary artists often combine the old with the new, resulting in unique forms of expression and original photographic or mixed media art.
Exhibition jurors and featured artists Carol Panaro-Smith and James Hajicek have been working with camera-less photographic processes throughout their careers. Their collaborative photogenic drawings of organic materials beautifully engage themes of serendipity and impermanence. Carol Panaro-Smith received her BS in Art Education from State University College at Buffalo and an MFA at Arizona State University. She has taught photography and mixed media for over 20 years. James Hajicek is Professor Emeritus in the School of Art at Arizona State University. He received his BFA from the Kansas City Art Institute and his MFA from the University of New Mexico. His area of specialization is late 19th century photographic printing methods.
On Sunday October 27, 2013 jurors Carol Panaro-Smith and James Hajicek will be presenting a gallery talk from 3:00-4:00 in the Robert & Elaine Stein Galleries. An opening reception will follow from 4:00 until 5:30. The exhibition is made possible with support from the Ohio Arts Council, individual supporters of the Galleries, and the Wright State University College of Liberal Arts.
Gallery hours are Wednesday and Friday 10:00 A.M. to 4:00 P.M., Thursday 10:00 A.M. to 7:00 P.M., and Saturday and Sunday 12:00 P.M. to 4:00 P.M. All visitor parking areas on campus are free, and parking at the Creative Arts Center is unrestricted after 4:00 P.M. and weekends. A dedicated parking space for gallery patrons is available during school hours.
All Gallery events are free and open to the public.
Fixed Shadow Artists:
David Emitt Adams, Denton, TX
Christian Arrecis, Chicago, IL
Christa Bowden, Lexington, VA
Christopher Colville, Phoenix, AZ
C Wright Daniel, San Francisco, CA
Gary Engle, Fairview Park, OH
Colleen Fitzgerald, New York, NY
Evan Hume, Washington, DC
Marty Klein, Easthampton, MA
Ray Klimek, Athens, OH
Sage Lewis, Columbus, OH
Kathleen Murney, Eugene, OR
Scott K. Murphy, Saint Joseph, MN
Francis Schanberger, Dayton, OH
Katherine Sifers, Washington, DC
Leah Stahl, Dayton, OH
Heather F. Wetzel, Columbus, OH
Sheilah Wilson, Granville, OH
18 artists, 34 works