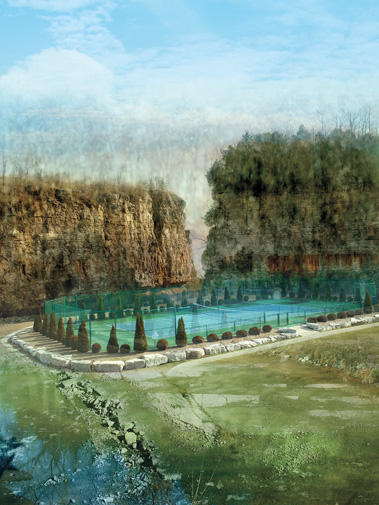 Renowned photographer Elena Dorfman will be speaking at Wright State on Thursday, October 9 from 5:00-6:00 p.m. in the Creative Arts Center, room M252. She will be delivering a lecture on her work, which is included in the current Robert & Elaine Stein Galleries exhibition EXPOSURE: An Exhibition of Contemporary Photography. There will be a reception in the Galleries following the lecture until 7:00 p.m.

Elena Dorfman achieved much of her fame through exploring the social, cultural, and sexual practices of subcultural groups. Some of her photographic series explored the lives of Cosplay participants and horse jockeys. She eventually branched out to capture contemporary views of ancient yet evolving mid-western landscapes, shifting the focus from people to places in the series "Empire Falling." It was her "Still Lovers" series, however, that placed her in the spotlight of fine art photography.

Dorfman's concern for overlooked groups recently took her to the Middle East, where she spent six months covering the Syrian refugee crisis for the United Nations High Commissioner for Refugees. Her series "Syria's Lost Generation" documents the plight of Syria's youth in the form of powerful photographic portraits.

EXPOSURE: An Exhibition of Contemporary Photography highlights over 60 photographs by world-class artists presenting a wide breadth of aesthetic, conceptual and technical approaches to the medium. The exhibition runs through October 12. A reception for the exhibition will be Sunday, October 5 from 3:00-5:30 p.m.
The exhibition and lecture are supported by the College of Liberal Arts, the Ohio Arts Council, and CELIA. The EXPOSURE exhibition is also part of 2014 FOTOFOCUS Biennial, a Cincinnati based, month-long celebration of photography and lens-based art.

For more information about Elena Dorfman, visit her website: http://www.elenadorfman.com/
For more information and list of FOTOFOCUS events, visit http://www.fotofocusbiennial.org/
IMAGE: Elena Dorfman, Empire Falling 6, 2012, Digital chromogenic print on metallic paper, 37" x 50", Sara M. and Michelle Vance Waddell collection. ©Courtesy of Elena Dorfman