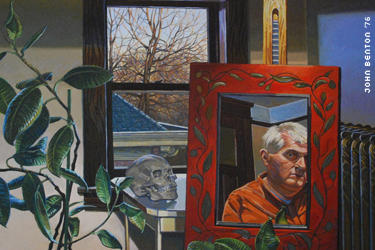 From May 22 – June 13, 2014 the Robert and Elaine Stein Galleries will be commemorating its 40th Season with an exhibition of alumni artwork. Over 80 artists and 115 works will be featured. Susan Byrnes, artist and independent curator, juried the exhibition.
The exhibition includes works in a wide variety of media, including sculpture, painting, printmaking, and video, all created within the last 3-5 years.
Please join us for a public reception on Friday, May 23, 5:30-7:00 p.m. in the Stein Galleries. Refreshements will be served along with a cash bar.
Gallery hours during the Alumni Exhibition are Wednesdays through Fridays, 12:00 to 4:00 p.m., and Saturdays, 12:00 p.m. to 4:00 p.m., or by appointment during administrative hours (Monday-Friday, 9:00 a.m.-5:00 p.m.)
For questions contact Tess Cortés, Gallery Coordinator.
List of participants:
Kevin Adkins, 1999
Julie Anderson, 1993
Aaron Ardell, 2004
Nicholaus Arnold, 2011
Kristen Bailey, 2012
Heather Ballard, 2014
Kalana Bartmess, 2011
Abigail Augustine Beck, 2005
John Benton, 1976
Katherine Binkley, 2012
Michele BonDurant, 1976
Cynthia Bornhorst-Winslow, 1979
Michelle Burdine, 2013
Matthew R. Burgy, 2005
Virginia Burroughs
Jodi Carpenter, 2007
Deborah Chlebek, 1976
Dan Cleary, 1980
Maria Cleary, 1979
Greg Clem, 2006
Robert Coates, 1990
Clara Coleman, 2008
Aaryn N. Combs, 2012
Landon Crowell, 2002
Ren Cummings, 2008
Patricia Dahlman, 1975
Andrew Dailey, 2005
Aaron Denney, 2011
Julia DePinto, 2011
Christopher Dolan, 2007
Fred Draper, 2006
Gretchen Durst Jacobs, 2000
Mark D. Ebeling, 1981
Phillip Erbaugh, 1981
Matthew D. Fritz, 1996
Shannon Grecula, 2009
James Kenneth Grody, 2012
Connie Hanselman, 1979
Erika Hess, 2006
Debbie Hicks, 1995
MB Hopkins, 1983
Jeffrey T. James, 1990
Landon Jones, 2013
Roger Kinnamen, 1969
Amy Kollar Anderson, 2001
Marci A. Lininger, 2009
Georgia Linsdey, 1985
James Little, 1977
Tess Little, 1975
Craig Lloyd, 1972
Patrick Mauk, 1996
James McCullough, 1980
Margie McCullough, 1981
Ryan McCullough, 2006
Diane McElhose, 1996
Maria Ann McGinnis, 1995
Stephanie McGuinness, 2008
Angie McRoberts, 2013
Lisa Miller, 2009
Jeff Moore, 2011
Kathy Moore, 2003
Erin Nash, 2007
Rodney O'Neal Austin, 1989
Gabriela Pickett, 2006
Kathryn Pitstick, 2003
Heather Lea Reid, 2005
Jennifer Rosengarten, 1989
Teresa Roth, 2011
Jeff Rutledge, 1975
Rebecca Sargent, 2006
Robert Staley, 1980
Sally A. Struthers, 1981
Jesse Thomas, 2009
Frank Travers, 2008
Anita Tresslar, 1995
Julia Trimboli, 2012
Rebecca Tsaloff, 2002
Barb Weinert-McBee, 1998
Lizabeth Whipps, 1968
Patrick Woehl, 2012
Deborah A. Wilson, 1978
David Yeamans, 1988