Are you a fan of baseball, jazz music, or short stories? If you enjoy one, two, or all three of these American art forms, please join us for the events planned to commemorate the 100th anniversary of the publication of Ring Lardner's You Know Me Al, recognized as the first literary baseball fiction. With a lineup that includes public lectures, an academic conference, a flapper ball, and, of course, baseball, there will be plenty of opportunities to experience the best of these three American art forms.
---
The Conference
Speakers
Hal McCoy currently covers the Cincinnati Reds for Fox Sports Ohio and writes a blog, "The Real McCoy," for the Dayton Daily News. He has covered the Reds since 1972 and is credited with coining team's nickname "the Big Red Machine."
A cultural historian, Roberta J. Newman focuses on the relationship between baseball, media—advertising in particular—and identity formation.
Amber Roessner is an assistant professor of journalism and electronic media at the University of Tennessee.
Schedule
Thursday, April 14
Millet Hall Atrium
Time
Event
Speaker
Presentation Title
5-7 p.m.
Registration check-in
 
 
 
Opening Reception (provided with advance reservations)
6 p.m.
CELIA remarks
Hank Dahlman, Director
 
6:05-7 p.m.
Keynote address with Q&A
Amber Roessner,
University of Tennessee
"Under the Big Tent: the Emergence of the Sports-Entertainment Nexus in the Jazz Age"
Friday, April 15
Schuster Hall, Creative Arts Center
Time
Event
Speaker
Presentation Title
8 a.m.-noon
Registration check-in
 
 
8:45 a.m.
CELIA welcome
Hank Dahlman, Director
 
9-10:15 a.m.
Session 1: Literature and Culture I
 
 
Ed Edmonds,
Notre Dame University
"Gilbert Patten and the Development of Juvenile Baseball Fiction: Lefty Locke and the Legacy of Frank Merriwell"
 
 
Craig This,
Wright State University
"Closing the Frontier?  Zane Grey's Baseball Fiction" 
 
 
Sharon Lynette Jones,
Wright State University
"Highlighting Harlem Renaissance Texts:  Baseball and Jazz in Literary Expression of the 1900s"
10:15-10:30 a.m.
Break
10:30-11:45 a.m.
Session 2: Baseball and Jazz History
 
 
Joe Marren,
Buffalo State University
"Rube Foster Takes on Baseball at the Winter Meetings" 
 
 
Jon Judy, Robert Berens, Brad Palmer,
Stark State College
"Playing by Ear: Jazz and the 'Negro' Leagues' Redefinition of Baseball"
 
 
Stephanie Liscio,
Cleveland State University

"A Look at Pittsburgh's Hill District Neighborhood from 1930-1960 and the Importance of Jazz and Baseball to the Community"
Millett Hall Atrium
Time
Event
Speaker
Presentation Title
Noon-1:15 p.m.
Lunch (provided with advance reservations)
12:30-1:15 p.m.
Plenary Address with Q&A
Roberta Newman,
New York University
"Swinging at the Crossroads: An Incomplete, Mostly-Accurate Account of Baseball, Popular Music, Race, and Their Intersections"
Schuster Hall, Creative Arts Center
Time
Event
Speaker
Presentation Title
1:30-2:45 p.m.
Session 3: Literature and Culture II
 
 
Emily Rutter,
Ball State University
"'Straighten Up and Fly Right': A Contrafactual Reading of Percival Everett's Suder and Bernard Malamud's The Natural"
 
 
Thomas Ruddick,
Edison State College
"Mitty takes the A Train to a Giants Game: Art and Sport as Artifact of an Increasingly Individualized Culture"
 
 
Chris Risker,
Webster University
"Liebman and Sillitoe and 'The Loneliness of the Long Distance Runner'" 
2:45-3 p.m.
Break
3-4:15 p.m.
Session 4: Film, Myth, and Stadia
 
 
Lee Lowenfish,
Long Island University-Brooklyn 
"Joe E. Brown's Portrayal of Ring Lardner Creations in the Hollywood of the 1930s: Reflections on 'Elmer The Great' and 'Alibi Ike'"
 
 
Cesar Love,
San Francisco State University
"Baseball, Jazz, and the Short Story: an Examination of Dionysian Vessels" 
 
 
Rob Bellamy,
Duquesne University, and James Walker, St. Xavier University
"Remember the 'Cookie Cutters': The Myth of Nostalgia, Sense of Place, and the Baseball Venues of the 1960s and 1970s"
4:15-4:30 p.m.
Break
4:30
CELIA Remarks
Hank Dahlman, Director
 
4:30-5:15 p.m.
Plenary Address with Q&A
Hal McCoy, Dayton Daily News
"My Half Century Covering the Cincinnati Reds"
Creative Arts Commons
Time
Event
Speaker
Presentation
5:15-6:15
Baseball Picnic (provided with advance reservations-- limited walk-up reservations available with credit card only)
6-7 p.m.
Shuttle Service to Nischwitz Stadium (schedule to be posted)
Nischwitz Stadium
Time
Event
Speaker
Presentation
6:30 p.m.
Baseball Game
Toledo Rockets vs. Wright State Raiders
Post-game
Shuttle service back to Main Campus (schedule to be posted)
 
---
The Flapper Ball
The Flapper Ball was held at historic Memorial Hall in downtown Dayton and featured music, dancing, and literary readings from the first decades of the Twentieth Century. guests put on their best 1920s garb and danced the Charleston and the Lindy, listened to jazz music, and heard Hughes, Lardner, and Parker, among other American writers from the period.
Put on your dancing shoes and party the night away at CELIA's Sultans of Swing Flapper Ball.
October 29, 2016
6-10:00 p.m.
Memorial Hall, downtown Dayton
Enjoy...
period literary readings
3 decades of dance music from the teens through the '30s
on-the-spot dance lessons
a Prohibition-era speakeasy complete with bathtub gin (cash only—no checks or credit cards accepted)
a sumptuous flapper buffet
costumes encouraged, but not required.
Each hour from 7:00-10:00 p.m. will feature a period dance competition, including...
One-step contest
Charleston contest
East-Coast Lindy Swing circle
With Dave Greer's Classic Jazz Stompers providing the party music, it'll be the bee's knees, baby!
---
Sports and the Absent History of the Harlem Renaissance Lecture
January 29, 2016 
1:25 -2:20 p.m., Millett Hall Atrium
Dr. R. Baxter Miller, Professor of English at the University of Georgia, will present "Sports and the Absent History of the Harlem Renaissance."  The presentation will focus on the social, historical, and cultural contexts of the Harlem Renaissance period during the early 1900s.  Dr. Miller's presentation will also examine texts written by Harlem Renaissance authors. There will be a question and answer session at the event.
Speaker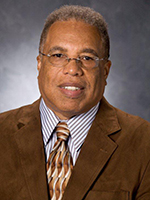 Dr. R. Baxter Miller, Professor of English, holds a PhD from Brown University and is the author or editor of ten books. He has written The Art and Imagination of Langston Hughes (1989; paperback 2006), which won the American Book Award for 1991, The Southern Trace of Black Critical Theory (1991), A Literary Criticism of Five Generations of African American Writing: The Artistry of Memory (2008), and On the Ruins of Modernity: New Chicago Renaissance from Wright to Fair (2012). His other volumes include a collaborative edition titled Black American Literature and Humanism (1981), which won international acclaim; a subsequent volume, Black American Poets Between Worlds, 1940-1960 (1986), an academic bestseller; Critical Insights: Langston Hughes  (2013); and Reference Guide to Langston Hughes and Gwendolyn Brooks (1978), which is superseded today by current texts and remains a standard source.
Miller, who has written scores of chapters, articles, and reviews for professional journals, is a co-author and co-editor (with General Editor Patricia Liggins Hill, et. al.) of Call and Response: The Riverside Anthology of the African American Literary Tradition (1998, 2002). The result of a nomination by the editorial board, his short story edition of Langston Hughes in the Collected Works 15 (Missouri 2002) is a volume in the centennial series.
---
Leagues of Their Own: Women and African Americans in Baseball History
February 10, 2016
1:25 -2:20 p.m., Millett Hall Atrium
Presentations will include topics such as the history of baseball teams in Dayton, Ohio, the influence of Negro League baseball teams, and the relevance of baseball in contemporary society.  Michael Carter, Senior Advisor to the President of Sinclair Community College, will present "Remembering Negro Leagues Baseball's Place in History." Other panelists will also speak about the historical significance of baseball in Dayton, Ohio, within a national and/or international context.  There will also be a question and answer session at the event.
Speakers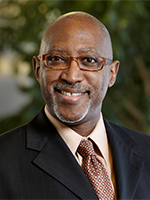 Michael Carter, Sinclair Community College, was appointed by President Johnson in 2014 as Senior Advisor to the President, having previously served as Sinclair's first Superintendent of the Division of School and Community Partnerships.  He has had responsibility for developing and maintaining strong relationships for Sinclair with its K-12 and community partners.  Carter is also responsible for developing increased early college credit options for high school students in the region, as well as collaborating with other Sinclair divisions to increase the yield rate of graduating high school seniors who enroll at Sinclair.
Over his 13-year career at Sinclair, Carter served as Senior Vice President, Senior Director of High School Linkages, and Director of the Fast Forward Center (a nationally recognized model in dropout recovery). In 2010 Carter was awarded NDPC's Crystal Star Distinguished Leadership and Service Award of Excellence in Dropout Recovery, Intervention, and Prevention.
A former public school teacher, administrator, and coach, Carter has over 30 years of experience working with youth. He holds a BA from Wittenberg University and an MS in education from Wright State University.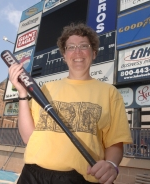 Leslie Heaphy, PhD, is Associate Professor of History and Honors Program Coordinator at Kent State University at Stark. She serves on the Board of Directors for the Society of American Baseball Research, as editor for the national, peer reviewed journal Black Ball, and on the Planning Committee for the annual Jerry Malloy Negro League Baseball Conference. Heaphy has written/edited four books and numerous articles on black baseball and women's baseball.
---
Pre-Game Picnic
April 15, 2016
Nischwitz Stadium
Speaker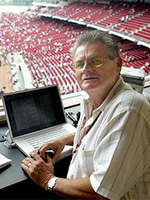 Hal McCoy currently covers the Cincinnati Reds for Fox Sports Ohio and writes a blog, "The Real McCoy," for the Dayton Daily News. He has covered the Reds since 1972 and is credited with coining team's nickname "the Big Red Machine."
On June 8, 2015, McCoy was inducted into the Hall of Fame for the National Sportscasters and Sportswriters Association. In 2002 he was honored by the Baseball Writers Association of America as the winner of the J.G. Taylor Spink Award, which recognizes writers "for meritorious contributions to baseball writing" each year during the induction ceremony at the National Baseball Hall of Fame.
McCoy is the author The Real McCoy: My Half Century with the Cincinnati Reds (2015) and The Royal Reds: Baseball's New Dynasty (1977). He also co-authored The Official Pete Rose Scrapbook (1985) with Pete Rose and Drawing Pete (2008) with Jerry Dowling.
McCoy graduated with honors from the School of Journalism at Kent State University where he played first base on a partial baseball scholarship.