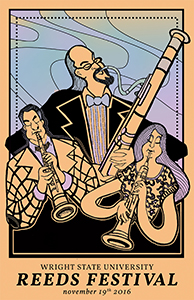 The Wright State University Clarinet Festival brings together clarinetists from all over Ohio and beyond for master-classes, clinics, and to provide a unique performance opportunity for all participating clarinetists to work closely with our special guest clinicians and the WSU Clarinet Studio!
The Festival is geared towards the needs and interests of  High School, College, and Amateur Clarinetists as well as Private Studio Teachers.  (It is recommended that participants have a minimum 3-4 years experience on clarinet.) 
The day will include:
Masterclasses and a performance by our special guest artist Professor Jonathan Gunn of the University of Texas at Austin and John Kurokawa, Instructor of Clarinet at Wright State University.
Masterclasses with Jeffrey Carwile, Instructor of Clarinet at Northern Kentucky University.
Performance opportunities in the Festival Clarinet Choir!
Vendors will be on site with instruments, music and accessories to try. Are you a vendor and would like to have a display? Fill out the Vendor Application form.
All Festival events will take place on the campus of Wright State University in the newly renovated Creative Arts Center. Directions to Wright State
The Hangar, on campus at Wright State, will be open for participants to purchase lunch.
Registration is available online.  The cost of the event is $35, which covers:

Registration fee
All masterclasses, recitals and events
Festival t-shirt
If you are interested in performing on a masterclass, please contact John Kurokawa directly at john.kurokawa@wright.edu
All participants under the age of 18 must submit a Medical Form (PDF)
NOTE: in order to receive a T-shirt, you must register by November 12, 2016.
Workshop Presenters
Jonathan Gunn

Jonathan Gunn is a versatile artist with a varied career as educator, soloist, chamber musician, and orchestral performer. Currently, Mr. Gunn serves as the Assistant Professor of Clarinet at the Butler School of Music at the University of Texas, Austin.
Appointed by Maestro Paavo Järvi to the position of Associate Principal and Eb Clarinet of the Cincinnati Symphony Orchestra in 2004, Mr. Gunn then served as Principal Clarinet from 2011 to 2016 before joining the faculty at the Butler School of Music. Prior to joining the Cincinnati Symphony, he was the Principal Clarinetist of the Fort Wayne Philharmonic, and has performed as Guest Principal Clarinet with the Chicago Symphony Orchestra on multiple occasions as well as playing with the New York Philharmonic and the Pittsburgh and Colorado Symphony Orchestras.

Mr. Gunn has participated in numerous music festivals including Bard, Tanglewood, Aspen, St. Bart's, Telluride Jazz Celebration, and Ashlawn-Highland Opera Company and is the Principal Clarinetist of the Sunflower Music Festival. As a soloist, he has appeared with the Cincinnati Pops Orchestra, the Wheeling Symphony and the Fort Wayne Philharmonic and in August 2016, Mr. Gunn will be featured at the International Clarinet Association's ClarinetFest performing the Copland Clarinet Concerto. As a chamber musician Jonathan is active around the United States, has performed as a member of Concert:Nova, and has played regularly on the Linton Chamber Music Series in Cincinnati.

Committed to the education of the next generation of clarinetists, Mr. Gunn gives masterclasses and recitals around the country, and has served on the faculties of the Buffet-Crampon Summer Academy, the Aria International Summer Academy and the National Youth Orchestra of the USA. Prior to joining the faculty at the University of Texas, he served on the faculties of the University of Cincinnati College-Conservatory of Music, Indiana-Purdue University Fort Wayne, Goshen College, Andrews University and Seton Hill University.

Born in Sheffield, England, Mr. Gunn started his musical career playing violin and piano and began studying the clarinet after moving to the United States at age eleven. He received a Bachelor of Music from the Shepherd School of Music at Rice University and a Master of Music from the Mary Pappert School of Music at Duquesne University. Jonathan is married to Jennifer Gunn, who plays piccolo and flute with the Chicago Symphony Orchestra.

Mr. Gunn is a D'Addario Artist and Musician Advisor, a Buffet Group USA Performing Artist and plays exclusively on Buffet-Crampon clarinets.
Jeffrey Carwile

Jeffrey Carwile was born in Winchester, Virginia to a family that knew little about music, though his mother could play piano by ear. After a failed attempt at playing the trombone in 7th grade, he saw a picture of a clarinet in the dictionary, and began teaching himself. For high school, he went to John Handley in Winchester where he played in marching and concert bands. After a few regional and honor band wins, Jeff was hooked and he decided to begin his formal study of the clarinet at West Virginia University with Dr. John Weigand, earning his Bachelor of Music in Clarinet Performance in 1987. He continued his studies with Dr. Frank Kowalsky at the Florida State University, earning a Master of Music in Performance and Pedagogy in 1989.   

With a Master's degree in hand, Jeff moved to Chicago, where he took a few lessons with Clark Brody and attended the summer master classes with Robert Marcellus. He then moved to New York City, where he practiced long hours, played weekend gigs, and studied privately while working full-time for Dean Witter Reynolds in the World Trade Center doing layout for large graphic documents.   

After the first bombing of the World Trade Center, Jeff moved to San Francisco and continued his work in technology as Director of Information Technology for several successful start-up companies in Silicon Valley. In his spare time, he studied privately with David Breeden and Louis Baez of the San Francisco Symphony. During this period, he was principal clarinet with the San Jose Wind Symphony for over ten years, played many gigs with local orchestras, taught clarinet to hundreds of students, and was a founding member of the Ventos Wind Quintet.   

After two years of concentrated study with Carey Bell, Jeff auditioned for the Cincinnati Conservatory of Music in 2005. He gave up his technology career to move back to his first love and began his studies in 2006 towards an Artist Diploma and Doctor of Musical Arts. He received an assistantship and became the graduate teaching assistant to one of the leading pedagogues of clarinet, Richie Hawley. Jeff also studied with Ixi Chen and mentored with Ronald Aufmann at Northern Kentucky University through the Preparing Future Faculty program at the University of Cincinnati. Jeff earned both his Artist Diploma from CCM and his "Preparing Future Faculty" Fellow Certificate from UC in April 2011. He has finished his coursework for the Doctor of Musical Arts in Clarinet with a cognate in Music Theory. He plans to complete his doctorate by giving a lecture recital in the fall of 2016 on two chamber works for clarinet by Bohuslav Martinů.   

An active orchestral and chamber musician, Jeff has played locally with the Cincinnati Opera, the Cincinnati Ballet, the Kentucky Symphony Orchestra, the Hamilton-Fairfield Symphony Orchestra, the Fillmore Band, the Tri-State Chamber Players, the Miami Opera, the Springfield Symphony, the Richmond Symphony, and the Dayton Performing Arts Alliance. In 2010, Jeff played Steve Reich's Pulitzer prize-winning Double Sextet with eighth blackbird at CCM and he is a long-standing member of Keith Brion's "New Sousa Band," which tours around the United States and went to eight destinations in China in early 2011. In 2012, Jeff also recorded Rick Sowash's western-sounding "Images of Mt. Emily" for violin, clarinet, and piano, released as a CD entitled "Vistas" - available for purchase here.   

Jeff is dedicated to the education of the next generation of clarinetists and his students have received numerous accolades in the Cincinnati Tri-State. As Adjunct Professor of Clarinet at the Northern Kentucky University, Jeff teaches clarinet, chamber music, and music theory. He founded the NKU Clarinet Choir in the fall of 2011, which is open to all high-school and exceptional younger students by band director recommendation or audition.
John Kurokawa

John Kurokawa is the Instructor of Clarinet at Wright State University. In addition to teaching applied clarinet, he teaches courses in woodwind chamber music, woodwind pedagogy, and music education. He performs in the resident faculty wind quintet, the Wright Winds, and the WSU Chamber Orchestra. His performances have been praised for their "...warmth, communication, and easy virtuosity" (Cincinnati Enquirer) and "truly flawless technique and intonation...a tone as smooth as silk and velvet." (Kettering-Oakwood Times). He has presented clinics and performed at institutions across the midwest, including Penn State University, James Madison University, Viginia Commonwealth University, and Bowling Green State University, as well as being a frequent clinician with high schools and youth orchestras in the Cincinnati and Dayton areas.
Kurokawa currently performs as Principal Clarinetist of the Dayton Philharmonic Orchestra and Cincinnati Chamber Orchestra. He has been a featured soloist with both ensembles, performing the works of Mozart, John Williams, Gerald Finzi, and John Adams. In the summer Kurokawa performs as principal clarinetist of the Lakeside Symphony Orchestra and has also performed as Eb clarinetist and guest principal clarinetist with the Cincinnati Symphony Orchestra. An avid chamber musician, he gives clinics at schools all over the Miami Valley with the Dayton Phiharmonic Woodwind Quintet and is a founding member of the Prestige Clarinet Quartet, which has been a featured ensemble at the Oklahoma Clarinet Symposium, International Clarinet Association Clarinetfest, and Midwest Band and Orchestra Clinic. Kurokawa has performed on the International Double Reed Society Conference, published articles in the Triad, presented at the Ohio Music Education Association Conference, and in 2013, was one of twenty faculty members recognized by Wright State University for Excellence in Teaching General Education.
Kurokawa holds the B.M. in woodwind performance (specializing in clarinet, flute, and saxophone) from Bowling Green State University and the M.M. in clarinet performance from the University of Cincinnati College-Conservatory of Music. His teachers include Angelo Fortini, Edward Marks, and Ronald de Kant.
Mr. Kurokawa performs exclusively on the Yamaha CSVR Clarinet and is a Yamaha Performing Artist.
Schedule
Clarinet Festival Schedule, 2016
High School Clarinets                               
8:00-9:00  - Registration                                                                      
9:00-10:00  - Masterclass with Jonathan Gunn                             
10:00-11:00  - Visit Vendors (Now is a great time to try that new horn or pick up some cool accessories or music!)
11:00-12:00  - Guest Artist Recital                                        
12:00-1:00  - Masterclass with Jeffrey Carwile               
1:00-2:00  - Lunch                  
2:00-3:00  - Clarinet Choir Rehearsal
3:00-3:30  - Visit Vendors
3:30-5:00  - Festival Recital
College/Adult Clarinets
8:00-9:00  - Registration
9:00-10:00  - Visit Vendors (Now is a great time to try that new horn or pick up some cool accessories or music!)
10:00-11:00  - Masterclass with Jeffrey Carwile
11:00-12:00  - Guest Artist Recital
12:00-1:00  - Masterclass with Jonathan Gunn
1:00-2:00  - Lunch
2:00-3:00  - Clarinet Choir Rehearsal
3:00-3:30  - Visit Vendors
3:30-5:00  - Festival Recital