JOURNAL OF EXCELLENCE IN INTEGRATED WRITING COURSES AT WRIGHT STATE
Best Integrated Writing publishes excellent student writing from Integrated Writing courses taught at Wright State University and strives to promote those examples for use by students and faculty as learning tools.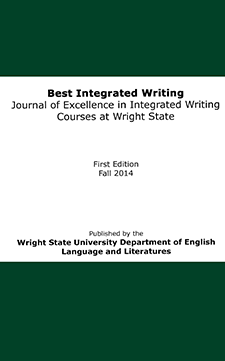 Work included may be from any discipline and many forms, including essays, posters, multimedia projects, and collaborative work. The journal is published one a year.
NOMINATION PROCESS
Faculty nominate student writing which is then selected for the journal. For nomination policies and how to submit, please see the journal site.
Best integrated writing is available free electronically and print copies for purchase: Fall 2014
Writing from Art, Comparative Studies, English, Health Education, Management, Nursing, Psychology, Religion, Sociology, and Women's Studies.
Authors
Benjamin Banning, Tyler Begley, John Breyer, Sierra Garwood, Jodie Heier, Gregory Heiser, Carol Jones, Amy Kasten, Khadija Kirksey, Kenneth Price, Nicole Ritter, Rachel Smith, Candice Turner, Shayla Wheat