Below is a sampling of our applied research in economic development.
On this page:
Technology Generators in the Dayton Region: Leveraging Regional Assets for Economic Recovery 
2012

Download the full Technology Generators in the Dayton Region: Leveraging Regional Assets for Economic Recovery report  (PDF)
The Dayton region shows tremendous promise in becoming an area known for its technology and innovation with a strong concentration of research and development and a capacity for innovative manufacturing. Yet to become an innovative leader, the region must transform its culture and realign investments that will promote its technology capability and strengthen the economy. The old ways of doing business and training the workforce are no longer sufficient to become a player in the global economy. This report compares the Dayton Region to other regions across the country, points out gaps in various innovation and economic indicators, and makes recommendations for transforming the Dayton region into an innovative, knowledge based economy.
Building an innovation economy is within the Dayton region's reach. Yet these culture transformations must begin now in order to be competitive.
---
Raider Country Creative Industries - Economic Impact Analysis

2013
Download the full Raider Country Creative Industries - Economic Impact Analysis report (PDF)
This study estimates direct, indirect and induced output (sales), employments, and labor income impact of the creative industries employment on the Raider Country 16-county regional economy: Allen, Auglaize, Butler, Champaign, Clark, Clinton, Darke, Greene, Logan, Mercer, Miami, Montgomery, Preble, Shelby, Van Wert and Warren Counties in Ohio. This study also estimates state and local tax revenues generated as a result of these impacts.
For this study, APRI (then CUPA) used EMSI data to estimate complete employment for the 16-county region in 2013 and IMPLAN, a tool for economic impact assessment, to estimate the direct, indirect, and induced impacts of the estimated number of employees on the reginal economy. While the 2011 version of IMPLAN was used, the software adjusted the 2011 estimates to 2013.

Creative industries employment on the 16-county regional economy is estimated to generate a total of $2.4 billion in sales and 18,000 jobs, which produce an estimated $799 million in labor income, just over $22 million in state and local tax revenues and sales and other tax revenues, and $66 million in indirect business tax  in 2013.
---
Economic Impact Analysis of School Facility Construction
2010 
Download the full Economic Impact Analysis of School Facility Construction report (PDF)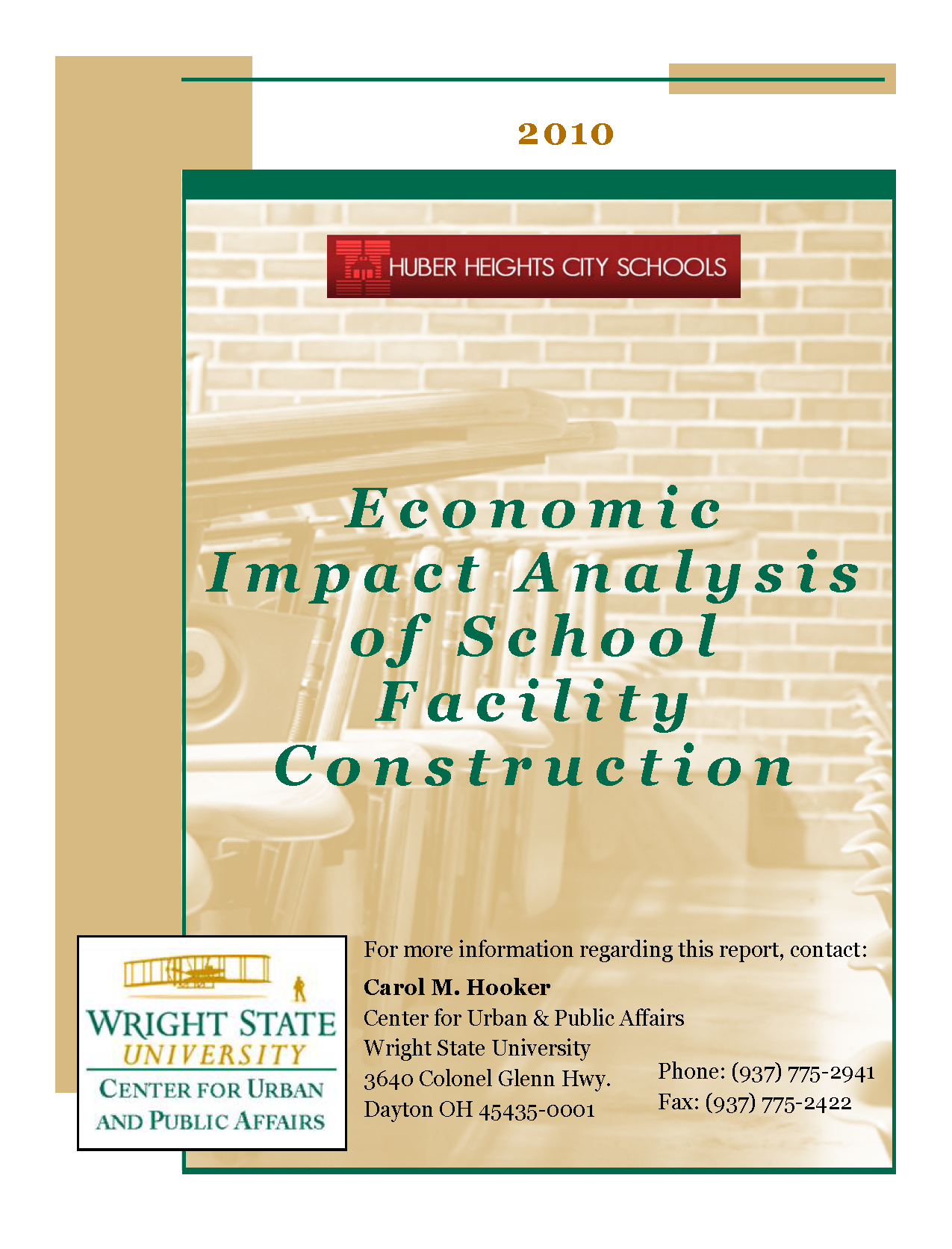 In 2009, Huber Heights City Schools contracted with APRI (then CUPA) to conduct the economic impact analysis of new school construction on the local economy. Huber Heights Schools estimates that spending will total $159.1 million in current dollars on new school construction over the 32‐month period from January 2010 to August 2012.
An economic impact study is an analytical assessment of the positive and/or negative influence of a business, program, or event on a target area. For this study, it is the measurement of the economic impact of the estimated school district wide expenditure of $159.1 million in January 2010 – August 2012 for the construction of the seven new buildings (five new PK‐6, one middle school, and a new high school). Planned expenditures on school construction will generate direct and indirect economic impacts for Huber Heights and the Miami Valley in the form of employment, income, gross domestic product, and state and local tax revenues.
The purpose of the study was to assess the impact of new building construction commissioned by Huber Heights City Schools on the economy of zip code 45424 (Huber Heights) and the region — Montgomery, Greene, and Miami Counties. It identifies the number of jobs and labor income directly associated with the construction of the new school buildings and the total impact on the local economy from this one‐time event.
---
Local Government Services and Regional Collaboration Grant Program: Advantage Sharing Program Feasibility Study
2010
Download the full Local Government Services and Regional Collaboration Grant Program: Advantage Sharing Program Feasibility Study report here.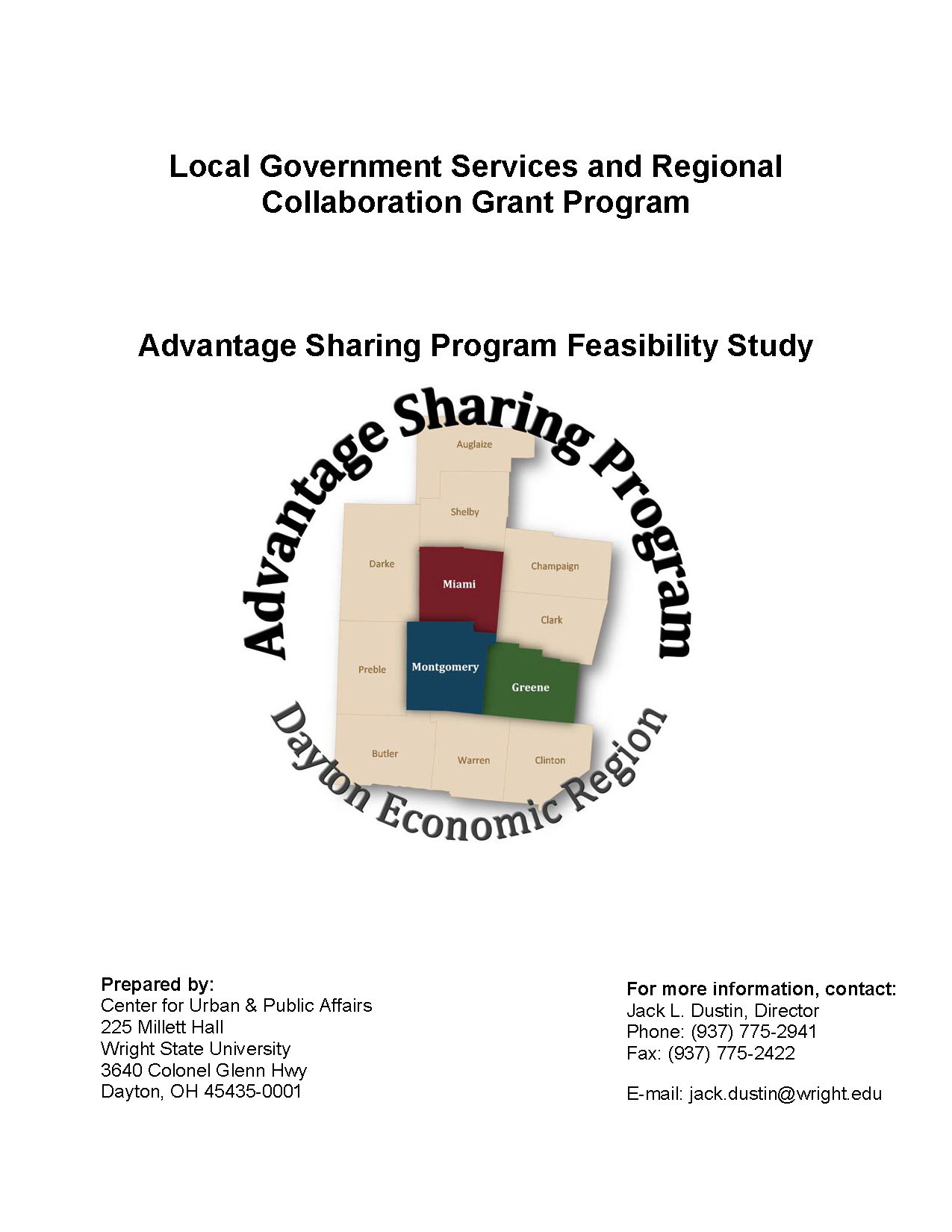 The Advantage Sharing Program, or ASP, is a multi-county collaboration comprising Greene, Miami and Montgomery Counties. The program's purpose is to provide additional dollars to economic and workforce projects that have been developed by local governments. The projects submitted by local governments address the needs of businesses that are locating, expanding or sustaining operations. ASP provides to local officials a source of additional funding to meet business needs. Local governments apply for funds after their best offer does not secure a development agreement. This funding does not replace incentives typically offered by local governments. Requests for funding are made to a review committee comprised of three representatives from each of the counties. Each county determines who will sit on the review committee from the public sector (two representatives) and the private sector (one representative). Economic and workforce development projects are evaluated using information about:
Jobs created or retained
Economic growth (direct and indirect multipliers from wages and investments)
Average wages and benefits paid to employees
Type and dollar amount of company investment
Dollar amount of infrastructure improvements needed to support the project
Other factors such as relocation, energy efficiency, and coordination with regional development priorities
Ultimately, ASP attempts to increase investment that grows businesses and increases the pace of economic transformation in the region. Uniquely, ASP couples workforce with economic development. ASP fills gaps in the existing workforce development programs. The workforce committee identified workforce gaps related to retraining incumbent workers, internship workers or other gaps that may exist or develop within workforce development programs supported by federal, state and local governments.
Two separate committees met to design the Economic and Workforce Development programs. Decisions were made by consensus. The major goals of the program are to 1) fund business development that creates or retains jobs paying the median wage of the region; 2) invest in businesses that will restore prosperity to our region; and 3) unify the region and foster efficiencies through local government collaboration. The Workforce Development Program seeks to 1) meet business workforce needs; 2) retain highly educated residents; 3) fill gaps that exist within current workforce development programs.
---
2011 Industry Driver and Occupational Highlights Reports
In 2011, APRI (then CUPA), worked with the State of Ohio to develop Industry Driver and Occupational Highlights reports for each region of the state, and the state as a whole. Each report serves as a dashboard for each region.