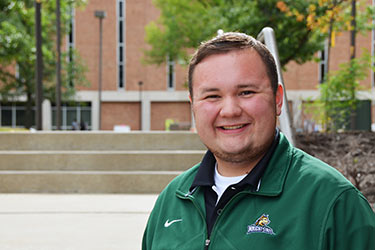 Urban Affairs Related Links
All Urban Affairs majors complete 5 core courses and an internship: Foundations of Urban Affairs, American City, Ethics in Public Service, Public Policy Analysis and Applied Research Project.
Concentrations
As an Urban Affairs major, you may select courses that best fit your career path. You have four options. Use the following links to view program information and degree requirements in the University Catalog.
Bachelor of Arts or Bachelor of Science in Urban Affairs

No Concentration
Nonprofit Management Concentration
Urban Management Concentration
Urban Affairs, Urban Planning Concentration
Your faculty advisor can help you decide which concentration is best for you. 
Urban Affairs - no concentration
This option allows you to select a broad range of courses with help from your advisor.  Courses may be selected from the Nonprofit Management, Planning or Urban Management specializations. We encourage you to add a certificate in Public and Social Transportation, Geographic Information Science or Nonprofit Management. Typically, electives may be used or you can complete the certificate as you earn credits for your Urban Affairs major.
Nonprofit Management
According to the Urban Institute (November 2012), nonprofit employment and wages grew during and after the recession while decreasing in the private and public sectors. This is good news, but is Nonprofit Management right for you?
Nonprofits meet community needs that are ignored or cannot be effectively addressed by private corporations and government. Assessing need, developing programs and raising funds to pay for the services and programs encompass much of the work of nonprofits. Volunteers are critical to nonprofits so recruiting, training, retaining and managing volunteers are also part of nonprofit management. 
As a new employee in a nonprofit you are often given a lot of responsibility and many different jobs.  Profitable Careers in the Nonprofit asks 14 questions to help you decide. Several important questions are: Is it important for you to work for a cause? Do you want to do something good for society? Are you flexible and creative? Is the reward of doing something good for people more important earning a big salary?
Urban Affairs also offers a Nonprofit Certificate that is co-awarded by the Nonprofit Leadership Alliance a national organization headquartered in Kansas City.  Please see details at the NLA Student website.
[/tab]
Urban Management
This specialization is for students who wish to develop careers in management and administration in such agencies as municipal and county government, state departments of urban affairs, or the U.S. Department of Housing and Urban Development. In addition to the major's core courses, required specialization courses are financial management, leadership, management strategies and personnel. Other important courses include labor relations, metropolitan politics, strategic planning, transportation and others.
Urban Planning
Planning has been a fundamental means of improving and protecting the quality of life in our communities. In addition to the major's core courses, required courses are community and regional planning, financial management, geographic information, and internship. If you select this specialization you may select courses that address physical or social features. For example courses relevant to physical planning included cities and technology, advance geographic information, remote sensing, and public works. For social planning courses such as community development, public and human transportation, managing volunteer organizations, and public leadership are relevant to social planning.