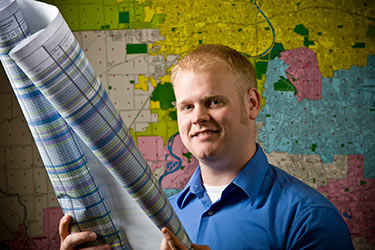 The Urban Affairs major is right for you if you want to make communities better places to live, if you want fix problems such as vacant housing, access to healthy food, safe neighborhoods, homeless people, reviving commercial blocks and equal education and job opportunities for future generations. In the 1960s, national foundations asked universities to create teams of faculty from diverse disciplines, such as Political Science, Sociology, Geography and Economics, to solve the national urban problems. These initiatives led to new urban agent programs and then to new curriculum and academic degrees. The first Urban Affairs major graduated in 1971. Wright State University expanded its commitment to sustainable communities when it created the Applied Policy Research Institute and established the Urban Affairs Department in 1987. 
Today, the Urban Affairs major continues to be an interdisciplinary program that offers you the option of a Bachelor of Arts or a Bachelor of Science degree. The major prepares you for professional positions in a broad range of fields, including government, nonprofits and private sector businesses. Students have the ability to take a wide range of courses that fit within three concentrations: Nonprofit Management; Urban Management; and Urban Planning.
Course Requirements
You should meet with a faculty advisor before enrolling and each semester thereafter. The faculty advisors can help you make a decision about whether to pursue a Bachelor of Arts or Bachelor of Science and they can help you plan your courses and recommend how you can use your electives to enhance your degree by earning a minor, certificate or honors.
Admission
If you haven't yet applied to Wright State University, complete the Admissions application and list Urban Affairs as your intended major.
If you are a current student and wish to change majors, go to the Wings Express Major/Minor change request form and change your major. If you are a University College student, talk to your advisor about switching your major to Urban Affairs.