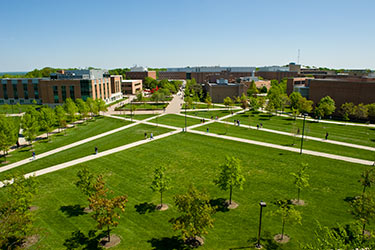 Geography is the right major for you if you are interested in connection between people and places. Geography studies the interaction between human and physical environments. Over the last decade, the relevance of Geography grew as the global economy transformed American communities, as geopolitics affected gasoline prices and the food we buy, as satellite information became a tool for local police to keep us safe, for farmers to increase production and for intelligence agencies to stop terrorism, and as climate changed and produced extreme weather events around the world and in our own neighborhoods.
Geography covers a broad base from the design and art of mapping to the analysis of spatial data. Computers and new software have expanded the role of geospatial information from traditional fields like planning and exploration to fields like politics, agriculture, law enforcement, and retail development. The nation's defense depends on geospatial information and the military invests heavily in developing new geospatial tools and the analysis of geospatial data.
Course Requirements
You should meet with a faculty advisor before enrolling and each semester thereafter. The faculty advisor can help you make a decision about whether to pursue a Bachelor of Arts or Bachelor of Science and they can help you plan your courses and recommend how you can use your electives to enhance your degree by earning a minor, certificate or honors. 
Bachelor of Arts, Geography (Checksheet PDF)
Bachelor of Science, Geography (Checksheet PDF)
Admission
If you haven't yet applied to Wright State University, complete the Admissions application and list Geography as your intended major.
If you are a current student and wish to change majors, go to the Wings Express Major/Minor change request form and change your major.  If you are a University College student, talk to your advisor about switching your major to Geography.