Model United Nations Program
On this page:
What We Are
For 37 straight years, Wright State University's delegates have earned top awards at the National Model United Nations Conference—a winning streak unmatched by any other university.
The Wright State University Model United Nations program is more than a club, and more than a class. It is a team built on hard work, camaraderie, and a shared commitment to excellence.  
The Model United Nations program at Wright State is built around a three credit hour spring semester course in Political Science. PLS 4860/6860 emphasizes skills of teamwork, problem-solving, diplomacy, public speaking, technical writing, and researching. Team members are chosen on the basis of a written application and oral interview. Model U.N. is open to students in good academic standing from all majors and colleges. No previous experience is required. Your success as a team member is based on the improvement of your writing skills, speaking abilities, attendance and ability to portray another country's policy in a simulation.
---
What We Do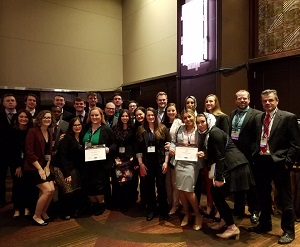 The seminar is used to prepare students for the week-long National Model United Nations Conference, held in New York City.
Universities from around the world are each assigned a country to represent at the conference dealing with various topics and issues. During the class, students develop research techniques and master the skills of public speaking, negotiation, and technical writing that are essential to diplomacy. Research for the conference in New York begins Fall semester and continues through the Spring term. To help prepare for the week long conference, we schedule regional practice simulations with other schools. These include a Wright State-hosted practice conference in January, and the Dayton Model United Nations Conference (DAYMUNC) held at Sinclair Community College in February.
Each year the conference has grown in size and international participation. More than 5,200 students from over 400 colleges and universities from nearly 30 countries around the world have taken part in recent NMUN conferences.
The Model U.N. experience is a unique academic experience at Wright State. Model UN promotes self-confidence, public speaking, writing, researching, and diplomatic skills, all of which are vital qualities for any future career.
To learn more read Model UN: 'A tradition of excellence' in the Wright State Newsroom. 
---
Meet the Team
Faculty Advisors
Department:
Political Science
Title:
Associate Professor
Address:
Millett Hall 314, 3640 Colonel Glenn Hwy, Dayton, OH 45435-0001
Department:
Political Science
Address:
Millett Hall 339, 3640 Colonel Glenn Hwy, Dayton, OH 45435-0001
Head Delegates
---
Join the Team
The next recruiting session will take place September and October of Fall Semester.  Joining the team is a two-part process: an application and an interview. You can pick up a hard copy of the Model UN Team Application in the Political Science Office in 325 Millett Hall during the first weeks of Fall Semester. The application must be turned in at least 48 hours before the scheduled interview.
An interview signup sheet will be posted in the Political Science Office in the first weeks of Fall Semester, and the interviews will be held in early October. The interview will include a brief role-play of a diplomat from an assigned country on an announced topic, which will be described in detail on the application. You will be able to research the topic and country's policy.  Stay tuned for more information on the applications and interviews.
2013 Sample Model UN Interview (PDF)
---
Contact Information
Model United Nations
c/o Wright State University
Department of Political Science
325 Millett Hall
Dayton, OH 45435-0001
(937) 775-2942
Amanda Baker and Cody Smith, Head Delegates
Dr. Vaughn Shannon and Dr. Liam Anderson, Faculty Advisers
Model U.N. on Social Media
---
Alumni Association
Welcome to Alumni Notes. All alumni of Wright State University Model United Nations Program can view or submit alumni notes at any time. You may submit your own class note by e-mailing your name, MUN class year and any relevant information about your life and career, including marriages, births announcements, and accomplishments, along with associated pictures. For more information, please see our official Model UN Alumni Facebook page.
"The Wright State Model UN experience was the best experiences of my time at WSU. The critical-thinking, research and public speaking skills I acquired have helped me succeed in my career. I continue to serve as a member and board member of the Model UN Alumni Association because the experience continues to pay dividends for my professional development. I'd also encourage other former members to get involved with the work of the Association."  

William "Bill" P. Murphy, EDFP
Assistant City Manager, City of Piqua
Executive Director, Grow Piqua Now
wpmurphy@yahoo.com
---
Give to Model U.N.
Due to the rising costs of participating in the five day conference in New York City, the program has recently had to reduce the number of students who can participate. Your gift to the MUN Program Fund will help increase the endowment and will enable more students to participate each year. Please consider impacting MUN students' lives and make your gift to the Wright State Model United Nations Program today.
Testimonials
"There is no other place to work in the world like the daily environment that exists working in Washington, D.C. The research, negotiation, and presentation skills we learned as members of the Wright State University Model United Nations team prepared us both to build successful careers in Washington in the corporate, political, and government jobs we've held over the years. So that this tradition of excellence in developing our next leaders may continue, please consider a gift to the Wright State University Model United Nations Program Fund."

Eric M. Leckey and Christopher A. Royse
Co-Chairs, Wright State Model United Nations Program Fund
"Over the years, Wright State's MUN program has built a winning tradition. The challenges and rewards of teamwork,learning to compromise and negotiate, and awareness of the numerous issues of the 21st century are among the manyimportant skills MUN students carry into their future careers."

Donna Schlagheck
Annual Giving Societies
$1,500 Model United Nations Delegate
$5,000 Model United Nations Ambassador
$10,000 Model United Nations Honorable Delegate
$25,000* Model United Nations Distinguished Delegate
$100,000* Model United Nations Outstanding Delegate
*If you are interested in making a gift of $25,000 or more, please contact Jennifer Foster, University Advancement at (937) 775-3745.
---
Photo Gallery
---
News