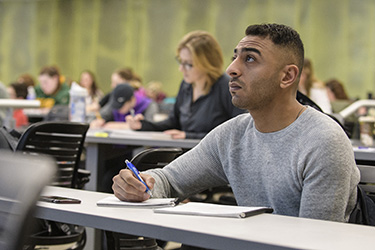 Recognizing the critical role that law plays in human society, the Legal Studies minor examines the ways people in different cultures and historical periods have used the law and understood its purposes. Legal Studies is an interdisciplinary academic program about law, rather than vocation training in law. The minor offers students the opportunity to explore law as a topic of intellectual inquiry. Heavily steeped in the liberal arts tradition, this minor emphasizes critical engagement with the wide array of forces (e.g., social, cultural, philosophical, historical, economic, and psychological), that give shape to the formation, implementation, and effect of law in human society.
Academics and Curriculum
The Legal Studies minor requires 24 credit hours of course work, of which at least 15 must be at the upper-level. Courses are taken from five core areas:  (1) Legal Systems, (2) Argumentation, Logic and Persuasion, (3) Theory, History, and Ethics, (4) Crime and Deviance, and (5) Law. Three courses are required from Area 5 (Law), two from Area 3 (Theory, History, and Ethics), and one from each of the remaining three areas.
Legal Studies Minor checksheet (pdf)
View Minor in Legal Studies program information and degree requirements in the University Catalog.