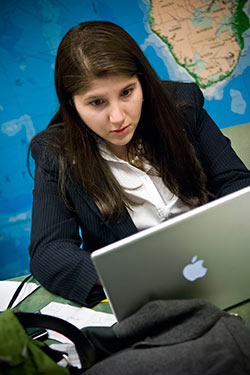 The Geography Honors Program provides an opportunity for students to achieve their highest possible level of intellectual attainment. Geography majors of superior academic ability are invited to apply.
Admission into the Program
Geography majors may enter the Honors program after meeting with their Geography advisor and having a cumulative Wright State University grade point average of 3.5 or better in all coursework. It is strongly recommended that students enter the honors program during their junior year or after completing 60 semester credit hours.
Completion of the Geography Honors Program
A student completes the Geography Honors program when they have met the requirements listed below.
Completed all requirements for the Geography Bachelor of Arts or Bachelor Science degree.
Maintained a cumulative grade point average of 3.5 for all coursework completed at Wright State.
Completed GEO 4990 Applied Research Project with a grade of A.
Completed at least one Geography Honors Seminar.