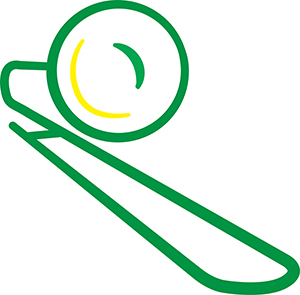 We are excited to host the WSU Trombone Festival again this year. Each year we bring to you world-renowned guest artists and clinicians for a day of music making, master classes and performances. We are excited to announce that this year the Trombone workshop will feature Shachar Isreal, trombone (Assistant Principal Trombone: Cleveland Orchestra; Applied Trombone Faculty: Cleveland State University; and Director: Cleveland Trombone Symposium). There will also be industry vendors on site with instruments to try and supplies to purchase. The festival is open to high school and college students, amateurs and professionals. Advanced middle school students are welcome to participate as well.
HOST: Gretchen McNamara
The Festival is free and open to the public but in order to effectively plan, all participants should register for the festival at the link below.
Advance Registration is now closed.  Onsite registration on Monday morning is welcome.
Guest Artists & Clinicians
Gretchen McNamara – Trombone
Applied Trombone
Director of the University Trombone Ensemble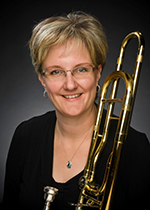 Dr. Gretchen McNamara is the trombone instructor at Wright State University in Dayton, Ohio, a position she has held since 2007. In addition to her responsibilities with the trombone studio, she also teaches Instrumental Music Education and supervises Field Placements. Dr. McNamara has presented clinics (2012, 2013, 2015) and performed as a member of the Wright State University Faculty Brass Quintet (2009) and Wright State University Chamber Orchestra (2012) at the Ohio Music Educator's Association State Conference. She has been a featured artist/clinician at the International Trombone Festival (2014); Midwest Trombone and Euphonium Conference, Charleston, IL (2014); Big 12 Trombone Conference, Lubbock, Texas (2013); and artist in residence at the BrassChix Festival at the University of St. Thomas (2010, 2011). Recently, she has served as the guest conductor of the OMEA District 12 Honor Middle School Jazz Ensemble (2016), OMEA District 14 Honor Middle School Jazz Ensemble (2015), OMEA District 12 Honor Symphonic Band (2014), and has served as an invited guest clinician/adjudicator for the Weekend of Jazz in Beavercreek, Ohio (2014). Dr. McNamara has also been a featured soloist with the Wright State Universtiy Wind Ensemble, Kettering (Ohio) Civic Band, Wright State University Symphonic Band, Xavier University's Symphonic Winds (Ohio) and the Shoreline Concert Band (Washington). She has also performed with the Middletown Sympohny Orchestra (OH), Lima Symphony Orchestra (OH) and the Newark-Granville Symphony Orchestra (OH).  
Outside of her position at Wright State University, Dr. McNamara serves on the Dayton Philharmonic Education Committee and writes CD Recording Reviews for the International Trombone Association. She also maintains a private trombone studio with students from the greater Dayton area. Dr. McNamara has served on the faculty of Xavier University and the University of Cincinnati, College-Conservatory of Music Preparatory Department. 
A native of Seattle, Washington Dr. McNamara has earned a Doctor of Musical Arts Degree from the University of Cincinnati, College-Conservatory of Music, a Master of Music degree from Kent State University, and a Bachelor of Music degree from the University of Washington. Before beginning the DMA, Dr. McNamara was the director of bands at Patapsco High School and Center for the Arts in Baltimore, Maryland. Her principle instructors include David Vining, JoDee Davis, Mathew Guilford and Stuart Dempster.
Shachar Israel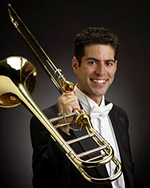 Shachar Israel is cited by the New York Times as "a gifted young trombonist." He currently serves as Assistant Principal Trombone of the Cleveland Orchestra. Born in Nahariya, Israel, he received his Bachelors of Music from The Curtis Institute of Music in Philadelphia, where he studied with Nitzan Haroz, Principal Trombonist of the Philadelphia Orchestra. His primary teachers include Joseph Alessi, Mark Lawrence, Mitchell Ross, Micha Davis and Joseph Nashkes. 
Prior to joining the Cleveland Orchestra, Mr. Israel was Principal Trombone of the Hartford (CT) and the Haddonfield (NJ) Symphonies. He has also performed with the Philadelphia Orchestra, the New York Philharmonic, the Montreal Symphony and the Detroit Symphony. He has been a member of the Verbier Festival Orchestra, the Spoleto Festival Orchestra and attended 2 summers at the Music Academy of the West.
A soloist and chamber musician, Shachar Israel performed Berio's 'Sequenza V' for solo trombone at New York's Lincoln Center for the New York Philharmonic's "Day of Berio". Mr. Israel has performed with Canadian Brass and recorded 4 albums with the group. The trombonist was the winner of the Lewis Van Haney Philharmonic Prize Competition at the 2008 International Trombone Festival. He has been a soloist with the Jupiter Symphony Players in New York City, the Cleveland Winds, and Cleveland State University's Wind Ensemble. Mr. Israel is also a founding member of the Great Lakes Trombone Ensemble, which recently performed at the 2014 International Trombone Festival, held at the Eastman School in Rochester.
In addition to a busy performance schedule, a passionate teacher, Mr. Israel is on the faculty of Cleveland State University. He also serves as founder and Director of the Cleveland Trombone Seminar (CTS), held annually in Cleveland, since 2012. CTS brings together motivated students and world-class professional musicians for 9 days of learning and great performances. Mr. Israel frequently presents masterclasses, clinics and recitals throughout the US.
Mr. Israel started his musical journey at the Kiryat-Yam Wind Band and he is a graduate of the Thelma Yellin High School in Givatyim, Israel. His studies while in Israel were made possible by the generosity of the America-Israel Cultural Foundation through its scholarship program, the Keren Sharet Competitions. Mr. Israel performs on an Edwards T350E Trombone.
Elysian Trombone Consort
Timothy Anderson, Brett Shuster, Nathan Siler, trombones
Chad Arnow, bass trombone
Formed in 2009, the Elysian Trombone Consort continues with its passion for trombone chamber music. The consort has performed recitals at the University of Cincinnati, College-Conservatory of Music (CCM), University of Southern California, Mesa College (San Diego), the Peabody Institute of the Johns Hopkins University, Kentucky State University, Bellarmine University, Elizabethtown State Theatre (KY) and the historic Mt. Vernon United Methodist Church in Baltimore. They have also performed featured recitals at the 2013 International Trombone Festival, 2013 University of Louisville New Music Festival and the 2012 College Music Society National Convention. In March, 2016, they were featured artists at the American Trombone Workshop, the only annual trombone festival in the United States.
Committed to the continued development of new repertoire for trombone ensemble, the Elysian Trombone Consort has premiered works by David Fetter, Rodney Oakes, Frank Gulino, John Siler, Matt Vandegriff, Don Bowyer, David Faleris, Raymond Horton, Neb Macura, Steve Rouse, Marc Satterwhite and Fred Speck. The group has also premiered John Crouch's Concerto for Four Trombones and Wind Ensemble with the Peabody Wind Ensemble in Baltimore and performed this concerto with the CCM Wind Ensemble. Upon hearing a recording of his Trombone Quartet, composer Walter Ross exclaimed, "WOW! What a super performance! I have never heard that piece done so well, with such energy, precision and spirit!"
Timothy Anderson is Assistant Professor of Trombone at the University of Cincinnati, College Conservatory of Music. In addition, he serves as principal trombone of the Dayton Philharmonic Orchestra. He also performs regularly with the Cincinnati and Columbus Symphony Orchestras and as a soloist and clinician.
Chad Arnow has been the bass trombonist of the Dayton Philharmonic Orchestra since 2000 and serves as Artist-in-Residence at the University of Dayton. He is a frequent performer with the Cincinnati Symphony and Pops and has served on the faculties of Xavier University and the College of Mt. St. Joseph. In addition, he has performed with the Columbus Symphony, Cincinnati Chamber Orchestra and the West Virginia Symphony.
Grammy Winner Brett Shuster is the Professor of Trombone at the University of Louisville and the auxiliary second trombonist of the Louisville Orchestra. He has been a member of the Chestnut Brass Company and performed with the San Diego Symphony, Phoenix Symphony, Vermont Symphony, Arizona Opera and Boston Philharmonic.
Founding member Nathan Siler is currently serving as Assistant Professor of Trombone at Eastern Kentucky University. He has previously been on the faculties of Kentucky State University and Bellarmine University. He served as auxiliary second trombone of the Louisville Orchestra for the 2012-13 season and has recently played guest principal trombone with the San Diego Symphony and Knoxville Symphony. He has been principal trombone with the Orquestra de la SEC in Xalapa, Veracruz, Mexico and a member of the Charlotte Symphony Orchestra. Additional appearances include the Cleveland Orchestra, Baltimore Symphony, North Carolina Symphony, Tucson Symphony and Dayton Philharmonic. He has also performed with Randy Newman, Wayne Shorter and the American Brass Quintet.
Schedule of Events
9:00 am Warm-up Session: Dr. Gretchen McNamara
10:00 am Festival Trombone Ensemble Rehearsal: Dr. Gretchen McNamara
11:00 am Trio Performance and Chamber Music Master Class: Members of the Elysian Trombone Quartet - Dr. Nathan Siler, Dr. Brett Schuster, Dr. Chad Arnow
12:00 pm - Lunch Break
1:00 pm - Guest Artist Recital: Shachar Israel, trombone
2:00 pm - Master Class: Low Brass Doubling: Dr. Jemmie Robertson, Eastern Illinois University
3:00 pm - Festival  Trombone Ensemble Recital: Eastern Illinois University, Wright State University, Festival Ensemble (All Participants)
4:15 pm - Master Class: Shachar Israel
Solo Competition
All competitions for the 2017 Trombone Festival have been canceled for this year.  We hope to see you at the festival as a participants on January 16th.